TUTS Welcomes Dan Knechtges as New Artistic Director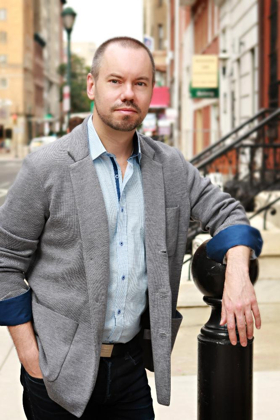 Theatre Under The Stars (TUTS) announces the appointment of Tony-nominated director and choreographer, Dan Knechtges, as TUTS new Artistic Director.
A renowned director and choreographer, Knechtges' career spans Broadway, Off-Broadway, and extensive work in regional theaters with a broad range of classic, contemporary, and new works. He also has vast experience in other mediums including opera, television and film. In his new role as TUTS Artistic Director, Knechtges brings an artistic vision for the company that encompasses the organization's core values of equity, diversity and inclusion, and that aligns with the TUTS commitment to enriching the Houston community through musical theatre.
Knechtges says, "My time directing for TUTS this last year was incredibly fulfilling both creatively and personally. So much so, that I was drawn to becoming a permanent part of the community in Houston. I look forward to forging new creative alliances within the Houston community and introducing them to a larger, national theatre community. TUTS will continue to be one of the bright cultural stars not only within Houston, but for Texas and the nation. I am honored to become a part of it."
Amy Pierce, Chair of the Board says, "It is a great honor to have Mr. Knechtges join our TUTS family. His enthusiastic personality, passion for education, and fresh artistic vision are perfectly geared for our ambitious future. Dan compliments our new leadership perfectly and will add to the positive momentum TUTS has enjoyed this past year as we prepare to celebrate our 50th anniversary."
In her role as Board Chair, Pierce has led the organization through a period of great transition and evolution. Beginning with the retirement of longtime CEO John Breckenridge in the Spring of 2016, the search for the new Executive Leadership began by bifurcating the organizational structure to now include the balance of an Executive Director and Artistic Director at the helm.
During the search for a permanent placement, the Board of Directors secured Sheldon Epps as Artistic Advisor to help guide the company's Artistic and Production endeavors through the transition. In addition to adjusting the programming of the season's show titles, Epps focused on elevating the caliber of the product on stage. Key to that commitment was attracting industry-leading performers, designers, and directors to new Houston-based TUTS productions.
In 2016, Epps invited Knechtges to serve as Guest Director for the Theatre Under The Stars production of HOW TO SUCCEED IN BUSINESS WITHOUT REALLY TRYING. The show starred Chris Dwan as J. Pierrepont Finch and Ashley Blanchet as Rosemary Pilkington, and was a fan-favorite of the 2016-17 TUTS Season.
In January 2017, Hillary Hart was appointed as Executive Director of Theatre Under The Stars in, and has been instrumental in leading the restructuring of the business and administrative operations of the nearly fifty year old theatre company.
Hart says, "We are beyond thrilled to welcome Dan to TUTS and to the Houston community. His genuine commitment to collaboration, community engagement, and his dedication to masterful storytelling will be an incredible asset to our organization and the community we serve."
In 2008, Knechtges was nominated for both a Tony and a Drama Desk Award for his choreography of the hit original Broadway production of XANADU starring Keri Butler and Cheyenne Jackson. In 2011, Knechtges directed and choreographed the Tony Award nominated LYSISTRATA JONES. His other Broadway credits include SONDHEIM ON SONDHEIM, 110 IN THE SHADE and THE 25TH ANNUAL PUTNAM COUNTY SPELLING BEE.
Theatre Under The Stars Chairperson-Elect and Committee Chairperson, Randy Stilley led the Official Search Committee. Stilley says, "Looking ahead to the next fifty years of Theatre Under The Stars it was crucial to align the organization with a new artistic vision to carry us into the future. Dan's talent, energy, and vision are exactly what TUTS needs to continue to evolve as a premier musical theatre company."
The national search for TUTS Artistic Director was conducted by AlbertHall&Associates, a full service consulting and executive search firm providing support to many of America's most prestigious non-profit arts organizations from its offices in California.
Theatre Under The Stars will kick off the its 50th Anniversary Celebrations with announcements about the 2018-19 Season later this year. Stay tuned to www.TUTS.com/fifty for more information and updates.
The new 2017-18 Theatre Under The Stars Season begins this fall with an all-new production of the modern classic THE SECRET GARDEN with book by Marsha Norman and Music and Lyrics by Lucy Simon, directed by David Armstrong beginning Tuesday, October 10 and running through Sunday, October 22, 2017.
Holidays under the stars will invite a new type of family tradition as Theatre Under The Stars presents the Lythgoe Family Panto SLEEPING BEAUTY AND HER WINTER KNIGHT December 12-24, 2017, directed by Linda Goodrich with choreography by Spencer Liff. Initial casting for the production was recently announced with Garrett Clayton of Disney's Teen Beach Movie and NBC's Hairspray Live! will reprise the role of the Prince, which he originated in the 2014 Pasadena Playhouse production. Reprising her role as the Good Fairy, American Idol's Vonzell Solomon will also return to the production.
The public is invited to meet Knechtges, Clayton, Liff, Solomon, and more during the 24th Annual Theatre District Open House on Sunday, August 27, 2017. Additional details will be forthcoming. Visit www.TUTS.com/OpenHouse for more information.
Children's MemoriAl Hermann Hospital is the official healthcare partner of Theatre Under The Stars. United Airlines is the official airline partner of Theatre Under The Stars. KTRK ABC-13 is the official media partner of Theatre Under The Stars. TUTS is supported in part by the City of Houston through the Theater District and the Texas Commission on the Arts.
Theatre Under The Stars is Houston's leading Musical Theatre since 1968, with a focus on education and community engagement. TUTS is a 501(c)(3) Non Profit Organization that relies on the generous support of our donors to deliver first-rate theatre experiences. For more information and to purchase tickets, please visit www.tuts.com.
For over 40 years, the Humphreys School of Musical Theatre (HSMT) has been equipping young people with the tools they need to be successful in musical theatre and in life. Today, HSMT is Houston's only technique-based performing arts training, and is fully committed to providing our community with the very best in theatrical training and performing arts education.
For more information and to purchase tickets, visit www.tuts.com or call the Box Office at 713-558-TUTS(8887).