Performers Announced for HOUSTON ARTISTS FOR HARVEY RELIEF Benefit Concert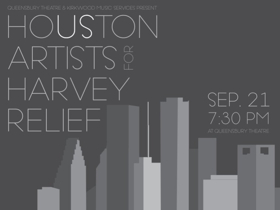 Houston's Queensbury Theatre and Kirkwood Music Services, along with a dedicated team of local theatre practitioners and artists, present "Houston Artists for Harvey Relief," a benefit featuring presentations by local performance organizations and groups on September 21, 2017 at 7:30 PM at Queensbury Theatre in CityCentre, hosted by Ernie Manouse and St John Flynn.
The event will directly raise money for Mayor Sylvester Turner's Hurricane Harvey Relief Fund administered by the Greater Houston Community Foundation. All proceeds and donations from the performance will go to the Fund.
Tickets may be purchased and donations may be made on the Queensbury Theatre website: queensburytheatre.org.
This program is supported by Steinway & Sons Pianos and The Tasting Room - CityCentre.
Featured Groups: Stages Repertory Theatre, Music Box Theatre, Opera in the Heights, Firecracker Productions, Gilbert and Sullivan Society, The Christina Edwards Wells Band, The SPark Theatre, Iconotheatrix, HISA, WITS Houston, Queensbury's Tribble School for the Performing Arts.
Featured Performers: Scott Holshouser, Sean Holshouser, Marc Vandermeer, Sonya Matoussova, Adam Gibbs, Christina Stroup, Courtney Markowitz, Mark Ivy, Eduardo Tercero, Kristina Sullivan, Luke Wrobel, Tim Boaz, Cole Ryden, Julia Robinson, Courtney Chilton, Jordynn Godfrey, Brandon Del Castillo, Rodrick Randall, Brian Chambers, Miles Marmolejo, McKenna Marmolejo, Adam Kral, Robin Cobb, Brad Goertz, Rebekah Dahl, Brad Scarborough, Laura and Adam Watson, Luis Galindo, Courtney Lomelo, Marco Camacho, John Magalhaes, Jessica Ferguson, Carlos Guzman, Rachel Ann Eades, Manny Berry, MiChelle Davis, Grace Dada, Roenia Thompson, Cheyenne Ayla James, and many more.
Production Team:
Queensbury Theatre- Marley Singletary, Kristina Sullivan, Luke Wrobel, Bethany White, Ashley Peters, Brent Biggs, L. RoBert Westeen, Thomas Murphy, Edgar Guajardo
Kirkwood Music Services - Luke and Blythe Kirkwood
Leslie Swackhamer, Chip Colvin, Dana Lewis, Jack Jacobs, Krissy Richmond, Michael Mertz, Christina Giannelli, Rachael Logue, Claire Logue.
West Side Productions - Tan Truong
BrightCatch Media - ChristIan Brown