Review: MAMMA MIA! at HKAPA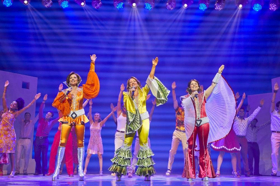 Kicking off the 2019 theatre calendar in Hong Kong is the feel-good classic that is Mamma Mia! Seen by over 60 million people around the world, the musical premiered in London's West End back in 1999, and is now celebrating its 20th anniversary! With no sign of it slowing down, 2018 saw the launch of its International Tour, and after months on the road, it has finally arrived in Hong Kong, opening on January 16th!
For those who are unfamiliar with the story, the musical is set on a Greek island, and follows the story of a love-struck, 20-year-old, bride-to-be, Sophie (Lucy May Barker), who is set to marry her fiancé, Sky (Phillip Ryan). Raised by Donna (Shona White), her feisty, headstrong mother, Sophie was never told who her father was. Having longed for him to walk her down the aisle, she takes a peek into her mother's diary after discovering it, where she learns of her mother's intimate romances with 3 men: Sam Carmichael (Tamlyn Henderson), Bill Austin (Matthew Rutherford) and Harry Bright (Daniel Crowder). Believing that one of these men was her father, she pretends to be Donna and invites them to the wedding. Only expecting her best friends, Tanya (Helen Anker) and Rosie (Nicky Swift), to turn up at the island for the wedding, it's needless to say that this 'surprise' sends Donna into a panic when her 3 old flames show up at her taverna.
Those who are familiar with the ABBA tunes will know that they are not the easiest of songs to sing, and require an impressive vocal range to deliver them. With big octave jumps and songs that go from light-hearted, feel-good pop tracks such as "Dancing Queen" and "Super Trouper", to the delicate, heartfelt numbers like "Slipping Through My Fingers" and "Winner Takes it All", Shona White nails it to perfection, blowing audiences away song after song!
As much as the musical is based around Sophie's wedding and her quest to find her father, the highlights of the show comes from Donna's best friends and ex-lovers, who had audiences in fits of laughter.
Anker and Swift are simply phenomenal as Tanya and Rosie!! The chemistry between them make the friendship so believable. Individually, they own their scenes and shine, but when together, they bring out the best of each other, giving audiences endless laughs with their perfectly-timed, unrestrained slapstick humour.
Anker, who plays the rich and glamorous 3-time divorcee, Tanya, brings so much fun and energy to the production. From the moment she appears on that stage, you cannot help but smile as you watch her character be the good, supportive friend, trying to lift Donna's spirits; before ending up in a little awkward situation of her own, where she has to fend off the advances of one of the taverna lads. Anker does a sublime job as this sophisticated diva, leaving audiences in hysterics!
As for Swift, the last time I had saw her perform was back in 2012 at Les Misérables in London's West End. Seeing her go from one of the Lovely Ladies to covering for Madame Thénardier was wonderful as she is simply brilliant in those comedic roles. Fast forward to 2019, she's now here as Rosie, making audiences laugh-out-loud, not just in "Take a Chance on Me" but throughout - going from the very beginning to "Chiqutita", "Dancing Queen" and the wedding scene. Just amazing!
And speaking of duos, how can we not mention Rosie's new interest? Matthew Rutherford as Bill Austin is truly the best thing ever!! Playing the awkward dad-dancing, writer-adventurer, Rutherford has the audience in stitches and you can't help but love his character, as you watch him navigate the drama.
Despite all the hilarity and great tunes, there were moments in the production which seemed to drag slightly and left me with some questions. In "Under Attack", it's understandable that Sophie's character is worried, given that all 3 potential fathers may fight to walk her down the aisle, but was the nightmare scene necessary? Let's not forget that when it comes to worries and stresses, Donna most definitely has it worse than Sophie! That being said, excluding the tiny issues with the book, overall, this is a great production with an impressive cast that brings so much life and energy to the characters. Pair that with the great harmonies and dance numbers, this is one theatre trip that you won't want to miss!
Mamma Mia! continues at The Hong Kong Academy for Performing Arts (HKAPA) through to January 27th. For tickets and info visit http://www.hkticketing.com

MAMMA MIA! International Tour Cast 2018/2019 Helen Anker, Shona White, Nicky Swift

MAMMA MIA! International Tour Cast 2018/2019 Lucy May Barker and Ensemble

MAMMA MIA! International Tour Cast 2018/2019 Helen Anker, Shona White, Nicky Swift

MAMMA MIA! International Tour Cast 2018/2019 Helen Anker, Shona White, Nicky Swift

MAMMA MIA! International Tour Cast 2018/2019