Hilarious New Comedy Opens in Florida Rep's ArtStage Studio Theatre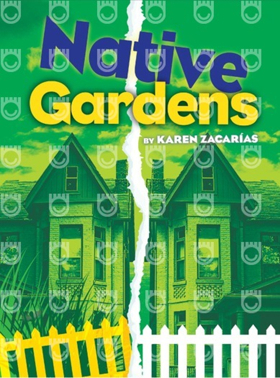 Florida Repertory Theatre is pleased to announce the opening of "Native Gardens" by Karen Zacarías playing to an already-extended run April 5 to May 19 in the ArtStage Studio Theatre. The run includes four discounted previews April 2 - 4 that are nearly sold out.

One of the hottest new plays in America this season, "Native Gardens" is a brand-new comedy that pits neighbor against neighbor. When rising career professionals, Pablo and Tania, move in next door to deep-rooted D.C. socialites, Frank and Virginia, they try their best to be welcoming. However, when a questionable fence line threatens Frank's prize-winning orchids, the gardening gloves come off, and civility turns into a backyard turf war!

"This backyard comedy is sure to resonate with Florida Rep audiences," said Florida Rep Artistic Director, Greg Longenhagen. "The play delivers funny, timely, and madcap characters whose behavior harkens back to the era of the great American sitcom by delivering a pinch of pathos before it's all over."

"Native Gardens" stars ensemble member V Craig Heidenreich ("The Last Night of Ballyhoo") and Carol Halstead (Florida Rep debut) as Frank and Virginia Butley, and Anthony Michael Martinez (Florida Rep debut) and Jennifer Paredes (Florida Rep Debut) as Pablo and Tania. The cast also includes Alberto Gayoso (Florida Rep debut), Isabella Cintron ("Doublewide"), and Chance Cintron (Florida Rep's conservatory production of "A Chorus Line") who function as a landscaping crew hired to work in the adjoining backyards and help to advance the action of the play with physical comedy and silent storytelling.

Stefan Novinski makes his Florida Rep mainstage directorial debut with "Native Gardens" after directing a reading in the theatre's PlayLab Festival in 2017. Novinski is joined by ensemble Set Designer Ray Recht ("Sylvia"), Costume Designer Dina Perez ("Shear Madness"), Lighting Designer Eli Carnahan (Florida Rep debut), Sound Designer Katie Lowe ("Million Dollar Quartet"), and ensemble Stage Manager Amy Massari ("Tenderly").

"Native Gardens" by Karen Zacarías is generously sponsored by Nu Image Cleaners.

"Native Gardens" is breaking box office records in the ArtStage Studio Theatre, and the run has already been extended to May 19 due to overwhelming demand. Tickets are priced at $55 for regular performances and $35 for discounted previews and are available online at www.FloridaRep.org and through the box office at 239-332-4488.

Box office hours are Monday through Saturday, 10 AM - 5 PM. New this season, Florida Rep's parking lot will open 2 hours before each performance and offers guests limited free parking across the street from the Arcade Theatre.

Florida Repertory Theatre performs in the Historic Arcade Theatre and the ArtStage Studio Theatre on Bay St. between Jackson & Hendry with limited free parking in the Fort Myers River District. Visit Florida Rep online at FloridaRep.org, and by following the company on Facebook, Twitter, Instagram, and YouTube.