BWW Review: AVIGNON THEATRE FESTIVAL Presents £¥€$ by Ontroerend Goed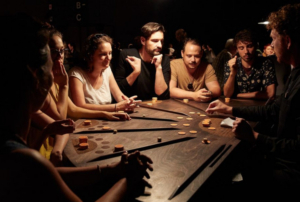 Compagnie flamande, Ontroerend Goed s'est spécialisée dans des spectacles situés à la lisière du thétre et de la performance artistique. Avec £¥$, qui peut se lire Lies, Eyes ou encore « Livre, Yen, Euro, Dollar », la compagnie cherche à retranscrire les lois du marché financier en créant un endroit à mi-chemin entre un casino clandestin et une salle des marchés. La performance est interactive, 84 personnes sont réparties sur douze tables qui vont chacune représenter un marché financier dont les sept personnes qui y sont attablées seront les banques faisant vivre ce marché. Les douze tables réunies forment un marché international qui fluctue en fonction des transactions. Le but principal de cette performance interactive est d'introduire les spectateurs dans le petit monde des plus riches, des banquiers et des traders.
La performance se déroule comme un jeu de société géant où chaque table évolue de manière indépendante tout en étant influencée par les autres tables. Les acteurs qui incarnent les croupiers et les gérants de salle sont bluffant de réalisme. On en arrive presque à oublier que l'on est en présence d'acteurs. Ils ont une trame établie qui est rythmée par des moments clés qui structurent la performance mais la majeure partie de la représentation se fait en improvisation car l'aléatoire est un facteur majeur dans cette performance.
Si vous ne voulez pas savoir comment se déroule la performance n'allez pas plus loin dans cette lecture car je m'apprête à décrire comment s'est déroulée la performance lors de la représentation à laquelle j'ai assisté. Les gérants de salle répartissent les spectateurs sur les différentes tables, de manière aléatoire. Les douze premiers spectateurs à entrer dans la salle donne leur nom à la table à laquelle ils sont affectés. Étant le premier à ma table, le pays dans lequel le marché de cette table a évolué c'est donc appelé Charlestan. Une fois les sept personnes installées et les présentations faites. Les croupiers, dans mon cas la croupière, demandent à sortir sur la table tout l'argent liquide dont nous disposons. Après un moment d'hésitation, nous nous exécutons puis elle nous annonce que pour établir une confiance entre elle qui représente le marché du pays et nous qui représentons les banques, nous devons choisir le montant que nous voulons jouer. L'argent est mis dans des enveloppes celées et nous est rendu à la fin de la performance. La croupière nous donne donc le nombre de jetons correspondant à notre investissement : un euro correspondant à un jeton d'un million. Les marchés reçoivent des notes qui influent en fonction de leur solvabilité. La première note est attribuée en fonction des investissements des banques. Charlestan ayant eu de bons capitaux de départ a commencé avec une note de A-. Le jeu se prend facilement en main au bout de quelques tours. À la fin de chaque manche les gains sont divisés en cinq colonnes et la dernière colonne représente les impôts. Plus les joueurs payent les impôts en fin de manche plus le marché engrange de l'argent et est donc solvable à l'international. Nous prenant au jeu, nous acceptmes à plusieurs reprises de vendre des obligations à l'international et lorsque la note de notre marché a atteint le A+, les autres pays ayant acheté les obligations ont voulu récupérer leur argent. Trois autres marchés sont comme nous tombés en banque route car les banques étaient plus riches que le pays et le pays ne pouvait donc pas tenir les obligations pour lesquels il s'était engagé. C'est alors mis en place une bulle financière pendant laquelle les douze tables ont dû choisir un des pays à sauver. Malheureusement Charlestan n'a pas été sauvé et notre table a donc fini en banque route. Il est intéressant de constater que les quatre tables ayant fait un crash boursier digne de 1929 étaient celles avec des notes entre A- et A+.
La performance se termine avec la reprise du discours du début. Montrant ainsi que le marché financier est cyclique et que même après une banqueroute et la perte de milliard de capitaux à l'international, l'investissement continue.
Pour conclure, la performance des acteurs est criante de réalisme et l'ambiance instaurée dans le lieu permet d'oublier que l'on est dans une représentation thétrale. Le fait de jouer à côté de personne que l'on ne connait pas permet de mettre en avant la notion de confiance qui doit être instaurée pour le bon déroulement des investissements.
The Flemish company Ontroerend Goed specializes in shows located on the boundary between theater and performance art. With £¥$, which can be read as Lies, Eyes or "Pound, Yen, Euro, Dollar", the company seeks to retranscribe the laws of the financial market by creating a place halfway between a clandestine casino and a trading room. The performance is interactive, 84 people are spread over twelve tables, with each representing a financial market. Seven people who are sitting there are the banks that support this market. The twelve tables together form an international market that fluctuates according to transactions. The main purpose of this interactive performance is to introduce the audience into the small world of the richest, bankers and traders. The performance was first created in English before being adapted in French.
The performance unfolds like a giant board game where each table evolves independently while being influenced by other tables. The actors who embody the croupiers and the managers of room create a photorealistic immersion. We almost forget that we are in the presence of actors. They have an established frame that is punctuated by key moments that structure the performance but most of the performance is improvised because randomness is a major factor in this performance.
Spoilers:
The room managers divide the spectators randomly. The first twelve audience members to enter the room give their name to the table to which they are assigned. As I was the first to my table the country was christened Charlestan. Once the seven people installed and the presentations made. The croupiers, in my case the croupier, are asking for all the cash we have on the table. After a moment of hesitation, we execute and then she tells us that to establish a trust between it that represents the market of the country and we who represent banks, we must choose the amount we want to play. The money is put into sealed envelopes and is returned to us at the end of the performance. The croupier gives the number of tokens corresponding to our investment: one euro corresponding to a one million tokens. Markets receive ratings that affect their credit worthiness. The first rating is based on bank investments. Charlestan, having had good starting capital, began with a grade of A-. The game is easily taken in hand after a few laps. At the end of each round the winnings are divided into five columns and the last column represents taxes. The more the players pay the taxes at the end of the race the more the market is earning money and is therefore solvent abroad. Taking the game, we repeatedly agreed to sell obligations internationally and when our market score reached the A +, the other countries that bought them wanted to recover their money. Three other markets were like us in the road bank because the banks were richer than the country and the country could not fulfill the obligations for which it was committed. It was then set up a financial bubble during which the twelve tables had to choose one of the countries to save. Unfortunately Charlestan was not saved and our table ended up in the road bank. It is interesting to note that the four tables having a stock market crash worthy of 1929 were those with ratings between A- and A +.
The performance ends with the resumption of the beginning speech. Thus showing that the financial market is cyclical and that even after bankruptcy and the loss of billions of capital abroad, the investment continues.
The performance of the actors has a photorealism to it, and with the overall atmosphere established in the place makes it possible to forget that one is in a theatrical performance. Ultimately its the play's mechanism of having its audience play alongside someone they do not know allows them to put forward the notion of trust that must be established for the smooth running of investments.
£¥$ by Ontroerend Goed at Chartreuse-CNES de Villeneuve lez Avignon
Writing by Karolien De Bleser, Alexander Devriendt, Joeri Smet, Angelo Tijssens
Staging by Alexander Devriendt
Related Articles View More France

Stories

Shows