France Theatre Newsroom
The latest news on live + streaming theatre in France.
Paris Opera Presents TOSCA Next Month
by Stephi Wild on August 11, 2022 in France
When Giacomo Puccini saw a performance of Victorien Sardo's play La Tosca, whilst Sarah Bernhardt was touring with it in Milan, he was immediately captivated by the power of the drama. Love, politics, sadism and religion: all these ingredients are brought together in the story of the jealous and impulsive singer Floria Tosca, who is in love with the idealistic Mario Cavaradossi in an Italy fighting for its independence.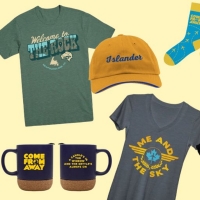 Shop COME FROM AWAY In BroadwayWorld's Theatre Shop
by Team BWW on August 08, 2022 in France
Shop official merchandise from Come From Away on Broadway in the BroadwayWorld Theatre Shop featuring the Me and the Sky Women's T-shirt, a Screeched shot glass, an 'I Kissed the Cod' face mask, the Islander hat and much more!