Review: MATILDA at Fort Wayne Civic Theatre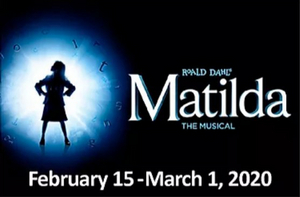 Matilda opened with a bang at the Fort Wayne Civic Theatre this weekend, with plenty of chances left to see this whimsical show. Christopher J. Murphy directs the production in collaboration with the Fort Wayne Youtheatre (with music direction by Eunice Wadewitz and choreography by the Fort Wayne Dance Collective's Mandie Kolkman).
Matilda hasn't been seen around Fort Wayne before, so here's a quick primer for those unfamiliar with the delightful musical. With the book by Dennis Kelly and music and lyrics by Tim Minchin (also known for the musical adaptation of Groundhog Day), the plot of the musical follows that of Roald Dahl's beloved children's book. Matilda, a precocious five-year-old girl, finds only mistreatment at home, where her family prefers the television (and salsa dancing) rather than books, which they ridicule Matilda for reading. She finds solace in her friends and schoolteacher Miss Honey, though her school is presided over by the terrifying headmistress Agatha Trunchbull. There's some pranks, some chocolate cake, and even some telekinesis-- because as Matilda sings, "sometimes you have to be a little bit naughty" to right the world's wrongs.
This show will engage audience members of all ages. I took my sister (28 years old and 26 years old, respectively) and we both adored it; the children in the audience also loved the show, based on their vocal reactions throughout. When the professional touring production came through Chicago a few years ago, I took my grandmother, and she loved it. So no matter your age, I think it's a safe bet that you'll have a great time.
The title role of Matilda alternates performance dates between two talented youngsters; we had the pleasure of seeing the third-grade Merritt Lloyd at the matinee on the 16th. She brought so much energy to Matilda's high-jinks, and her vocal solos were absolutely charming; she certainly has a bright future ahead of her in the theatrical world. And not just her! The cast of children shone throughout the show, including Aujenae Starks as Matilda's best friend Lavender, Jonathan Lowden as the cake-stealing Bruce, Randall Keeling as Nigel, Tegan Dostal as Amanda, and the entire "Little Kid Ensemble" (Alayna Baker, Ty Budenz, Carter Hammon, Ella Moore, Brenner Newsom, Jeremiah Wilson, and Chloe Zuehsow). Their last number, "Revolting Children," was such a joyful highlight of the show.
The rest of the cast filled their roles with vivacity and pizazz as well, especially Jim Nelson as Miss Trunchbull-- who is traditionally played by a male actor, and therefore can sometimes feel distasteful, but in this case, Nelson's comedic timing was absolutely magical and his portrayal really brought Trunchbull to life. Another stand-out was Todd Frymier's portrayal of Matilda's obnoxious car-salesman father Mr. Wormwood. At the beginning of act two, he interacts with the audience and then sings a rousing number about the glory of television, backed by his son Michael (played by Caleb Cox). Their antics had the audience roaring with laughter. In general, all of the songs in the show were over-the-top in the most appropriate way, because Roald Dahl's world is all about being extra, and this cast pulled that off with magnificent success.
Finally, a huge round of applause for Adam Fletcher's scenic design, along with lighting design and technical direction by Corey Lee and projection design by Corey Lee and Marisa Gehrig. I was supremely impressed by the sets, because they're different from the original and touring productions-- which requires an immense amount of creativity, and offers stunning surprises for people who have seen the show before. I much prefer originality rather than faithful (yet boring) reproductions of the original, so I was blown away by the design of this production. Many of the set changes look like they get pulled from the stacks of books that line the set (like giant books opening to become cabinets, for example), adding to the playfulness of the story. The shadow puppetry used in a few of the musical numbers adds even more whimsy and dynamism.
Do yourself a favor and get your tickets now, because they will sell out. Best of luck to the cast on the rest of their run, which plays through March 1. Show dates and times can be found on the Civic's website, where you can buy tickets online. Otherwise, call the box office at (260) 424-5220.