Review: PRISCILLA BY SAMUEL HARJANNE AT HELSINKI CITY THEATRE
Bring your sunglasses! This show shines and brings the party to the town.
Priscilla is a heartwarming, boogie-along jukebox musical of your favorite disco hits! Filled with beaming lights, glitter and meaning Priscilla reminds how not to take life so seriously, not it's brights nor its storms - and one will always end up finding like-minded people. Even from the mids of a desert!
I got to see Priscilla 15.9. at Helsinki City theatre. When strolling towards the building I was wondering why so many elderly people were there as well. But during intermission I figured that Priscilla is filled with songs of their late-teens and twenties - and they might have seen the film also in 1994 that brought up the very nostalgia.
Let's dig into the review!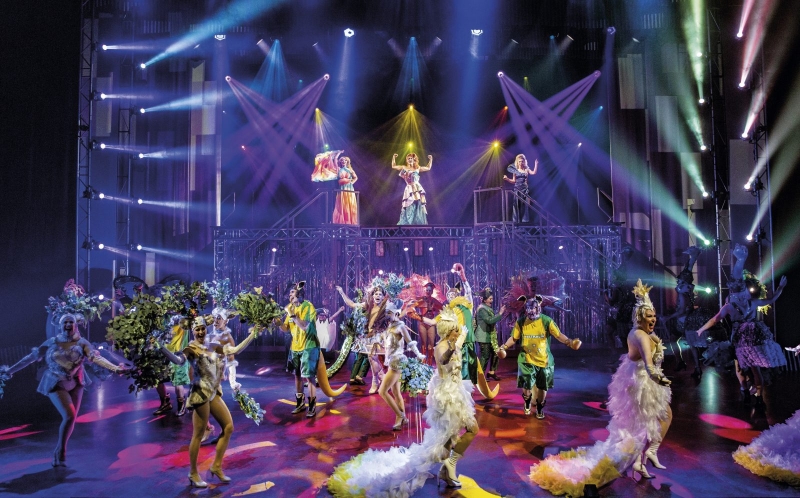 The show starts with a blast! The divas Johanna Försti, Maria Lund and Jennie Storbacka truly have amazing voices. The strongest elements of the show - or a holy trinity even, carrying the party - were the costumes by Tinja Salmi, live music contucted by Eeva Kontu and lights by William Iles and Toni Haaranen. The dresses and costumes got different hues in different lightings, keeping the show visually entertaining. Naturally the music worked every time. Iles and Haaranen also designed the projections/videos. I was afraid that the part where Priscilla bus drove over animated animals would stay cornish but it took an absurd turn when the sun of the Teletubbies rose in the back. It was Tinky Winky's turn to get hit... who by the way got themselves news titles in 1999 such as: "Is Tinky Winky gay?"
By the plot Priscilla stays a little shallow, meaning it's not cognitively very tingling. Nevertheless it succeeds in delivering a very important message on acceptance, compassion and friendship. At least those themes spoke to me the most. Also kudos to the huge and talented ensemble who shaped themselves into various roles and characters!
A nice detail got my attention. The silhouettes in the background, with the right lighting, turned themselves at times into city buildings, at times into grass patches in the desert. Well done set designer Peter Ahlqvist.
My absolute favorite scene was when Bernadette (effortless Clarissa Jäärni) and her friends turned around from the joyful party of the small village only to find out their bus was messed with Go away Faggots. The sheer change in mood, excellent timing and wiping off the music (sound design by Kai Poutanen) was topped with my favorite element in theatre: a stop. A pause. And a long enough one!
It's been a week and it still pops up in my head at times.
What it comes to choreography by Gunilla Olsson Karlsson I very much liked the acrobatic tricks on Felicia's (Niki Rautén) first show. Also Bob's (always charismatic Risto Kaskilahti) memory of Priscilla where Roderick Kabanga and Martti Manninen danced with young Priscilla was a top notch scene. The dance was very classical but intimate with only three dancers and the viewpoint of a memory also gave depth to it. Also the colors of a trans flag were an excellent detail.
Something that personally bugged me a little was the scene where Felicia sat on top of the bus, waving their hands to the Opera and the lights beamed. The gestures were out of sync with the lightings - it may have symbolised how they still are a rookie, because after that they got into a conversation with Bernadette of how to do drag properly. Also the breathwork didn't match the Opera quite well. Nevertheless it was a fun bit but could have been more accentuated.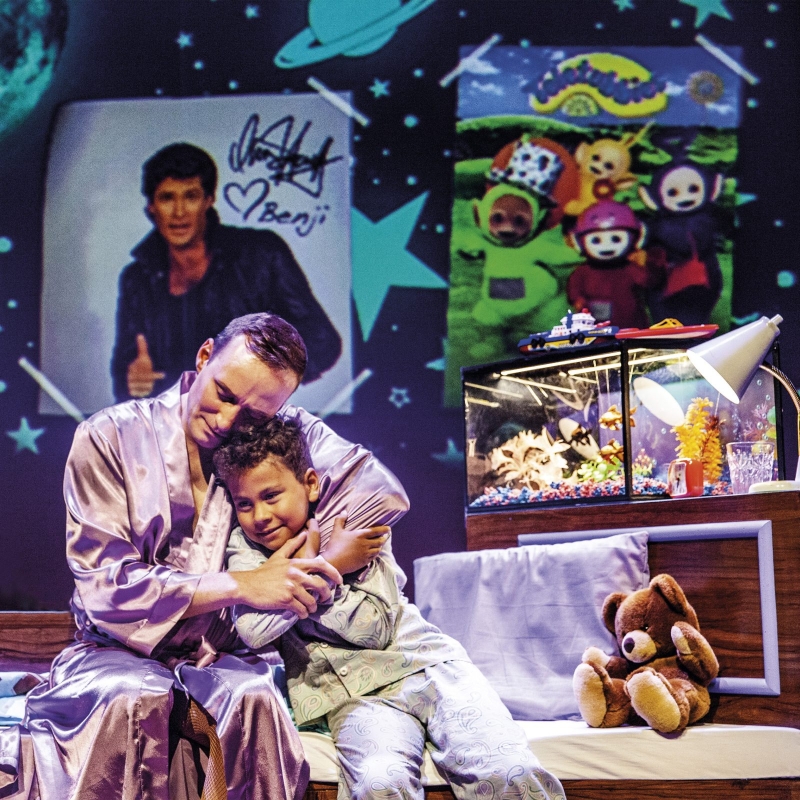 Before the show I was excited to hear that they had cast a real trans-woman to play Bernadette! The lines about being a trans-woman really carried meaning that way, as they should. Clarissa Jäärni satisfied my expectations. It was very fresh to see different acting-techniques in the trio. Lauri Mikkola had a very classical style, Niki Rautén executed the role with grandiloquent essence and Clarissa Jäärni gave us a very honest and fresh presence, which I liked the most.
A special thanks to Iivari Luomala who took the role of Benji that evening. "It's about time already (to get a boyfriend)" -moment was very strong and moving. Overall the dialogue in the bedroom deserved the applauses. Luomala melted the hearts of the audience!
Priscilla gives us the party it promises, earning midway-applause (fin. väliaploodit) after several scenes. What it comes to Finnish musicals, Samuel Harjanne never seems to fall from the deserved pedestal.
Watch out for the dingos that steal babys, though!
Photos: Robert Seger