Review: WIZARD OF OZ at Gooseberry Park Players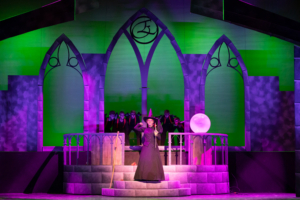 Gooseberry Park Player are off to see The Wizard!
The story of The Wizard of Oz has been told numerous times in many different ways. Originally a book written in 1900 by L. Frank Baum with the first Broadway musical adaption coming in 1902. Of course the most popular version is the 1939 musical film adaption starring Judy Garland as Dorothy. For the 60th anniversary of the film release the Gooseberry Park Players decided to bring the story to their stage. Most people know the story, but this version may offer some new scenes not seen by many before, including the "Jitterbug" song/scene that was actually cut from the original movie due to time constraints.
This is a fun show with a great cast. I will give a warning to parents of little kids, it is a long show. Almost 3 hours including intermission. In the opening few scenes we get to meet most of the main characters, just not as we see many of them for the majority of the show.
This is a talented cast with many standouts. Audrey Haugen as Dorothy was superb. I recently saw her as Katherine in the Fargo North High production of Newsies. She is obviously the star and is in almost every scene. She plays the young Kansas farm girl perfectly and shares her beautiful voice with the audience in the most well known song from the show, Over The Rainbow. She has great stage presence. A wonderful actress, singer and dancer.
Katherine Leiseth as Glinda is absolutely stunning as the good witch in voice and style. She has an absolutely beautiful voice and hits some amazing high notes during Ding Dong and Poppies. We recently saw her in the Moorhead High Production of Newsies.
Elizabeth Wilhelmi as Miss Gulch/The Wicked Witch of the East has that spine tingling cackle perfected. We get to hear her stand out on Jitterbug. She is going to be a junior at Fargo South so we should me plenty more from her in the future.
Marcus Hart as Scarecrow was possibly my favorite character of the show. This young man can act, sing, dance and his comedic timing and stage presence were top notch. He is only going to be a sophomore at Fargo Davies. He nailed his characters signature song If I Only Had a Brain.
Charlie Maki as Tinman was another great casting choice in his first Gooseberry production. This sophomore from Moorhead High is coming off of his standout performance as Davey in last years Newsies. Charlie is also involved in Speech at Moorhead and his great story telling skills were shown while he was describing how he came to be the way he is. His singing on If I Only Had a Heart was wonderful.
Slayde Stautz as Cowardly Lion was another pleasant surprise. This is his first Gooseberry show and he is from Central Cass so it's my first time seeing him perform. Another young man with great stage presence and comedic timing. A great vocal performance on If I Only Had The Nerve.
Rafael Gomez as Professor Marvel/The Wizard was fun. He is a fine actor who I recently saw as Eeyore in the Moorhead High production of Winnie The Pooh. His scene in the beginning when Professor Marvel first meets Dorothy is great.
The whole cast and crew did such a wonderful job. So many fabulous dancers throughout the show and I loved the big Munchkin number on Ding Dong The Witch is Dead. The finale of Somewhere Over The Rainbow was a perfect way to end the show.
Definitely wanna give a shout out to the pit orchestra conducted my Casey Behm.
Congrats to the whole cast, crew and all involved in this years Gooseberry Park Players Production!
For the podcast Stage Notes with Brian Michaels clickbelow