Culture Lab Detroit Announces 2018 Program: The Crisis Of Beauty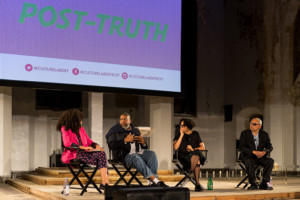 Now in its sixth year, Culture Lab Detroit returns in 2018 to engage internationally reputed artists, inventors and filmmakers on the theme of The Crisis of Beauty. The new edition of the acclaimed cultural program will explore how beauty intersects with multiculturalism, the intricacies of gentrification, gender politics, and unbounded assimilation of technology to offer novel or previously suppressed perspectives.
"Detroit has a history of exploring the connections between culture and social progress," says Jane Schulak, Founder. "We're thrilled to bring some of today's most compelling voices to Detroit to contribute to this vital conversation." Culture Lab Detroit's two-night discussion series will take place October 11 and 12, 2018. On October 11, Culture Lab Detroit will host the discussion at The Senate Theater, a historic 800-seat Art Deco theater. The second dialogue will be hosted on October 12 at The Church of the Messiah, a 142-year-old non-traditional Episcopal church in Detroit's East Side. These locations speak to the cultural history and vibrancy of Detroit's diverse neighborhoods. In the past, Culture Lab Detroit has brought cultural luminaries including
Hilton Als
, Elizabeth Diller, Coco Fusco, Adam Pendleton,
Alice Waters
, and many more to Detroit for free public conversations in historic venues, as well as staged public art projects by artists such as Gary Simmons and Matthew Angelo Harrison. Each dialogue is free and open to the public.
DIALOGUES
THURSDAY, OCTOBER 11
The Aesthetics of Tomorrow
6:00 PM Reception / 6:30 PM Dialogue
The Senate Theater
6424 Michigan Avenue, Detroit
We use our visionary abilities to imagine, design, and create a better world. Historically, art has been defined by its allegiance to and rebellion from classical ideals of beauty, often in pursuit of mythology, structure, and pleasure. As we navigate an era where virtual reality challenges our concepts of authenticity,
Artificial Intelligence
calls into question what it means to be human, political and ecological systems place the body in a state of crisis, and the disavowal of science continues-we have to ask: how is technology shaping the future and what is the role of beauty in those processes? The Aesthetics of Tomorrow features artists and theorists working on the cusp of technological innovation: Mark Pauline is an inventor of kinetic sculpture inspired by science fiction, using his Survival Research Laboratories to explore ideas of violence and spectacle. Eyal Weizman's Turner-Prize nominated Forensic Architecture explores new uses of data to address human rights violations. Anicka Yi confronts assumptions of identity through the "biopolitics of the senses."
PARTICIPANTS
Mark Pauline
Performance Artist, Founder and Inventor of Survival Research Laboratories
Eyal Weizman
Architect, Director of Forensic Architecture
Anicka Yi
Conceptual Artist MODERATOR
Yesomi Umolu
Artistic Director of the 2019 Chicago Architecture Biennial and Exhibitions Curator at the Reva and David Logan Center for the Arts, University of Chicago SPECIAL GUEST
Peter Weller
Art Historian and Robocop title role
FRIDAY, OCTOBER 12
Seeing and Being Seen
6:00 PM Reception / 6:30 PM Dialogue
The Church of the Messiah
231 E Grand Boulevard, Detroit
The allocation of power, formation of communities, and the shape of our individual identities exemplify the unquestionable force of aesthetics. Understanding the potential energy intrinsic to aesthetics of representation, especially as those notions serve to define a set of "ideals," we look to a global community of artists, writers, and cultural critics to visualize and redefine modes of recognition and social engagement-to help us see new ways of being in the world. Seeing and Being Seen brings together three artists whose work shows how identity is both formed and performed, and how this process can be obscured, embraced, and exalted to create a culture of possibility. dream hampton is a filmmaker, writer and social-justice organizer from Detroit whose work explores and dissects the complexities of cultural and political truths. Juliana Huxtable's multidisciplinary practice as an artist, writer, performer, and musician seeks to "canonize the saints of becoming." Finally, Amy Sherald creates a new language of portraiture to reflect the nuances of the African American experience, ranging from portrayals of everyday people to the official portrait of former
First Lady Michelle
Obama, which was unveiled this spring.
PARTICIPANTS
dream hampton
Filmmaker, Writer, Organizer
Juliana Huxtable
Conceptual Artist, Writer, Performer, and Musician
Amy Sherald
Painter MODERATOR
Jazmine Hughes
Associate Editor for The New York Times Magazine SPECIAL GUEST
Reverend Barry Randolph
The Church of the Messiah, Detroit
ABOUT CULTURE LAB DETROIT
Culture Lab Detroit is a non-profit organization that engages with local communities through creative partnerships, projects, and public dialogues to stimulate new relationships, artistic opportunities, and encourages action-oriented social exchange among a global network of artists, activists, and thinkers. The organization was founded in 2012 by President and Creative Director Jane Schulak.