Photo Flash: Sneak Peek at DM Playhouse's ONE FLEW OVER THE CUCKOO'S NEST
The Des Moines Community Playhouse presents "One Flew Over the Cuckoo's Nest," Jan. 31-Feb. 16. Tickets may be purchased online at dmplayhouse.com, by phone at 515-277-6261, and at The Playhouse ticket office, 831 42nd St. BroadwayWorld has a first look at the cast below!
Randle P. McMurphy (Tim Wisgerhof) thinks a stay in a mental hospital will be better than a stint in prison. The fun-loving rebel soon takes things over, rallying the inmates out of their stupors in ways the medical professionals never have.
McMurphy's brash and boisterous personality, not to mention the McMurphy-led rebellion to watch the World Series, brings him up against the tyrannical Nurse Ratched (Kellie Kramer). Things go too far for an establishment where following the rules means sanity.
Boisterous, ribald, and ultimately shattering, "One Flew Over the Cuckoo's Nest" is the unforgettable story of man fighting the system.
The Playhouse's production of "One Flew Over the Cuckoo's Nest" is directed by Ron Ziegler. Completing the cast are Rebekah Boyd, Jason Crowley, Katie Dorrell, Jerry Eisenhour, Russ Harlan, Steve Hickle, Lenny Houts, Jennifer Lee, Jason Rainwater, Charlie Reese, Matthew Ridout, Jeff Rohrick, Lester Small, and Josh Visnapuu.
The show is recommended for ages 16 and up due to adult subject manner, strong language, and periodic violence.
The Playhouse will host preshow talks in conjunction with "One Flew Over the Cuckoo's Nest." Audiences are encouraged to come to the theatre 30 minutes prior to curtain for a preshow talk with artistic staff.
The Playhouse is Iowa's oldest and largest producing theatre. Located at the 42nd Street exit of I-235, the theatre has presented a full season of shows since 1919 and also offers a wide variety of educational experiences including classes for ages 4 to adult, theatre trips to New York, and volunteer opportunities onstage and backstage. For more information about The Playhouse and "One Flew Over the Cuckoo's Nest," contact The Playhouse ticket office at 515-277-6261.
Photo Credit: Steve Gibbons

(From lower left, plaid robe) Jason Rainwater as Anthony Martini, Russ Harlan as Frank Scanlon, Charlie Reese as Billy Bibbit, Jason Crowley as Charles Atkins Cheswick III, Jeff Rohrick as Dale Harding, Tim Wisgerhof as Randle Patrick McMurphy, and Josh Visnapuu as Chief Bromden

Jason Crowley as Cheswick, Russ Harlan as Scanlon, Jeff Rohrick as Harding, Tim Wisgerhof as McMurphy, Charlie Reese as Billy Bibbit, and Jason Rainwater as Martini

Tim Wisgerhof as McMurphy and Kellie Kramer as Nurse Ratched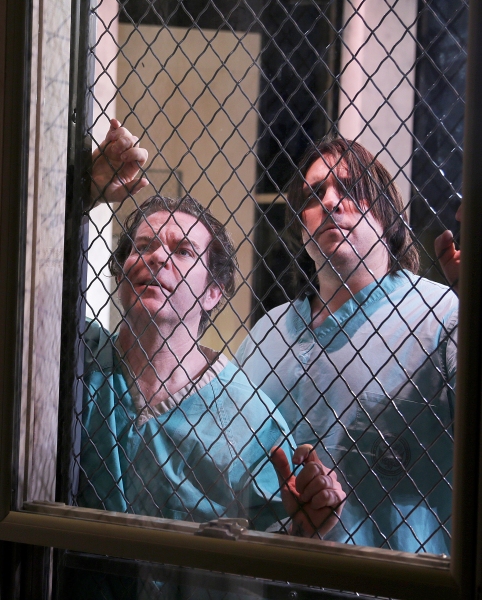 Tim Wisgerhof as McMurphy and Josh Visnapuu as Chief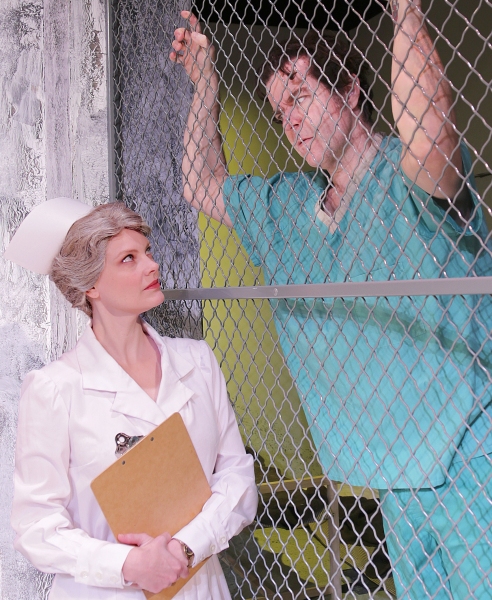 Kellie Kramer as Nurse Ratched and Tim Wisgerhof as McMurphy