BWW Previews: GO FIGURE: THE RANDY GARDNER STORY at DE Theatre Company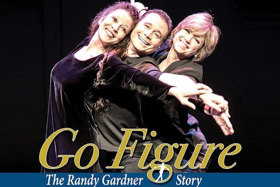 Delaware Theatre Company is preparing us for the Winter Olympics with a limited run of GO FIGURE: THE Randy Gardner STORY, a live autobiographical audience interactive show on the renown skater's life.
Joining him on stage is the woman with whom he was Joined At The hip in pairs skating legend in the '70's and '80's, Tai Babilonia. Their lifelong friend and Olympic champion Dorothy Hamill will share a few tales as well.
Gardner's story includes his being a 'closeted' gay athlete (when no one spoke about homosexuality and everyone was in denial), his learning that he was adopted at age 40 and the subsequent search for his biological mother.
Randy and Tai became a team when he was 10 and she 8. They both considered themselves singles skaters but their coach saw something and paired them. The two went on to win 5 US National Championships and the Gold medal at the '79 World Championships. They were favored to win the 1980 Olympics in Lake Placid. There was drama because their closest competitors were Russians. The fickle finger of fate had a different story line. Gardner suffered an injury two weeks prior and they were forced to drop out.
The two went on to have a wonderful professional career with The Ice Capades. Hamill, of course, captivated the world with her style, her grace and her hair. Gardner told me during our interview that Princess Di spoke to Dorothy about her world famous "Hamill wedge'.
Gardner has some surprises for the audience. And, as a special treat, on Monday January 15, the trio will be at The Riverfront Skating rink from 6pm-8pm to welcome all wannabe Olympians. Here is the ticket link.
Opening night there will be a champagne reception and meet & greet. Tickets are $75.00
Jan 17-28 DelawareTheatre.org 302.594.1100
Next up: HEISENBERG Feb 7 - 25