Photo Flash: The Human Race Presents Permanent Collection
An art museum may not be the first place you'd think of when it comes to workplaces with intense conflict, but in Thomas Gibbons' Permanent Collection the Morris Foundation has as much head-butting as an NFL game. And unlike in an NFL game, the production by The Human Race Theatre, Dayton's own professional theatre company, doesn't provide The Players with helmets and pads.
Eccentric collector Alfred Morris pretty much guarantees the collisions when his will stipulates both that his museum go to an historically black college and that the displays be kept precisely as they are - leading to an inevitable battle over African artworks that have been kept in basement storage.The Morris Foundation is loosely based on the Barnes Foundation of Philadelphia, a real-life private museum with a real-life eccentric owner, Barnes is the subject of the film documentary The Art of the Steal, though the film and
Permanent Collection
cover entirely different aspects of the aftermath of the collector's death.
Permanent Collection
is directed by Dayton native and current New Yorker
Schele Williams
, who did a masterful job at the helm of
Ethel Waters
: His Eye Is On The Sparrow two years ago. It is part of the 2010-2011 Eichelberger Loft Season of The Human Race, which will celebrate the 25th Anniversary of its incorporation during the run.The college which inherits the collection hires African-American businessman Sterling North as director. North is played by Human Race Resident Artist Alan Bomar Jones, most recently seen at
The Loft
in A Christmas Carol, who recently garnered rave reviews for the Columbus one-man-play as folk artist Ezra Pierce, Pierce to the Soul.North's discoveries lead to the battles with the museum #2,
Paul Barrow
, played by New York-bas
Ed Scott
McGowan, who has won awards for performances in Miss Saigon and Evita, so he knows about
Culture Clash
es. The two men draw in the office staff, played by New Yorkers
Sharon Hope
(who has done numerous Law & Order episodes, so she knows verbal fracases) and
Melissa Joyner
(whose many credits include a turn as a student in Carrie II, so she know about the results of anger), into the fray. A reporter who gets interested in the story is played by Christine Brunner of Middletown, who was in Human Race productions of A Christmas Carol and has appeared in many other shows in the region, and who has been a hand model in commercials for both Charmin and Bounty, so she knows when people have made a mess of things.The imaginative set - you have to be imaginative when depicting a few billion dollars' worth of art - is by Tamara L. Honesty. Costumes are by
Janet Powell
, lighting by HRTC Resident Artist John Rensel, sound by Matthew P. Benjamin, with Heather Jackson as Production Stage Manager.
Permanent Collection
will have a preview night April 14, with the official Opening Night April 15 and regular performances at
The Loft
Theatre through April 15 - May 1. Tickets are available through www.humanracetheatre.org or by calling Ticket Center Stage at (937) 228-3630.Among the participants in the While We're On The Subject talkback after the April 24 matinee, to which audience members are invited, will be Dayton Art Institute Chief Curator Will South. Production sponsors are Rob and Leesa Comparin, Richard and Marni Flagel, Tyree L. Fields, Larry S. Glickler - Bradford-Connelly and Glickler Funeral Homes, Jon and Diana Sebaly, Maryann and Jack Bernstein, Alan and Marsha Pippenger, and John and Tamara Clough.
Founded in 1986, The Human Race Theatre Company moved to the Metropolitan Arts Center in 1991, taking up residence at the 219-seat Loft Theatre. In addition to the Eichelberger Loft Season, The Human Race produces for the Victoria Theatre's Broadway Series, the Musical Theatre Workshop series, and special event programming. The Human Race, under the direction of Producing Artistic Director Kevin Moore, also maintains education and outreach programs for children, teens and adults, as well as artist residencies in area schools, The Muse Machine In-School Tour, Youth Summer Stock, and The Human Race Conservatory. Human Race organizational support is provided by Culture Works, Montgomery County Arts and Cultural District, Shubert Foundation and the Ohio Arts Council. The Ohio Arts Council helped fund this organization with state tax dollars to encourage economic growth, educational excellence and cultural enrichment for all Ohioans.
All photos by Scott J. Kimmins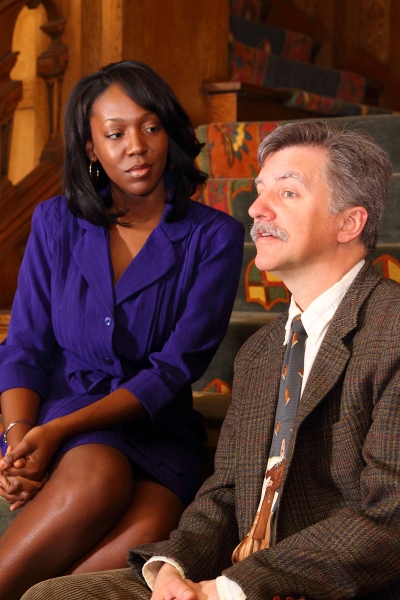 Melissa Joyner and Scott McGowan

Alan Bomar Jones

Alan Bomar Jones and Scott McGowan

| | |
| --- | --- |
| Vote Now for the 2022 BroadwayWorld Dayton Awards | |
| voting ends in | |