Enjoy Free Family Fun With Fort Worth Youth Orchestra In March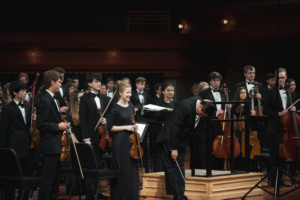 The ensembles of the Fort Worth Youth Orchestra (FWYO) will usher in the Spring with two exciting concerts featuring a brilliant combination of recognizable audience favorites and thrilling new works. The Philharmonic, String, and Junior String Orchestras will take to the stage on Sunday, March 4, 2018, for a concert that includes music by Beethoven, Brahms, and Liszt, and features the winners of FWYO's recent concerto competition. The principal Youth Orchestra ensemble will then close out the month with a special concert on Sunday, March 25, 2018, under the baton of Spanish guest conductor Vicente Ariño Pellicer.
A superior training-ground for aspiring young musicians, the various ensembles of the FWYO provide an unmatched opportunity for talented players of all experience levels to grow as musicians in a group performance environment. Kicking off the March 4, 2018, 4 PM concert, conductor Amanda Musser and the Junior String Orchestra -- comprised of young players at the very beginning of their orchestral experiences -- will delight audiences with a lively trio of works including Conquistador by Deborah Baker Monday, Ludwig v. Beethoven's "Ode to Joy" (arr John Caponegro), and Storm the Gates by Alan Lee Silva. Following their performance, conductor Samuel Branch and the String Orchestra -- an ensemble for more experienced young violin, viola, cello, and bass players -- will take the stage for performances of Bob Mathews Small Overture and The Odyssey by Soon Hee Newbold.
The String Orchestra will also welcome violist Courtney Hunter, winner of the group's 2017/18 Concerto Competition, in her debut performance of the second movement of Georg Philipp Telemann's Viola Concerto in G Major. Rounding out the concert, conductor Nick Nixon and the Philharmonic Orchestra -- which provides the first full orchestral experience for wind, brass, percussion, and string players -- will give bold interpretations of works by three titans of classical music including Johannes Brahms' Academic Festival Overture (arr Vernon Leidig) and Franz Liszt's Les Preludes (arr Vernon Leidig). Violinist Natalie Caldwell, a Philharmonic violinist and winner of the group's Concerto Competition, will delight audiences in her debut performance of the first movement of Antonio Vivaldi's dramatic Violin Concerto in G Minor.