BWW Review: La Mirada Theatre Revisits Classic Musical WEST SIDE STORY
Because it is arguably one the most beloved and critically-acclaimed Broadway musicals of all time, WEST SIDE STORY---the still-relevant theatrical masterpiece of song, dance, and story---is revisited often by regional theaters across the country (and, frankly, the world). So it is no surprise that yet another large regional theater in Southern California is reviving this nostalgia-baiting, reliably-entertaining, and thematically-resonant show, this time by the talented folks over at McCoy Rigby Entertainment at their home base at the La Mirada Theater for the Performing Arts, where performances continue through May 14, 2017.
The show is definitely a hard-to-resist, easy to enjoy musical---especially when done well. At its core, WEST SIDE STORY is filled with romance, wit, raw emotions, and, of course, remarkable moments that shine a spotlight on race relations that are still top-of-mind even now in the 21st century. Though, yes, our society may have progressed significantly from the days depicted in the musical, when experiencing WEST SIDE STORY live on stage, it is still staggering to believe that this show---originally conceived, directed, and choreographed by theatrical genius Jerome Robbins---first debuted back in 1957, and yet still feels just as emotionally felicitous in 2017. It's not difficult at all to sit through this show without thinking about how it relates to our uneasy world today.
Of course, it helps that the musical's original creative team---inspired loosely by William Shakespeare's tragic drama "Romeo and Juliet"---crafted a beautiful, now timeless classic: from Arthur Laurents' notable book, Leonard Bernstein's gorgeous sweeping score, to Stephen Sondheim's powerful, smart lyrics. The musical's story of irrational but real love amidst irrational but deep-seeded hate gives it a built-in romanticism and geopolitical gravity that can translate into almost any culture or language. And even if you have never seen the show (or its excellent, Academy Award-winning 1961 film adaptation), the show's enduring brilliance is reiterated by its ear-worm songs that have at least burrowed into your subconscious at some point: "I Feel Pretty," "Maria," "America," "Tonight," "Somewhere"... the song list goes on.
The notion that the original, more "traditional" version of WEST SIDE STORY is near-perfect from the get-go is often why many regional theaters resort to mounting the show as-is---as in staging the musical as close to the original 1957 vision as possible. Not that there's anything wrong with that at all, because, as the saying goes, "if it ain't broke, why fix it?"
But sometimes, however, some producers and creatives feel the need to try to rejigger WEST SIDE STORY in order to inject a bit of freshness and modern sensibilities to it. I, for one, applaud such valiant efforts, particularly when the changes implemented feel organic and well-integrated, and give the 60-year-old property some new vibrancy without sacrificing the already solid intent of the original.
For the 2009 Broadway reboot, for instance, their creative team amplified the story's built-in grittiness and realistic consequences, while at the same time, presented some of the songs and dialogue in Spanish to further emphasize the show's real-world parallels. The results, I felt, were brilliantly executed---at least in the traveling productions I saw during that Tony-winning revival's national tour that leaped into So Cal theaters.
For La Mirada's brand new production of WEST SIDE STORY---directed by Richard Israel with choreography by John Todd---their iteration eschews any relation to that 2009 revival and instead presents the show almost like an unevenly mashed hybrid of old-and-new: mixing mostly the show's original 1957 material with some altered staging and new choreography for their 2017 version of the classic musical. As always, though, the musical still plunges the audience into the Summer of 1957 in the Upper West Side of New York City where we witness the on-going rivalry between two teenage street gangs just as two young lovers find themselves caught on opposite sides of this dangerous turf war.
The resulting show---while mostly and genuinely enjoyable---presented a few jarringly curious presentation choices that didn't quite sit well with me as I took in the show's otherwise commendable opening night performance. Unfortunately, in its admirable quest to inject some "new-ness" into the well-known retro musical (which, admittedly, is in my top ten favorites), some of the slight staging reinventions did enough to really lessen the impact of certain scenes that have previously been significant highlights of WEST SIDE STORY.
The first instance comes during the "Dance at the Gym" sequence---which has always been an excitingly kinetic, thrilling early highlight for me in every iteration I have seen. But here in the La Mirada production, the sequence feels too jumbled and almost dismissively hurried. Perhaps it's proving more difficult to forget Robbins' spectacular original, iconic movements that made these scenes so electric before. But even in previous productions I have seen, there is this sense of "organized chaos" woven into the sequence---allowing for purposeful moments of clear focus coupled with a hovering sense of tension. Regrettably, I didn't find it so overtly presented in the La Mirada production.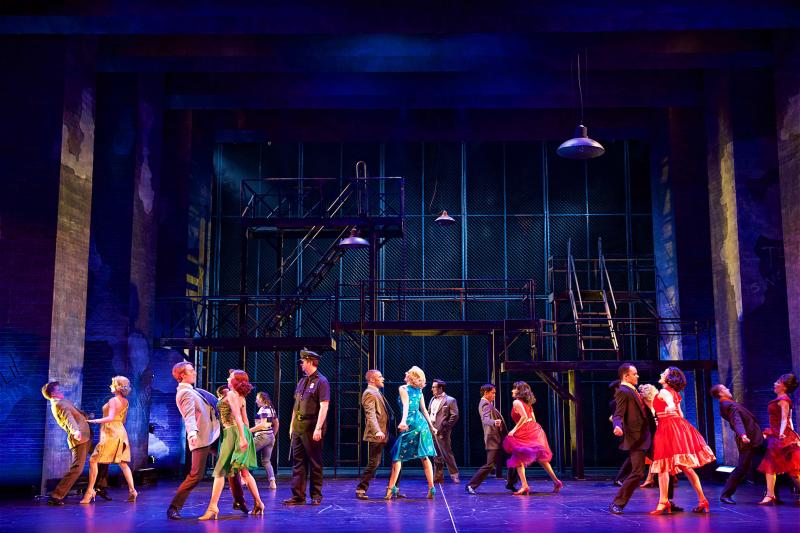 Story-wise, there is a LOT going on here, which in turn calls for some order. But for me, the dance number itself, and the spoken, non-musical moments immediately before and after it in this production is slightly underwhelming, despite the fiercely vigorous dancing provided by this musical's superb ensemble and the awesome sounds produced by the production's assembled orchestra.
Trying to do something slightly different is also what troubles the "Tonight" duet between star-crossed lovers Maria (the lovely Ashley Marie) and Tony (Eddie Egan). I was completely swept up by the iconic scene at its start, as Tony climbed up the balcony so the two can profess their instant love for one another. But then, out of nowhere, two cast members suddenly appear below them and decide that the balcony should start moving and spinning with their aid. I get it---Tony and Maria are so in love that they're metaphorically flying high and dancing in the air. But for me, that extra, wholly unnecessary movement instigated by the two extra cast members took me out of the scene completely, especially as the two of them stood in wait below to move the balcony again. This moment should have only involved the two people falling in love---the two people who decide to share their secret alone with just each other. Why are there two dudes down below? Are they listening in?
Surprisingly, I found "One Hand, One Heart"---a sequence that should have induced tears for its pure romanticism and melancholy foreboding---to also be underwhelming. The lighting in the scene, designed by Steven Young, was just too bright and harsh (and too similar to the lighting of other scenes) for what should be a softer, purely romantic moment. The mood of their environment---as Maria and Tony swooningly declare their love by way of a fantasized mock wedding---here had the same resonance as, well, the "Jet Song" and "America," both of which have a completely different context from this heartbreaking love song.
And then there's the anthemic love ballad "Somewhere," arguably the musical's most ubiquitous song meant to be an escapist fantasy land dreamed up by our tragedy-stricken lovers. While I appreciate how different the sequence is treated visually (and, well, aurally) compared to the rest of the musical---an applaudable decision that reiterates the musical's original intent---I did find it slightly laughable.
Why? Well, one, the voice(s) used to sing the song sounded like a pre-recorded ad-hoc children's chorus, and, two, the cast's wardrobe is instantly reminiscent of the old WEST SIDE STORY-themed Gap TV commercials from Spring 2000 (search YouTube to see what I mean), with the same beaming dance troupe wearing pastels, florals, and khakis, as they paint a fantasy utopia for these naive instant lovers to get lost in. While I certainly didn't object to it (whether the allusion to the Gap ads is accidental or on purpose), again, the moment proved a little too meta for me to fully invest in it wholeheartedly.
Thankfully, though, the rest of the production's scenes and elements are pretty top-notch, from Thomas G. Marquez's vintage-leaning costumes (not including the Gap-styled clothes in "Somewhere") to Stephen Gifford's stark metal scaffolding set design. When the set transforms into the dark, fenced-in concrete slabs underneath the highway---the scene that hosts the violent rumble that forever changes the lives of these two street gangs and their families---I felt goosebumps. For the first time, the audience sees a completely transformed environment that truly fits what's happening in the story instead of just flying in a few flat panels on one side of the stage to signify a room change.
More pluses: under musical director Brent Crayon's baton, the orchestra sounds epic and glorious. I also appreciate much of Todd's dynamic new choreography, an admirably gracious attempt at providing fresh moves in place of iconic ones seared into people's brains by originator Robbins. Todd's work in "Cool" and "America" is particularly wonderful. And, most significantly, La Mirada's production of WEST SIDE STORY ultimately succeeds because of the vivid acting and singing performances provided by its terrific ensemble cast, which for me is reason enough to check out this regional iteration.
It is because of this cast that numbers like "Cool," "America," "I Feel Pretty," and "Gee, Officer Krupke" are such excellent stand-outs (the latter song almost caused a mid-show standing ovation). When everyone (well, the teens) finally go to their respective corners to sing the Quintet reprise of "Tonight" the show becomes undeniably enthralling.
As the story's doomed insta-lovers Maria and Tony, Marie and Egan, respectively, show off their excellent voices and acting skills with each appearance. I am especially impressed with Marie who further improves on what she did a year ago in this exact same role for Musical Theatre West's production of this same musical. She has certainly grown so much, singing- and acting-wise.
The show's two leads are fortunately surrounded by a marvelous supporting cast which includes Michael Starr, who lives up to his last name well as a singer, a dancer, and an actor in his turn as Tony's magnetic if hot-headed best bud Riff, the gang leader of the mostly Caucasian neighborhood ne'er-do-wells, the Jets. His chief adversary, Bernardo---the leader of the Puerto Rican gang, the Sharks---is played with quiet subtlety by Armando Yearwood Jr. It's a nice contrast to the fiery energy of Marlene Martinez, who plays Bernardo's outspoken bae (and Maria's BFF) Anita. Her vocals in "A Boy Like That/I Have A Love" are emotionally powerful, while her acting performance in the climactic second act scene that has her confronted by the Jets boys at Doc's store is just, wow, stunning.
Special kudos go out to these ensemble members for their brief, yet still compelling performances: Danielle Kay (as scene-stealing Jets tomboy Anybodys), Max Chucker (as stormy A-Rab), Justin Michael Wilcox (riveting as Action), Dino Nicandros (the first Chino that ever made me tear up), and Natalie Iscovich (sassy spitfire Rosalia, who's still enamored by Puerto Rico).
Sporadically entering the angst-and-hormones soup on stage are a few "adult" characters also worth noting. Power-abusing (and overtly racist) Lt. Schrank is played with convincing creepiness by Joe Hart, while beside him is Erik Gratton who does a great job portraying bumbling Officer Krupke. Finally, Time Winters gives an intriguing performance as weather-beaten Doc, the show's sole voice of reason and maturity. Winter's captivating portrayal of Doc---a version of the character I've never seen before---looks and sounds like an advanced aged immigrant, with an accented voice aching with the scars of a haunting past. Instantly, I thought... this Doc probably fled Europe at some point to escape the pogrom or something equally horrific. Through Winter's characterization, I can glean that Doc's own tragic experiences color how he feels about the gang fighting and seeing Tony be engulfed in the mess of such activities. Now here's a fresh new approach to WEST SIDE STORY I can get behind.
While still marred by some overeager new ways to stage otherwise iconic sequences, for the most part, the La Mirada production of WEST SIDE STORY eventually succeeds in presenting this classic musical in a very entertaining way. In the grand scheme of things, this still laudable regional revival---featuring outstanding performances worth seeing/hearing live---gets most aspects right: its lessons and messaging, its emotionally powerful story, and, of course, its inescapably beautiful musicality.
Follow this reviewer on Twitter: @cre8iveMLQ
Photos from the La Mirada Theatre for the Performing Arts' production of WEST SIDE STORY by Jason Niedle. Review also published in OnStage. The McCoy Rigby Entertainment presentation of WEST SIDE STORY continues at The La Mirada Theatre for the Performing Arts through Sunday, May 14, 2017. The theater is located at 14900 La Mirada Boulevard in the city of La Mirada. Parking is Free. For tickets, visit www.LaMiradaTheatre.com or call (562) 944-9801 or (714) 994-6310.