Westport Country Playhouse Holds Reading of I HATE HAMLET Featuring Mary Beth Peil, Allison Altman, and More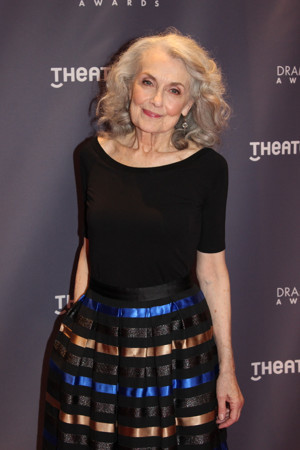 Westport Country Playhouse will present a Script in Hand playreading of "I Hate Hamlet," the comedy that conjures the ghost of actor John Barrymore, on Monday, November 5, at 7 p.M. Barrymore will be played by four-time Tony Award winner Boyd Gaines. Written by Paul Rudnick, the reading will be directed by Anne Keefe, Playhouse associate artist and curator of the playreading series. Tickets are $20 each.
"I Hate Hamlet" is set in the 1990s on the top floor apartment of a New York City brownstone once owned by actor John Barrymore, and now inhabited by actor Andrew Rally. Andrew seems to have it all: celebrity and acclaim from his starring role in a hit television series, a beautiful girlfriend, and the chance to play the role of Hamlet in Central Park. From the moment Barrymore's ghost visits Andrew, his life is no longer his own and the laughs are nonstop!
"I love plays about the theater," said Keefe. "When our friend and four-time Tony Award winner Boyd Gaines expressed an interest in playing John Barrymore that sealed the deal."
The "I Hate Hamlet" cast includes Allison Altman as Deirdre McCavey (WCP's Script in Hand playreading of "Breaking Legs"; PlayMakers Repertory Company's "Nicholas Nickleby," "Pride and Prejudice"); Matthew Amendt as Andrew Rally (WCP's "Tartuffe," and Script in Hand playreadings of "The Country Club," "The Mousetrap," "Over the River and Through the Woods"; Broadway's "Bernhardt/Hamlet"); Boyd Gaines as John Barrymore (WCP's "The Good German," Script in Hand playreadings of "You Know I Can't Hear You When the Water's Running," "Pack of Lies," "Dracula"; winner of four Tony Awards for "Gypsy," "She Loves Me," "The Heidi Chronicles," "Contact"); Kathleen McNenny as Felicia Dantine (WCP's "Beyond Therapy," "The Good German," Script in Hand playreadings of "You Know I Can't Hear You When the Water's Running," "The Supporting Cast," "Pack of Lies," "The Golden Age" "A Marriage Minuet"; Broadway's "The Father," "Fish in the Dark," "Death of a Salesman"; film's "School of Rock"); Mary Beth Peil as Lillian Troy (WCP's "Sylvia"; Broadway's "Anastasia" as Dowager Empress receiving Tony Award nomination; recurring role in television's "The Good Wife"); and Mark Shanahan as Gary Peter Lefkowitz (WCP's "Around the World in 80 Days," "Tryst," "Sedition," "David Copperfield," "Journey's End," 20 Script in Hand playreadings; New York's "Checkers," "The 39 Steps").
Author Paul Rudnick is a novelist, playwright, essayist, and screenwriter, whom The New York Times has called, "one of our pre-eminent humorists." His plays have been produced both on and off Broadway and around the world, and include "I Hate Hamlet," "Jeffrey," "The Most Fabulous Story Ever Told," "Valhalla," "Regrets Only," and "The New Century." He has won an Obie Award, two Outer Critics Circle Awards and the John Gassner Playwriting Award. His screenplays include "In & Out," the screen adaptation of "Jeffrey," and "Addams Family Values."
Director Anne Keefe served as artistic director of Westport Country Playhouse with Joanne Woodward in 2008, and as associate artistic director from 2000-2006, also with Ms. Woodward. She co-directed with Ms. Woodward the Westport Country Playhouse production of "David Copperfield," and directed many Script in Hand playreadings.
Upcoming Script in Hand Playreading is "Tuesdays with Morrie," by Jeffrey Hatcher and Mitch Albom, based on the book by Mitch Albom, on Monday, December 17, at 7 p.m. Sixteen years after graduation, Mitch sees his old professor Morrie on TV and learns that he is battling Lou Gehrig's Disease. When Mitch is reunited with Morrie, what starts as a simple visit turns into a weekly pilgrimage and a class in the meaning of life.
All artists are subject to change.
The Script in Hand playreading series is supported, in part, by the White Barn Program of the Lucille Lortel Foundation.
For more information and to buy tickets, visit www.westportplayhouse.org or call the box office at (203) 227-4177, toll-free at 1-888-927-7529, or visit Westport Country Playhouse, 25 Powers Court, off Route 1, Westport. Stay connected to the Playhouse on Facebook (Westport Country Playhouse), follow on Twitter (@WCPlayhouse), and on YouTube (WestportPlayhouse).
Photo Credit: Linda Lenzi
More Hot Stories For You