Video: First Look at THE UNDERSTUDY at Westport Country Playhouse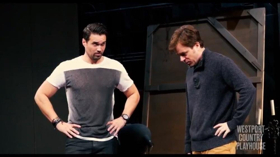 Westport Country Playhouse will stage the recent Off-Broadway hit, "The Understudy," a backstage comedy about a Hollywood action star rehearsing for a role on Broadway amid tensions with his understudy. The cast includes Eric Bryant, Connecticut Critics Circle Award winner; Brett Dalton of ABC's "Agents of S.H.I.E.L.D."; and Andrea Syglowski, award-winning actress. Running August 14 through September 1, the comedy is written by Theresa Rebeck, creator of NBC's show business drama, "Smash," and directed by David Kennedy, Westport Country Playhouse associate artistic director.
"This is extremely smart and funny writing about the million minor humiliations that come with a life in the theater," said Kennedy. "What makes it special is Theresa [Rebeck]'s understanding of comedy. Her style makes the audience laugh heartily because of the underlying anxieties of the characters, not in spite of them."
"The Understudy" is set in a Broadway theater where Roxanne is the stage manager. Charged with running the understudy rehearsal for the production, she finds her professional and personal life colliding when Harry, a journeyman actor and her ex-fiancé, is cast as the understudy to Jake, a mid-tier action star yearning for legitimacy. The comedy is a humanistic look at people trying to do what they love in the face of obstacles.
Cast members are Eric Bryant as Harry (WCP's "Room Service," "The Invisible Hand," for which he won the 2017 Connecticut Critics Circle Award for Outstanding Actor in a Play; Off-Broadway's "Angels in America"; TV's "The Blacklist"); Brett Dalton as Jake (ABC-TV series "Marvel's Agents of S.H.I.E.L.D." as Grant Ward; video game "Until Dawn" as Mike Munroe); and Andrea Syglowski as Roxanne ("A Doll's House" - IRNE Award nomination for Best Actress; "Venus in Fur" - Elliot Norton Award and IRNE Award for Best Actress; recipient of Robin Williams Scholarship).
Director David Kennedy is in his tenth season as Playhouse associate artistic director. He has directed Playhouse productions each season, including "Suddenly Last Summer," "Loot," and "The Invisible Hand," which received the 2016 Connecticut Critics Circle (CCC) Award for Outstanding Production of a Play, and for which Kennedy won the CCC honor for Outstanding Director of a Play. He was previously with Dallas Theater Center, and was founding artistic director of The Lunar Society in Toronto and Milkman Theatre Group in Halifax, Nova Scotia.
Playwright Theresa Rebeck's plays include "Bernhardt/Hamlet," "Seared," "Downstairs," "Dead Accounts Seminar," "Mauritius," "The Scene," "The Water's Edge," "Loose Knit," "The Family of Mann," "Spike Heels," "Bad Dates," "The Butterfly Collection," "Our House," "View of the Dome," "Poor Behavior," "Omnium Gatherum" (co-written), which was a finalist for the Pulitzer Prize in 2013, and "What We're Up Against," which was written in 1992 and revived last year against the backdrop of the #timesup movement. In television, Rebeck created the NBC showbiz drama "Smash." She has won the National Theatre Conference Award, The William Inge New Voices Playwriting Award, an IRNE Award for Best New Play, and the Elliot Norton Award for various works.
The design team includes Andrew Boyce, scenic design; Maiko Matsushima, costume design; Matthew Richards, lighting design; Fitz Patton, sound design; Noah Racey, choreographer; and Michael Rossmy, fight director.
"The Understudy" Production Sponsor is the Eunice and David Bigelow Foundation. Corporate Production Partner is BNY Mellon.
Performance schedule is Tuesday at 7 p.m., Wednesday at 2 and 8 p.m., Thursday and Friday at 8 p.m., Saturday at 3 and 8 p.m. and Sunday at 3 p.m. Special series feature Taste of Tuesday (August 14), LGBT Night OUT (August 16), Opening Night (August 18), Sunday Symposium (August 19), Together at the Table Family Dinner (August 21), Open Captions (August 26), Backstage Pass (August 29), Playhouse Happy Hour (August 30), and Thursday TalkBack (August 30).
Single tickets start at $30; buy early for best prices.
Upcoming productions at Westport Country Playhouse include "Man of La Mancha," September 24 - October 13, written by Dale Wasserman, music by Mitch Leigh, lyrics by Joe Darion, and directed by Mark Lamos, the Tony Award-winning musical about Don Quixote's battle for good and the love of his fair maiden; the world-premiere drama, "Thousand Pines," October 30 - November 17, written by Matthew Greene and directed by Austin Pendleton, from WCP's New Works Circle Initiative, bringing the national dialogue about gun violence to the Playhouse stage with a story set six months after a student killed his classmates at Thousand Pines Junior High School; and "The Pianist of Willesden Lane," December 5 - 22, directed by Hershey Felder, a musical memoir about a young Jewish piano prodigy who escapes the Holocaust via Kindertransport to England. All play titles, artists, and dates are subject to change.
For more information and to buy tickets, visit www.westportplayhouse.org, or call the box office at (203) 227-4177, toll-free at 1-888-927-7529, or visit Westport Country Playhouse, 25 Powers Court, off Route 1, Westport. Stay connected to the Playhouse on Facebook (Westport Country Playhouse), follow on Twitter (@WCPlayhouse), and on YouTube (WestportPlayhouse).
ABOUT Westport Country Playhouse
The mission of Westport Country Playhouse is to enrich, enlighten, and engage the community through the power of professionally produced theater worth talking about and the welcoming experience of the Playhouse campus. The not-for-profit Playhouse provides this experience in multiple ways by offering live theater experiences of the highest quality, under the artistic direction of Mark Lamos; educational and community engagement events to further explore the work on stage; the New Works Circle Initiative, a program dedicated to the discovery, development, and production of new live theatrical works; special performances and programs for students and teachers with extensive curriculum support material; Script in Hand play readings to deepen relationships with audiences and artists; the renowned Woodward Internship Program during the summer months for aspiring theater professionals; Family Festivities presentations to delight young and old alike and to promote reading through live theater; youth performance training through Broadway Method Academy, WCP's resident conservatory program; and the beautiful and historic Playhouse campus open for enjoyment and community events year-round.
More Hot Stories For You