Theatre Artists Workshop Presents GOD OF CARNAGE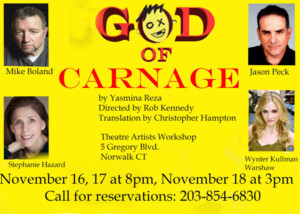 The Theatre Artists Workshop in Norwalk will present a staged reading of the Broadway hit "God of Carnage" by Yasmina Reza, translated by Christopher Hampton, on November 16 and 17 at 8 p.m. and November 18 at 3 p.m. Theatre Artists Workshop is located at 5 Gregory Boulevard in Norwalk. Reservations are recommended. The box office reservation line is: 203-854-6830. Suggested donation is $25 and will help to support the non-profit organization's future programming.
The reading will feature TAW company actors Mike Boland (Fairfield), Stephanie Hazard (New Canaan), Wynter Kullman (Westport) and Jason Peck (Ridgefield). The reading is directed by Rob Kennedy (Bethany).
God of Carnage is about two sets of parents, one of whose child has hurt the other at a public park. They agree to meet to discuss the matter in a civilized manner. However, as the evening goes on, the parents become increasingly childish, resulting in the evening devolving into chaos. Originally written in French, the play was a success. It has since been translated into English and has enjoyed equal acclaim in productions in both London and New York.
After some minor changes to the English script to accommodate American audiences, a Broadway production opened at the Bernard B. Jacobs Theatre in previews on February 28, 2009, and officially on March 22, 2009. Originally planned for a limited engagement to close July 19, 2009, the run was extended through February 28, 2010 before converting to an open-ended run. From July 27, 2009 to September 8, 2009, the play was suspended to allow the principal cast to tie up prior engagements before returning to fulfill their contracts. Directed once again by Matthew Warchus, the original cast included Jeff Daniels, Hope Davis, James Gandolfini and Marcia Gay Harden. All four actors were nominated for Tony Awards for their performances. Harden won the Tony for Best Leading Actress in a Play. The Broadway production closed on June 6, 2010 playing 24 previews and 452 regular performances.
Mike Boland - Michael
Mike returns to the Theatre Artists Workshops after performing in and directing last year's "Classics Weekend" staging of Twelve Angry Men. Mike was born and raised in Fairfield, and is excited to perform with this great cast. His credits include: BROADWAY - An Enemy of the People; OFF-BROADWAY - The Orphans' Home Cycle; NATIONAL TOURS - Twelve Angry Men, West Side Story, All My Sons; REGIONAL THEATRE - Hartford Stage, Long Wharf, Yale Rep, Theaterworks, Playhouse on Park, Music Theatre of CT, Summer Theatre of New Canaan, Ivoryton, Thrown Stone, Fulton, Westchester Broadway, Judson, Engeman, Virginia Stage, Coastal Carolina, Queens Theatre, Bristol Riverside, Totem Pole, Hampton Theatre Company. TV/FILM - The Blacklist (recurring), FBI, Person of Interest, Rubicon, Zero Hour, Bobby Dogs, Frank and Ernie (writer, co-director).
STEPHANIE HAZARD - Veronica
Stephanie is a classically trained actress and has been performing for over 35 years. She attended the Royal Academy of Dramatic Art and Carnegie-Mellon's School of Drama and studied with both Ada Mather and Anna Strasberg. Stephanie has appeared in numerous play festivals most recently winning The Players Theatre Short Play Festival in NYC. She continues to work on her craft at the Theatre Artists Workshop where she has been an active member for 9 years and past Board President. Juggling a full-time job in NYC, she fits in TV and film auditions whenever she can and is currently producing and directing several plays. Stephanie lives in New Canaan with her husband David and has two children who are her eternal inspiration.
WYNTER KULLMAN - Annette
Wynter's film credits include "Two Weeks Notice," "It Runs in the Family," "Garden State" and "Uptown Girls." She has guest-starred on Law and Order, Law and Order SVU, CSI Miami and other TV shows. Her most recent TV work was on The Blacklist and the Netflix film "Like Father." She made her Off-Broadway debut in the play Glam Night and is a proud member of the Theatre Artists Workshop.
Jason Peck - Alan
Jason is a founder and Co-Artistic Director of Thrown Stone Theatre Company. He recently played the lead there in the critically acclaimed production of Where All Good Rabbits Go. Jason's work as a director has been recognized by the North Carolina Capital Awards, the Seven Angels Halo Awards and a Broadway World nomination for the U.S. premiere of Milk. He has collaborated with playwrights on many new works including: suburbia, Looking for Normal, Faust is Dead, Perfect Mendacity, A Perfect Wedding. Other credits: OFF-BROADWAY: van gogh (world premiere). REGIONAL: Far Away, The Underpants, The Dismantling of Lemuel Pitkin (world premiere). TV/FILM: In Her Shoes, The King of Queens, Family Law, The District, LA Law: The Movie, NYPD Blue, Jesse, Hollywood Safari, George Lucas in Love, Roswell. AWARDS: Los Angeles Critics' Drama-logue, West Garland Award, Curtain Call Award (Sarasota). OTHER: Jason holds an MFA in Acting from FSU/Asolo Acting Conservatory, BFA in Acting from University of Southern California. Jason is Director of Theatre Arts at St. Luke's School in New Canaan, CT.
ROB KENNEDY - Director
Rob is thrilled to return to TAW after taking part in last year's reading of Twelve Angry Men with Mike Boland and John Wesley Shipp. Rob has been the theater arts teacher at Amity High School since 2007. Rob's directing credits include: Rent (CT premier), Les Miserables, the Laramie Project, Sweeney Todd, In the Heights, The Addams Family and the Curious Incident of the Dog in the Night Time. Rob's productions at Amity have won awards from the New England Theater Conference Moss Hart Awards, The Connecticut High School Theater Awards and the 2018 Best Musical at the Stephen Sondheim Awards. Prior to his teaching career, Rob worked as professional actor in theater, film and TV. He has a Masters from Sacred Heart University and a BA in Theater Arts from WCSU. In September, Rob was named teacher of the year for his school district.
The Theatre Artists Workshop had its first full meeting on Valentine's Day in 1983. It was founded by Keir Dullea and his wife, the late Susie Fuller. And it was based on the Los Angeles "Theatre East" workshop they had loved. TAW is designed as a safe place, a theatrical gymnasium where theatre professionals hone their craft, stretch creative muscles, experiment, develop new plays, work with and get feedback from fellow actors, writers and directors away from the harsh glare of the public spotlight.
For 35 years, the Workshop has served its membership and audiences with that original vision still intact. Plays have been developed that have gone on to Broadway, Off-Broadway, regional and international productions.
Membership over the years has included names such as Anne Baxter, Theodore Bikel, Phoebe Brand, Morton DaCosta, Sandy Dennis, Mia Dillon, Keir Dullea, Christopher Durang, Kevin Gray, Shirley Knight, Ring Lardner Jr., James Noble, Jane Powell, Lee Richardson, Laura San Giacomo and Brett Somers.