TINY BEAUTIFUL THINGS at Long Wharf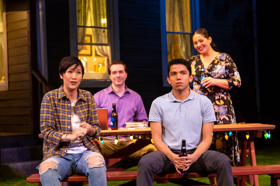 Remember Dear Abby and her twin sister, Ann Landers? The idea of an advice columnist has been modernized in Tiny Beautiful Things, Nia Vardalos's adaptation of Cheryl Strayed's book.
The 75-minute play opens outside a modest two-story house with a sizable backyard that has a picnic table and is strewn with toys. An author (played by Cindy Cheung) agrees to take over as Sugar, an advice columnist for free, despite being married to an artist and having two children and a mountain of debt, all while trying to write another book. That part is hard to swallow, but let's move on. It turns out it's not so easy to provide answers to people's agonies, especially when there's a deluge of them at once. But Sugar rises to the occasion as she goes through each letter read by Brian Sgambati, Elizabeth Ramos, and Paul Pontrelli, who play characters of all ages and backgrounds. Sugar really feels their pain, which includes the unthinkable death of an adult offspring. She has struggled with her own pain following her 45-year-old mother's death when she was just 22. She brings her experience into the lives of the anonymous people who seek help and grow curious about her identity. Strayed and Vardalos's writings are strong and wise, and Cheung gives an extraordinary performance as Sugar. Ken Rus Schmoll's direction is superb.
Kimie Nishikawa's set would make a realtor happy. Yuki Nakase's lighting, both from within the house and outside gave the set additional realism. Claire Zoghb's program cover underscored the strong advice the play has for anyone who has felt defeated by life - everyone needs to step back and relax and everyone deserves those tiny beautiful things.
Tiny Beautiful Things runs through March 10 at the Long Wharf Theatre, 222 Sargent Drive, New Haven. 203-787-4282. www.longwharf.org