THE DIARY OF ANNE FRANK Wins Three Connecticut Critics Circle Awards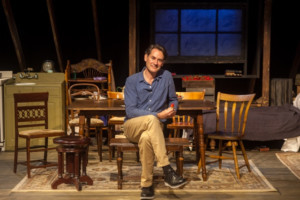 On the eve of what would have been Anne Frank's 89th birthday, had she survived the Holocaust, The Playhouse on Park production of The Diary of Anne Frank, based on a new adaptation by Wendy Kesselman, walked off with three out of the possible four awards it was nominated for, at the Connecticut Critics Circle Awards ceremony on Monday night, June 11.
Multi-talented New York actor, Ezra Barnes, received the Outstanding Director Award, Isabelle Barbier, who played Anne Frank to perfection, received the Outstanding Actress Award and set designer, David Lewis picked up the award for Outstanding Set Design.
"I think that if Anne Frank had lived, she would have been very proud to know that her story continues to inspire," said Ezra, who is still over the moon about the three awards this production picked up.
"We were up against some solid competition, which speaks to the power of this story all these decades later." (CLICK to see full list of winners)
Though most audiences are more than familiar with the story of Anne Frank and its message, this production illuminated just how relevant this story continues to be, in light of the current political climate. The versatile Mr. Barnes' directorial approach showed off his penchant for tackling tough material and the subtlety with which he contemporizes the story and message.
Last year he took a turn at bringing to life one of the most popular modern American literary figures, Atticus Finch, in the Queens Theatre production of To Kill a Mockingbird, and again, was able to use a story most audiences are quite familiar with, and a character that has become a part of our lexicon - to create an important teaching moment about the present state of race relations in America.
More recently, Mr. Barnes led the cast of Transparent Falsehood: An American Travesty, which took on the current occupant of the White House. The play received critical acknowledgment for its all too wickedly accurate send-up, of the Trump administration, and Mr. Barnes was singled out for his performance as the "liar in chief".
A more than familiar face to film and television audiences, this native son from the proud Borough of Brooklyn has earned the distinction of being called, a true New York actor. He will start work on Hostile Takeover, a film that was co-written by Joe Ritter, who is best known for his camera work on films that include: Barton Fink, Pulp Fiction, Starship Troopers, and Coyote Ugly, to name a few.
Related Articles View More Connecticut

Stories

Shows
More Hot Stories For You