Photo Flash: Theatreworks New Milford's 25th ANNUAL PUTNAM COUNTY SPELLING BEE
On Friday, February 26 at 8 p.m., TheatreWorks New Milford opens its 2010 season with the Connecticut premiere of THE 25TH ANNUAL PUTNAM COUNTY SPELLING BEE, with music and lyrics by William Finn, and book by Rachel Sheinkin. The show is scheduled for a five-week run.
THE 25TH ANNUAL PUTNAM COUNTY SPELLING BEE follows the experiences of six disparate outsiders, in the throes of puberty, vying for the spelling championship of a lifetime. Supervising the competition is a group of grown-ups who barely managed to escape childhood themselves. Willing
participants from the theatre audience get to join in the fun, too.
"I hit the jackpot with this cast," said director Beth Bonnabeau of New Milford. "They are as talented a group of musical theatre performers as you could find anywhere. It's not easy to find actors between 25 and 40-something who can effectively play junior high school students, but we did, and we are all having the most fun...we can't wait to share it with the audience."
"I am E-C-S-T-A-T-I-C to have THE 25TH ANNUAL PUTNAM COUNTY SPELLING BEE as the first show as my tenure as President of the Theatre," said producer, set designer, and TheatreWorks President, Glenn R. Couture of Ansonia. "This cast of oddball characters and [William] Finn's music bring the show to life, not to mention the audience participants will even get you rooting for the guy sitting next to you. It's a wonderful way to kick off what promises to be a great season."
The production features some of the region's finest actors: Tony Saracino and Vicki Sosbe (both New Milford); Priscilla Squiers and Billy Dempster (both Danbury); Cat Crocetto (Newtown); Michael Wright (Sandy Hook); Jaclyn Blythe (Monroe); Dave Anctil (Thomaston); and Jerrial T. Young (West Haven).
The show's crew includes musical director Daniel Koch of Millbrook, NY, lighting designer Scott Wyshynski of Washington, and stage management by Rob Onorato of Brookfield.
THE 25TH ANNUAL PUTNAM COUNTY SPELLING BEE was first developed into a musical at a workshop at The Barrington Stage Company in Massachusetts in 2004. From there, SPELLING BEE opened Off-Broadway at the Second Stage Theatre on February 7, 2005, and on May 2, 2005, it opened at Broadway's Circle in the Square, receiving rave reviews and winning two Tony Awards. The Washington Post called it "the funniest thing in seven consonants."
THE 25TH ANNUAL PUTNAM COUNTY SPELLING BEE runs February 26,27 March 5,6,7,12,13,14,19,20,21 26,27. Curtain time is 8:00 p.m. Fridays & Saturdays, with 2:00 p.m. Sunday matinees on March 7, 14, and 21. Tickets for all shows are $28 for reserved seating.
On Thursday, February 25, senior citizens are invited to a free dress rehearsal at 8:00 p.m. Thursday, March 4 at 8:00 p.m. is TheatreWorks' Pay-What-You-Want night. At this performance, you name the price for your ticket.
Reservations can be made online at WWW.THEATREWORKS.US or by calling the box office at (860) 350-6863.
TheatreWorks is an award-winning, local theatre company located on 5 Brookside Avenue, just off Route 202 (next to the CVS), in New Milford, CT.
Photo credit: Richard Pettibone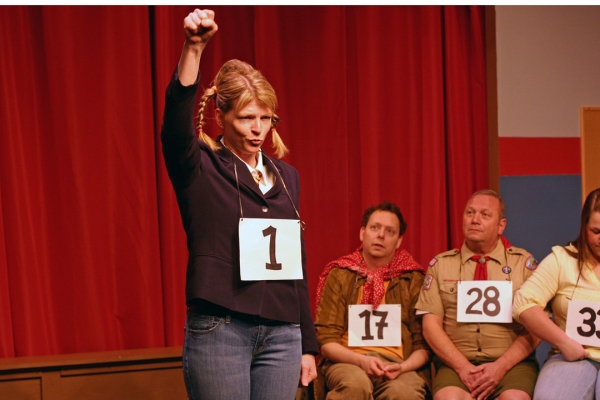 Vicki Sosbe, Billy Dempster, and Tony Saracino

Priscilla Squiers, Michael Wright, and Billy Dempster

Priscilla Squiers, Michael Wright, and David Anctil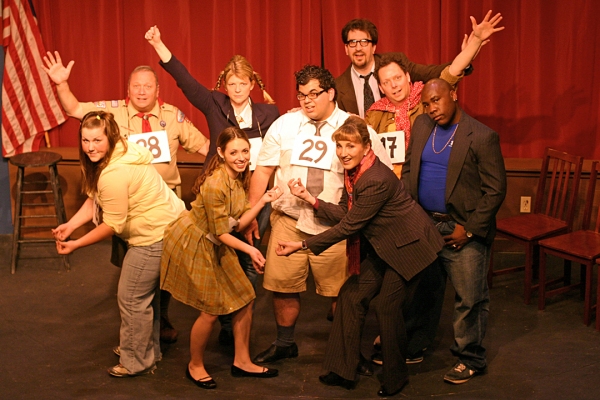 The cast of "Spelling Bee"