Photo Flash: Eastbound Theatre Presents RUN FOR YOUR WIFE
Eastbound Theatre, a division of the Milford Arts Council, is delighted to present the second show of its 23rd season, the uproarious British comedy, Run for Your Wife, by Ray Cooney.
Although Run For Your Wife is perhaps his best known piece, British playwright Ray Cooney has had a prolific career both on and off stage. He has appeared in farces both on stage and on television, and has written 17 plays which were performed on London's West End. He also founded the Theatre of Comedy Company in 1983, and produced over 20 plays there during his tenure.
Directed by John Atkin of Norwalk, this raucous farce features crossed wires, confused lovers, and a zany cast of characters that create chaos. John Smith seems to be your typical London cab driver, until an unfortunate mugging lands him in the hospital, where it is discovered that his life is anything but typical! He's married to two women, and he must try to explain what's happened not only to them, but to two police officers, with only the help of his eccentric upstairs neighbor to try and keep his crazy scheme going.
Director John Atkin further explains "When I first read this script, I found myself laughing out loud, and now that I have this talented cast, I'm laughing every night at rehearsals! I thank the Eastbound Theatre for agreeing to produce this Ray Cooney classic, and I know audiences will enjoy every minute of this show!"
Featuring Jen Berlin of North Haven, Holly Fasciano of Milford, Barry Hatrick of Milford, Nick Kaye of Bethel, PatRick Kelly of Ridgefield, Ash Lago of New Haven, Shannon Riccio of Milford, Everton Ricketts of Bridgeport, and Virgil Watson of Stratford; the production will run from February 3 through February 19, 2017 at the Milford Center for Arts. Friday and Saturday performances are at 8pm, Sunday matinees are at 2pm.
Tickets are $20.00 general admission, $18.00 for seniors and students and $16 for MAC members. Go towww.milfordarts.org or call 203-878-6647 for tickets. And please note that this play contains adult language and situations.


Shannon Riccio of Milford, Virgil Watson of Stratford, PatRick Kelly of Ridgefield, and Holly Fasciano of Milford

Shannon Riccio of Milford, PatRick Kelly of Ridgefield, and Holly Fasciano of Milford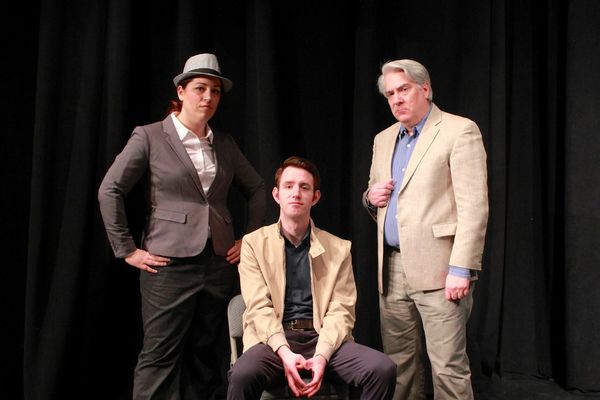 Jen Berlin of North Haven, PatRick Kelly of Ridgefield, and Barry Hatrick of Milford

Jen Berlin of North Haven, Everton Ricketts of Bridgeport, Nick Kaye of Bethel, and Barry Hatrick of Milford

Back Row: Everton Ricketts of Bridgeport, Jen Berlin of North Haven, Virgil Watson of Stratford, Nick Kaye of Bethel, and Barry Hatrick of Milford Front Row: Shannon Riccio of Milford, PatRick Kelly of Ridgefield, and Holly Fasciano of Milford