Galway's Moonfish Theatre to Bring STAR OF THE SEA to Hartford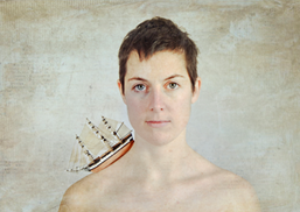 Galway City-based theatre company Moonfish Theatre brings its critically acclaimed play, Star of the Sea, to West Hartford during its International World Tour.
This bilingual production, performed in Irish and English, will be held at the Hoffman Auditorium, Bruyette Athenaeum at 1678 Asylum Avenue, West Hartford, Conn. on Wednesday, October 11th and Thursday, October 12th at 7:30 p.m.
Star of the Sea, freely adapted from Joseph O'Connor's best-selling novel of the same name, takes place the winter of 1847. The Star of the Sea sets sail for the Promised Land and among the ship's passengers are maidservant Mary Duane, the ruined Lord Meredith, and Pius Mulvey, a ruthless murderer - all whose lives and fates are more connected than any of them know...
The Irish Times calling it, "gorgeously assembled theatre," is told through Moonfish's signature style of bi-lingual theatre, six performers use projection, physical movement, and live sound-effects to conjure up the worlds of the characters on a bare stage. At once simple and wildly inventive, this powerful production moves beyond the confines of period drama to trace the echoes of the Irish Famine through to the present day.
Professor Christine Kinealy, Director of Ireland's Great Hunger Institute at Quinnipiac University will be hosting post-show talk backs on both nights.
"Moonfish Theatre has received acclaim and received tremendous attention for this adventourous work of theater and we are so honored to host this work at the University of Saint Joseph," says Steven Raider-Ginsburg, Director of the Autorino Center for the Arts.
Watch a trailer for Star of the Sea below!
---
Tickets: Reserved Seating. Premium Seating: $35 | General Seating: $30 | Seniors, USJ Staff and Alumni and Let's Go Arts Members: $25 | Autorino Members and Students (non-USJ): $15.
Moonfish is a Galway-based theatre company creating work in English and Irish that is rooted in the limitless possibilities of the imagination. Moonfish produces theatre for young people and adults. Their work is defined by its energy, imagination and quality. Moonfish produces classics, new writing and devised work and with each piece they seek to immerse their audience in a theatrical experience. They have used shadow work, live music, dance and more to create these experiences. These experiences are always different, but each is created with a passion for theatre.
The University of Saint Joseph (USJ) offers a wide range of graduate, undergraduate, and certificate programs that combine a professional and liberal arts education with a focus on service. Coeducational graduate master's and doctoral degree programs are taught on the University's two campuses in West Hartford and Hartford, Connecticut; at off-campus locations throughout the state; and online. Undergraduate programs for women and for coeducational adult students take place on our beautiful suburban campus and include more than 25 majors and seven pre-professional programs, each of which provides personal attention in a caring environment. Founded in 1932 by the Sisters of Mercy, the University of Saint Joseph welcomes students from diverse backgrounds and religious traditions. To learn more, view our website at www.usj.edu.