Dandelion Productions Announce the Return of Connecticut Free Shakespeare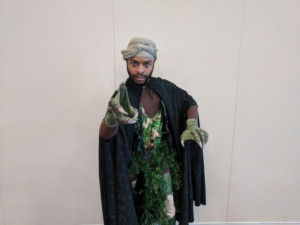 Dandelion Productions is proud to announce the return of Connecticut Free Shakespeare to the outdoor stages of Connecticut's summer theater programming. This year, CFS stages a re-telling of William Shakespeare's The Tempest for four performances only from Thursday July 19 through Sunday July 22 at 6:30 PM on the grounds of the University of Bridgeport, on the patio of the Arnold Bernhard Arts & Humanities Center, 84 Iranistan Ave. On Friday evening, immediately following the performance there will be a special question and answer (Q&A) program with the cast and staff. Admission to all showings is free, but a donation of $10 per person would fund future programming and be greatly appreciated. Patrons are encouraged to come early and bring a picnic! Seating will open at 5:30pm for those who choose to arrive early. Please bring your own blankets, lawn chairs, and picnics. Note: To respect our guests on blankets, our house management staff will ask patrons in lawn chairs to set up behind a blanket area in the front of the house. In the event of rain, covered seating is limited. The production is adapted and directed by Dandelion Artistic Director, Ellen Lieberman and is appropriate for all ages. For more information: www.ctfreeshakespeare.org or info@dandelionproductions.org.
The Tempest is set on a remote island, where powerful Prospero, the exiled Duke of Milan, plots to restore her daughter Miranda to her rightful role as Princess of Milan. Prospero uses her magical tricks to conjure a stormy tempest to cause her traitorous brother Antonio and the complicit King Alonso of Naples to believe they are shipwrecked and stranded on the island. It is there on the island that Antonio's betrayal is exposed, and Prospero must decide between the opportunities of revenge for the treacherous acts against her or the kinder path of forgiveness and reconciliation.
This adaptation is an extended version of the recently produced BRIDGE production.
"I wanted to do The Tempest because I'm always interested in exploring relevant themes in Shakespeare's plays. In Tempest, the ideas of revenge and forgiveness offered a perfect opportunity to unify our summer Shakespeare with our new program, BRIDGE, that I began formulating last year. We are so lucky that the same cast that just toured our BRIDGE venues this spring including supportive housing communities, a prison, a high school, and a home for the elderly, are able to now take the stage in a slightly fuller adaptation and offer their insights from their experiences through the lens of their characters. It's been really rewarding for all of us, and we can't wait to share The Tempest with our audience."- Ellen Lieberman, Artistic Director
Dandelion Productions' new social justice educational program, BRIDGE, launched this spring with private presentations at permanent supportive housing projects in Bridgeport, Harding High School, York Women's Prison, and the Jewish Home for the Elderly. BRIDGE utilizes applied theater, defined as theater practice that creates positive social and/or personal change, produced in non-traditional settings, with participants from diverse and/or marginalized communities. BRIDGE's troupe of actors staged intimate, low-tech performances, followed by a Q&A with the audience. Subsequent follow-up workshops with our team of actor/teaching artists further the program's mission of engaging the audience in dialogue and experiential exploration to investigate themes found in the play and their relevance to the lives of our audience members. In Shakespeare's The Tempest, audience and workshop participants explored the ideas of revenge and forgiveness, as seen through the eyes of Prospero and audience personal contextualization for modern relevance.
The full cast of Actors' Equity Association Actors who performed in BRIDGE returns for the Connecticut Free Shakespeare staging, including Channie Waites*, the actor who will portray the main character of Prospero as a female sorcerer.
"Channie Waites as 'Prospero' was a decision that I made less because I was committed to a female, but because I was committed to casting the right person. I was open to 'Prospero' as both male or female - but once Channie auditioned, it was difficult to think of anyone else playing the role. And it has opened up new conversations in the development of the character that have been incredibly exciting to explore." - Ellen Lieberman, Artistic Director
NYC/LA actors include 16-year Dandelion Ian Eaton* as Sebastian and Stephano, Mark Friedlander* as Antonio and Trinculo, Uma Incrocci* as Ariel, and Craig Anthony Bannister* as Alonso. Local actors include Joel Oramas* as Ferdinand, Alex Acosta* as Miranda, Myles Tripp* as Caliban, and Alejandro Lopez* as Gonzalo. Colleen Gunning* is the Production Stage Manager. All actors and stage manager appear courtesy of Actor's Equity Association, the Union of Professional Actors and Stage Managers in the United States.
Each year, CFS also utilizes pre-professional apprentices and interns to act as understudies and technical assistants as part of our educational programs, furthering Dandelion's mission of
offering accessible arts opportunities to CT-area youth to learn alongside professionals in the industry. The 2018 local interns and apprentices include Jonathan Falcon, Joslyn Eaddy and Patrick Setiadi of Bridgeport, Kayla Murphy of Newtown, Corinne Marshall of Hamden, Chloe Parrington of Guilford, Lauren Bell of Southbury, and Samuel Everett of Kent. Other interns and apprentices include Becca Schneider of Astoria, NY and Vitaly Mayes of Upper Marlboro, MD.
Dandelions Productions is thankful to the generous supporters of Connecticut Free Shakespeare who made this summer possible, including the RBC Foundation, Rhoda and Avram Freedberg Family Foundation, Jana Foundation, Merit Insurance, Norma Terris-Albert Firestone Foundation, the Marks Family Endowment in the School of Fine Arts at the University of Connecticut, and our individual donors, including our Board of Directors and the contributors of the 2018 Fairfield County Community Foundation's Giving Day Campaign.
ABOUT DANDELION/CONNECTICUT FREE SHAKESPEARE
Dandelion Productions, Inc. is a professional theater company founded in 1989 by the late Bertram Garskof and current Executive and Artistic Director, Ellen Lieberman. The company's mission is to employ the power of the dramatic arts to educate its audiences about the issues and values that shed light on the human condition. With a commitment to accessibility and inclusivity, Dandelion's programs have centered on creating point-of-entry theatrical experiences and social justice educational programs that have a powerful impact on the lives of Connecticut residents, particularly in under-served communities. Its projects have included social issue education theater, including the new BRIDGE program (launched in the spring of 2018), Radio Theater, theater tours for young audiences in partnership with National Theater for Arts & Education, and Connecticut Free Shakespeare.
Since 2000, Connecticut Free Shakespeare, a program of Dandelion Productions, has reached thousands of community members, offering free theatrical works and accessible live experiences that continue to inspire adults and children alike. Connecticut Free Shakespeare has been the highlight of Dandelion's programming for close to 20 years, bringing free-to-the-public professional works of classical theater in an accessible, skillful, imaginative, American style that honors the playwright's language and intentions, and that crafts these plays with a 21st century sensibility. CFS is committed to mounting productions designed to reach a broad range of audience members, including those not familiar with classical work, without jeopardizing artistic integrity. In doing so, we create the point-of-entry gateway to theater for youth and adults that is crucial to our mission, contributing to the accessibility of the vibrant arts culture in Connecticut.
For more information, visit www.ctfreeshakespeare.org or email info@dandelionproductions.org.
Related Articles View More Connecticut

Stories

Shows
More Hot Stories For You