BWW Review: THOUSAND PINES at Westport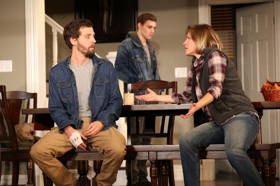 The national issue of gun violence is brought to the Westport Country Playhouse in the world premiere of Matthew Greene's Thousand Pines, directed by Austin Pendleton.
The three-part play, which is performed without an intermission, is set in the dining room of three identical suburban tract houses at Thanksgiving dinner six months after a shooting at Thousand Pines Junior High School. Three families, played by six actors in multiple roles, are struggling with the unimaginable sorrow of losing a child and trying to move forward with their lives despite the anger and confusion about what happened.
Even without the sad subject, Thousand Pines is a fabulous ensemble play. Actors Katie Ailion, Anne Bates, Joby Earle, William Ragsdale, and Andrew Veenstra all shine in their various roles as relatives or friends of the shooting victims. Kelly McAndrew, is superb as the very different mothers of two victims and stepmother of another boy who was killed. (Save a Connecticut Critics Circle Award for her! She just earned it.)
The play was workshopped at the Westport Country Playhouse and rehearsed at Chelsea Studios at TheatreWorks USA. It premiered exactly one week after the shooting in the Tree of Life Synagogue in Pittsburg and almost six years to the day of the Sandy Hook Elementary School massacre. Playwright Greene says, "To be honest, I'd love for this play to stop being 'relevant.'" No matter how many shootings there are, most people will not accept them as the new normal because it is too painful to lose an innocent person, especially a child, to gun violence.
The Westport Country Playhouse is presenting special programming events in conjunction with Thousand Pines. On Sunday, November 11, following the 3:00 p.m. performance, Greene will join some leaders of Connecticut-based organizations that are addressing gun violence. On November 14, Sujata Gadkar-Wilcox, associate professor or legal studies at Quinnipiac University, will lead a discussion on various gun legislation and regulations in the United States and internationally, and how they are influences by history and contemporary policy debates. This discussion, moderated by Michael Barker, managing director of the Westport Country Playhouse, will take place at the Sheffer Studio in the Lucille Lortel White Barn. Also, at the White Barn will be Helen Klisser During's curated collection of artwork that was created in response to gun violence. The gallery will open 90 minutes before the curtain for most performances.
Don't miss Thousand Pines, which runs through November 17 at the Westport Country Playhouse, 25 Powers Court in Westport. For tickets, call 203-227-4177 or visit www.westportplayhouse.org.
Related Articles View More Connecticut

Stories

Shows