Review: SEUSSICAL THE MUSICAL at the Warner Theatre
"Oh, the Thinks you can Think, when you think about Seuss!" These are some of the first lyrics heard in the Warner Stage Company's current production of SEUSSICAL THE MUSICAL. And boy, what thinks have been brought to life on the stage in this fresh, fun, and family friendly musical at the Warner Theatre in Torrington.
You would have to be living on another planet not to at least be somewhat familiar with the source material for this show, a collection of some of Dr. Seuss' most iconic stories. And it is truly a thrill to see these beloved characters come to life on the stage. For those not familiar with the musical (by Stephen Flaherty and Lynn Ahrens who also created RAGTIME, ONCE ON THIS ISLAND and many other musicals) it is a mash-up, of sorts, of the stories of Horton the Elephant, Gertrude McFuzz, Jojo the little Who with big thinks and all those that they encounter in their crazy Seuss-fueled adventures. The show also includes favorites like the Grinch and Mayzie La Bird and is narrated by the most iconic of Seuss' creations, The Cat in The Hat. It's a story about being different, believing in yourself, and relying on your imagination to take you to wonderful places, and the cast on stage at the Warner does a great job telling this story.
As I commented on in my review of the spring production of ROCK OF AGES (my first at the Warner), the Warner Stage Company is a community theater company that truly stands out above so many, and SEUSSICAL THE MUSICAL did not disappoint.
As the sad Elephant who protects and vouches for a world no one else can see, Josh Newey brought a perfect mix of vulnerability and determination to the role. Maggie Gillette shined as his pining next-door neighbor, Gertrude McFuzz and was lovely in her lovesick and hopeful songs. Ms. Gillette's goofy, hipster sensibility (loved the Ukulele!) paired well with Mr. Newey's oblivious, buT Loving pachyderm. I was most impressed with Trevor Rinaldi (Jojo) who nailed every one of his songs, acted with skill, and captured the audience with his every scene. For someone so young to be so polished on stage, I can imagine this will not be the last time audiences see him on the stage. Oh the places he will go! Finally, as the beloved Cat in the Hat, Samuel Everett pulled off nicely the goofy characters/costumes and frenetic pace of the role. Other standout performances for me were Mary C. Johnson as the selfish Mayzie La Bird and AlexaRae Campagna as the Sour Kangaroo who showed off her impressive voice and belted every one of her numbers to perfection. The ensemble, which was comprised of actors of all ages did well and truly looked like they were having as much fun as we were watching them.
Bringing these stories to life, the director, Richard McKenna does a great job for his mainstage directorial debut, especially when you consider the size of the cast and the style of show. The sets by Steve Houk were perfectly "Seuss" with the good Dr.'s trademark illustration style brought to life in three dimensions and vivid color. Sharon Wilcox's choreography was fun and energetic, and the costumes by Renee Purdy and Aurora Montenero popped with color and crazy textures, which is exactly what you would expect from these characters. I particularly enjoyed the design for the "hunches" - most creative and visually exciting. Finally, the orchestra conducted by TJ Thompson (who also provided the Musical Direction) was excellent. The lighting design by David Zahacewski fit the style well -the water effect during the bathtub scene, in particular, was a nice touch.
The show wasn't without its bumps (the sound had issues at times (balance with the orchestra and feedback/static) and there was one small wardrobe malfunction with Gertrude's tail, but the cast handled these professionally and it didn't hurt the overall feel of the production.
So, if you are looking for an uplifting, fun and exciting show, SEUSSICAL THE MUSICAL is a great choice. Full of loveable characters, upbeat songs, colorful costumes and a talented cast that brings these beloved stories to life on stage, this is a show for the whole family, even the grinchiest of Grinches.
SEUSSICAL THE MUSICAL runs at the Warner Theatre in Torrington, CT through August 7th. Tickets can be purchased by calling the Box Office at 860-489-7180 or online at www.warnertheatre.org.
Photo credits: Top and bottom photos by Mandi Martini. Middle photo by Luke Haughwout
Joseph Harrison has been involved with the theatre in some form or fashion all his life. He holds a Journalism degree from the University of Georgia, but his true love is the theatre which he has b... (read more about this author)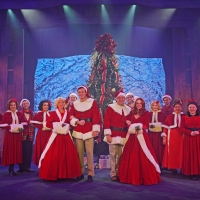 Review: WHITE CHRISTMAS at Titusville Playhouse

November 21, 2022

The holidays are about traditions - that special dish on the table, the favorite decoration that was handmade by your child, or a familiar song playing on the radio. And for many, nothing says tradition like watching a classic holiday film. Even though we take comfort in watching these familiar stories play out in the expected way on the small screen, for me, one of the special thrills of seeing a lot of live theater is getting to witness a timeless classic brought to vivid life on the stage. Such is the case for WHITE CHRISTMAS, the latest offering from Titusville Playhouse in Titusville, FL – a thrilling, heartwarming and thoroughly entertaining musical for everyone – young and old alike.RISTMAS at Titusville Playhouse?
---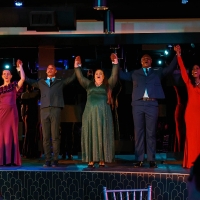 Review: THE WORLD GOES ROUND by New Generation Theatrical

October 9, 2022

"Somebody loses, and somebody wins, and one day it's kicks, then it's kicks in the shins. But the planet spins. And the world goes 'round and 'round." So goes the title song of the musical revue THE WORLD GOES ROUND – capturing the essence of life, love, loss and everything in between – and setting the stage for a journey through the iconic catalog of musical theatre legends John Kander and Fred Ebb (CABARET, CHICAGO, ZORBA). And in its latest offering of this rare gem of a revue, New Generation Theatrical delivers a stylish, sophisticated and thoroughly satisfying production – giving audiences a simple but thrilling musical with something for everyone.
---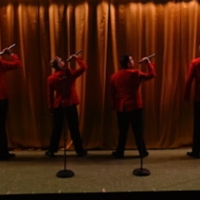 Review: SH-BOOM! LIFE COULD BE A DREAM at The Winter Park Playhouse

September 25, 2022

The Winter Park Playhouse, in Winter Park, FL is extremely good at producing intimate, sometimes lesser-known, but always high-quality musicals. In my short time here in Orlando, I have had the pleasure of visiting the Playhouse on a few occasions, and each time have been thrilled at my experience – not just because the shows themselves were outstanding, but because the environment radiates warmth, positivity and a true love of the craft of musical theatre. So, it was once again my pleasure to make it out this weekend to see the latest production of The Winter Park Playhouse's 20th anniversary season – SH-BOOM! LIFE COULD BE A DREAM, and once again I came away with a huge smile and a heartwarming feeling. This latest production is everything audiences have come to expect: a fun and entertaining night of musical theatre, presented by a highly talented cast and imagined by a strong creative team.
---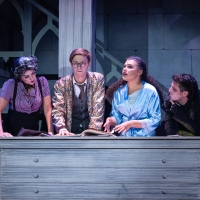 Review: YOUNG FRANKENSTEIN at Osceola Arts

September 20, 2022

There's no arguing that musicals made from movies can be hit or miss. Broadway has had it's share of them over the last few decades. Sometimes they work well (e.g., HAIRSPRAY, LEGALLY BLONDE, THE PRODUCERS) and sometimes not so much (e.g., CARRIE, KING KONG, DRACULA) but there is something particularly thrilling about seeing a fan favorite brought to life on stage. That is certainly the case for YOUNG FRANKENSTEIN, the musical version of the 1974 Mel Brooks comedy film of the same name. And lucky for fans (of either the film or the musical) the current production at Osceola Arts in Kissimmee is absolutely fabulous – from the first bolt of lighting to the last thunderclap (and audience clap) – it's a non-stop, rollicking good time.
---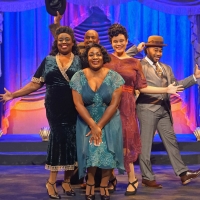 Review: AIN'T MISBEHAVIN' at Titusville Playhouse

September 17, 2022

Thomas "Fats" Waller, a pioneer in jazz piano, was a prolific composer, writing over 400 songs in his lifetime, with hits like "Ain't Misbehavin'" and "Honeysuckle Rose" even making it into the Grammy Hall of Fame. So, it is no surprise that in 1978 a Broadway Musical, AIN'T MISBEHAVIN' premiered featuring dozens of Waller's songs and a cast of five African American actors, including a young Andre de Shields (HADESTOWN) and the late, great Nell Carter who won a Tony Award for her performance. Since its premiere, AIN'T MISBEHAVIN' has lived on, thrilling audiences all around the world including the latest production at the Titusville Playhouse in Titusville, FL – an energetic and electric production that sizzles from beginning to end.
---