BWW Review: LITTLE SHOP OF HORRORS at Playhouse On Park
One of the biggest thrills I get as a theatre reviewer is to experience a show that I love in a new light, and to discover things about it that I never noticed before, no matter how many times I may have seen it. This was my experience viewing the first production in Playhouse on Park's eighth season, LITTLE SHOP OF HORRORS by Alan Menken and Howard Ashman.
Now, many people might find themselves in the same boat as me. You may have seen a production (or many) of this show in the past, or are, at the very least, familiar with the movie starring Rick Moranis and Ellen Greene. But please don't let that stop you from checking out this production. Playhouse on Park has managed to take this old favorite and breathe new life into it, delivering a musical that is exciting, powerful, and fresh. But most of all, seeing this LITTLE SHOP is simply an extremely fun night at the theatre.
In LITTLE SHOP OF HORRORS, all of the characters you know and love are there - from
the trio of urchins/greek chorus (Cherise Clarke, Brandi Porter, and Famecia Ward), to down-on-his-luck botanical "genius", Seymour (Steven Mooney), his ditzy, peroxide blonde co-worker/crush, Audrey (Emily Kron), flower shop owner, Mr. Mushnik (Damian Buzziero), and the sadistic dentist, Orin Scrivello D.D.S. (Aidan Eastwood). And don't forget the nefarious plant (voiced by Rasheem Ford and operated by Susan Slotoroff). And while this talented cast does hit all the expected notes, there were quite a few surprises as well.
Ms. Kron, from her very first sashay on stage to her powerhouse belting of Audrey's musical numbers, conveyed less victim and more of a woman resigned to her fate, stuck on Skid Row. Mr. Buzziero's Mushnik was equal parts slimy and resigned, and brought a great energy to his big dance number late in the first act. The trio of urchins (Ms. Clarke, Porter and Ward) showed off three powerful voices and kept the plot moving and the audience connected to the action. And Mr. Mooney's Seymour became someone the audience was really rooting for - showing clear transformation over the course of the show from shy nerd to more confident (yet conflicted) botanical superstar.
Another big (and pleasant) surprise in this production was the scenic design by Brian Dudkiewicz and costume design by Kate Bunce. Beginning the play in complete black and white and gradually adding color as the plant grows in his power and influence was brilliant. Additionally, the touches of Roy Lichtenstein worked perfectly for the time period and the set functioned extremely well in The Playhouse black box space. Coupling this with some inspired lighting choices by Christopher Bell and a subtle but effective sound design by Joel Abbot, the overall physical experience of being on Skid Row was captured well. Penny Brandt coaxed out some amazing vocal performances from the cast and breathed new life into Alan Menken's score. And the band, well, it simply rocked. You could tell that they were having just as much fun playing the music as the cast was singing it.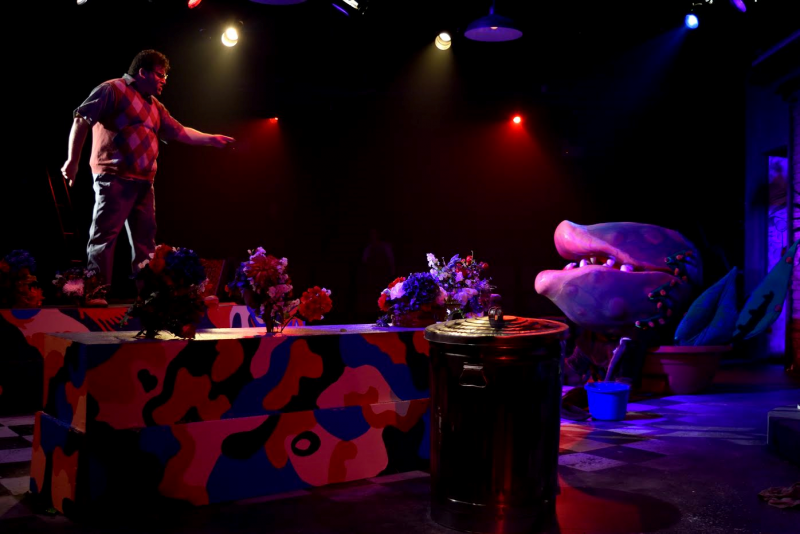 Susan Haefner's direction and choreography is another big part of what made this production unique and fresh. Her blocking and movement of the cast often verged on the frenetic, in an over-the-top comic book kind of way, which emphasized the fantastical nature of the story, harkened back to the old B-movies that LITTLE SHOP OF HORRORS was inspired by, and made for an extremely fun experience.
If LITTLE SHOP OF HORRORS is a sign of what's to come from Playhouse on Park this season, audiences are in for an amazing year of theatre. So don't miss your chance to take a trip back in time to "an early year in a decade not too long before our own" to experience the hilarious antics of Seymour, Audrey and that "strange and interesting plant", Audrey II. But if you know what's good for you... Don't feed the plants!
-----------------------------------------------------------------------------------------------------------
LITTLE SHOP OF HORRORS runs at Playhouse on Park in West Hartford, CT through October 16th. For more information, call 860-523-5900
ext 10 or visit www.PlayhouseOnPark.org. Playhouse on Park is located at 244 Park Road, West Hartford, CT 06119
-----------------------------------------------------------------------------------------------------------
Photo credits: Top photo: features Damian Buzzerio as Mr. Mushnik, Rasheem Ford as Audrey II (voice), and Susan Slotoroff as Audrey II (manipulator) (photo: Rich Wagner)
Middle photo #1 - features Cherise Clarke as Crystal, Famecia Ward as Ronnette, Brandi Porter as Chiffon, and Emily Kron as Audrey (photo: Meredith Atkinson)
Middle photo #2 - features Aidan Eastwood as Orin Scrivello, DDS, and Steven Mooney as Seymour (photo: Meredith Atkinson)
Bottom photo - features Steven Mooney as Seymour, Rasheem Ford as Audrey II (voice), and Susan Slotoroff as Audrey II (manipulator) (photo: Meredith Atkinson)