Click Here for More Articles on Hamilton
BWW Review: HAMILTON at The Bushnell
Every so often the musical theatre landscape experiences a swell of enthusiasm and excitement for a fresh, new and engaging play. Theatre fans (and casual viewers) alike can recall the hype when THE PHANTOM OF THE OPERA or LES MISERABLES first opened (and went on tour). More recently the WICKED phenomenon brought young and old alike out to experience the magic and electricity that only a live performance can elicit. Today, the show that everyone is talking about (and obsessing over) is Lin-Manuel Miranda's Tony winning musical Hamilton. Like its popular predecessors, it has recently begun touring around the country - riding the wave of enthusiasm and further cementing its place as a true pop-culture phenomenon. But unlike its flashy, big budget predecessors, Hamilton, in many ways, lives in its own category. It is a show that is modern, fresh, and that pushes boundaries and delivers in two and a half hours an experience unlike anything this reviewer has experienced before. I am thrilled to say, in the production that has now arrived at the Bushnell Center for the Performing Arts in Hartford, CT - Hamilton shines brilliantly, delivering in every way (and beyond) on the hype that precedes it.
For the uninitiated, Hamilton (inspired by the book by Ron Chernow) is quite simply, an historical play that tells the story of one of the founding fathers of our country, Alexander Hamilton, and his significant influence on our government and way of life even today. It does a brilliant job filling in gaps from high school history lessons - showing audiences the influence and importance of this critical figure. But Hamilton is not the stuffy, buttoned up American history play that it sounds like - you know the type - white powdered wigs, pretentious accents, classic architecture. No, what makes Hamilton so fresh and brilliant is the extremely diverse, young cast, simple costumes and staging, and most importantly modern lyrics and music style of Lin-Manuel Miranda's genius of a script and score. By infusing rap, hip-hop, and more traditional theatrical melodies, Mr. Miranda has created something that keeps you on your toes from the first chord, and leaves you gasping for breath by the end. It is truly a masterpiece and something that everyone should see at least once.
In the current national tour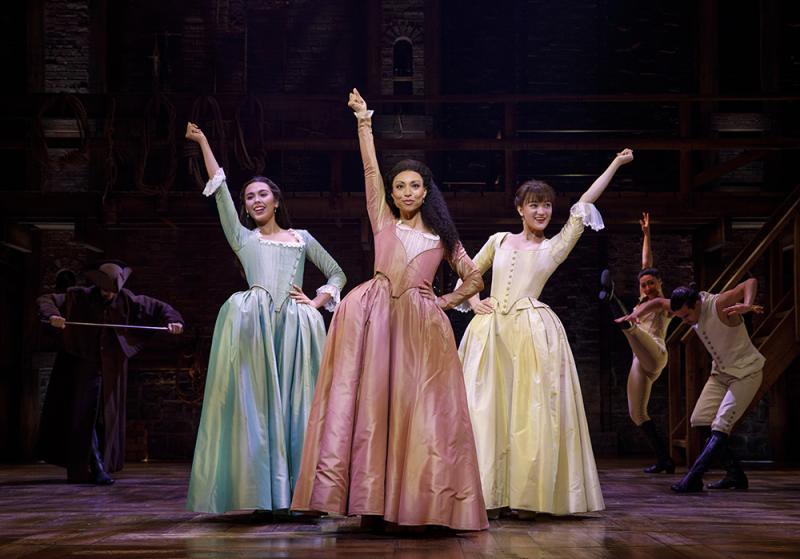 that has settled in for an extended run at the Bushnell, the cast is fresh, talented and up to the task of taking on these, now iconic, roles. As the title character, Austin Scott illustrates Hamilton's journey from the young and energetic immigrant eager to make his mark, to the impatient and driven soldier, to the prolific writer and statesman who exerts an inhuman amount of influence on this young nation. Mr. Scott's performance is layered and complex and simply brilliant. Hannah Cruz and Stephanie Umoh as Eliza and Angelica Schuyler respectively add an electric energy to each of their scenes, and both captivate and devastate through their songs. As the elder statesman/general/president, George Washington, Paul Oakley Stovall is stoic and stalwart, and he plays the role of mentor/father-figure to Hamilton very well. Additional standout performances include Bryson Bruce as Lafayette/Thomas Jefferson (delivering the tongue-twisting "Guns and Ships" without flinching) and as the hilarious King George, Peter Matthew Smith brings comic-relief and smiles every time he takes the stage, especially in his hilarious rendition of "You'll Be Back". Finally, in the role of Hamilton's friend, then foe, Aaron Burr, Josh Tower delivers a solid performance - excelling especially during his more lyrical songs/scenes.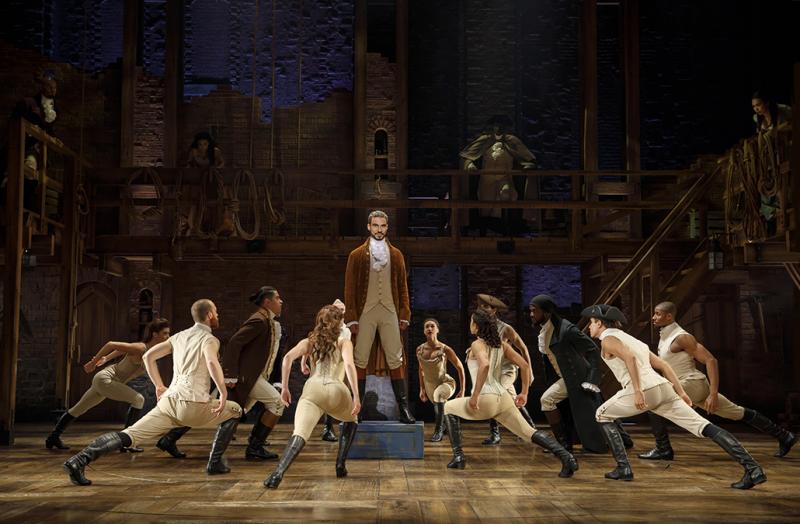 Thomas Kail's direction is fluid and delivered with a freedom that comes through from beginning to end. The action is non-stop, keeping a lively pace that prevents the audience from ever getting bored and squeezing in a significant amount of material in a relatively short time. Andy Blankenbuehler's choreography is some of the most exciting and energetic I have seen in quite some time. It feels like the cast are each pieces of a complex piece of machinery, moving in ways that move the story forward without being distracting. Finally, Alex Lacamoire's music supervision/orchestrations bring Lin-Manuel Miranda's score to brilliant life in every moment.
What more can I say? Hamilton is a musical that shines in every single way - score, book, performance, direction, costumes, staging, you name it. Seeing it is one of those experiences that audiences will remember for a lifetime. I am thrilled to have had the chance to call this production my first viewing of the musical, and after the transformational experience, I can say with certainty, it will not be my last.
HAMILTON runs at the Bushnell Center for the Performing Arts in Hartford, CT December 11 -30. Performances are Tuesday through Thursday at 7:30 p.m.; Friday at 8:00 p.m.; Saturday at 2:00 p.m. and 8:00 p.m.; and Sunday at 1:00 p.m. and 7:00 p.m. Tickets are currently sold out, but additional seats may be released so check bushnell.org regularly. Additionally (40) tickets will be sold for every performance for $10 each via a daily lottery (two days prior to each performance.) Use the official app to enter (http://hamiltonmusical.com/app). The Bushnell is located at 166 Capitol Avenue, Hartford.
Top Photo: Company - Hamilton National Tour - (c) Joan Marcus
Middle Photo: Julia K. Harriman, Sabrina Sloan, Isa Briones and Company - Hamilton National Tour - (c) Joan Marcus
Bottom Photo: Company - Hamilton National Tour- (c) Joan Marcus