Review: FLYIN' WEST at Westport Country Playhouse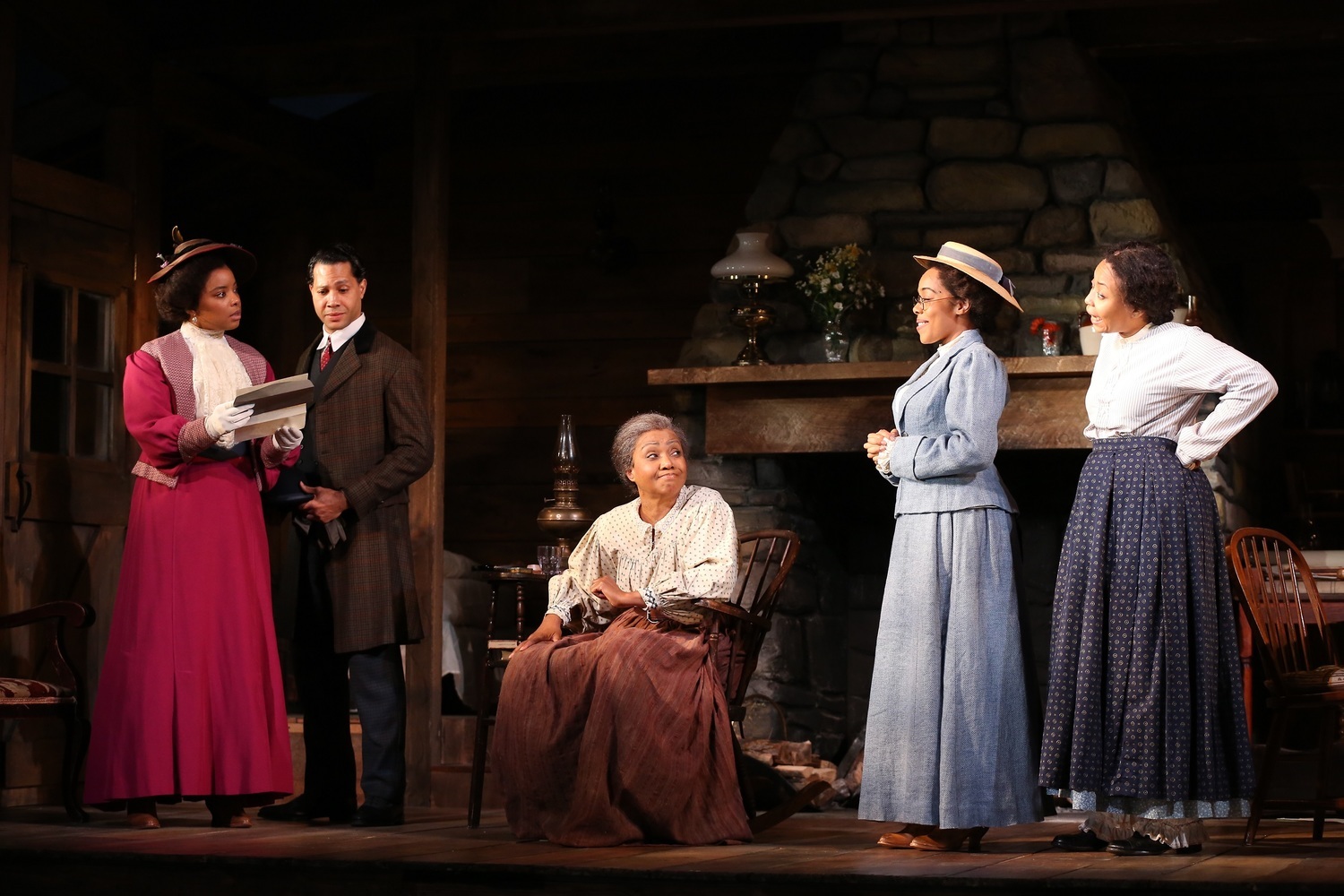 Pearl Cleage's Flyin' West is back again in Connecticut, opening the playhouse's 2018 season. And the timing could not be better. With so many Americans struggling for their dignity, Flyin' West speaks to those who have struggled to claim their stake, their status, and their freedoms.
The 1995 play is about six people in the late 19th century America. Sisters Sophie Washington (Nikiya Mathis) and Fannie Dove (Brittany Bradford) moved to Nicodemus, Kansas, a settlement that attracted former slaves with the help of the Homestead Act of 1862. They are hosts to their elderly neighbor, Miss Leah (Brenda Pressley), a 73-year-old woman whose 15 sons were taken into slavery and is determined to have her memories told as oral history. These women are often helped by another kind neighbor, Wil Parish (Edward O'Blenis). Sophie and Fannie are expecting a visit from their recently married sister, Minnie (Keona Welch) and her husband, Frank (Michael Chenevert). And with that visit come serious problems. Both Frank and Wil are of men of mixed heritages, but Frank hates being considered black. He openly admits that he wishes he and Minnie were a few shades lighter. When he learns that he was not recognized as one of his father's heirs, his anger, and self-loathing, and determination to get Minnie's share of her family's estate intensify.
Although Fannie is torn between her sisters, Sophie is adamant about keeping their land from being sold to white speculators as the town of Nicodema begins to prosper. That parcel of land means everything to her. It's her freedom, her safety, her future, her pride, her joy. Miss Leah, a generation older, understands Sophie perfectly and will do whatever she can to help her neighbors. Needless to say, Frank Charles will soon be history.
The casting is flawless. Brittany Bradford strikes the right balance as the middle sister who prefers to write than to fight. Keona Welch is thoroughly credible as an abused wife. Michael Chenevert is equally credible as her nasty and manipulative husband. Edward O'Blenis played the likeable good neighbor with strength and self-possession. Brenda Pressley, who thrilled Connecticut audiences in Having Our Say, delivers another magnificent wise character for us to watch and learn from. Nikiya Mathis gives a tour-de-force performance that the contemporary Pioneer Woman could only dream about. She breathes fire into an already feisty and inspiring character who can also be chillingly detached as she does what she must do to save her family and property. Kudos to director Seret Scott, who made this deep, thought-provoking play as fresh as when it when it premiered.
Marjorie Bradley Kellogg's set design may or may not be realistic for the time and Sophie's funds, but it captured her strength and vision. The furniture and the floor to ceiling stone fireplace looked as if they were more than she could afford, but it helped the audience see what she saw in her life. It was all good as long as she was in control.
When you see Flyin' West at the Westport Country Playhouse, which is running through June 16, be sure to see the wonderful displays that will give you some background on Nicodemus. Its current population is fewer than 20 people, but this show makes you want to make a pilgrimage there. In the meantime, make a pilgrimage to the Westport County Playhouse at 25 Powers Court in Westport. 203-227-4177. You can see a video on Flyin' West on its website, www.westportplayhouse.org.