Interview: Nina Agostine Smith Talks Shaping Young Artists and Directing MEMPHIS at Waterbury Arts Magnet School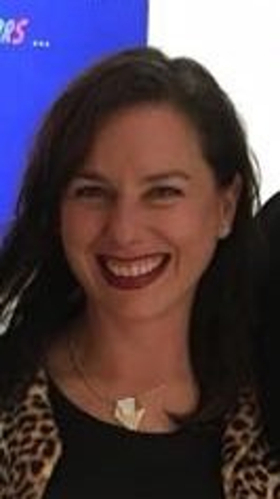 Waterbury Arts Magnet School is educating the stars of tomorrow and has a project in the works that will transport audiences with a story of love driven by the power of music. Their production of Memphis runs April 6-8th and is surely not to be missed (get tickets here).
Director, teacher, arts mentor, Nina Agostine Smith is all of this to her students as she guides them through the process of putting together a professional level production that is set to thrill audiences in Waterbury's iconic Palace Theatre.
Nina took a moment to talk to BroadwayWorld about what her school does and how she and her students are prepping for their exciting mainstage musical.
Tell us more about the structure of Waterbury Arts Magnet School.
We teach 11-18 year olds, so grades 6-12. Our students take a full load of academic requirements, 5 classes, plus 3 art classes throughout the day. In the middle school we do exploratory classes in 6th grade. Students have to take all arts classes to see where they fit in unless they are a really accomplished musician, actor, dancer, then they can focus on those areas a bit more.
We're lottery based so we take around 70% from the intercity. The rest come from the surrounding areas. It's a non-audition based school because we're grant funded through the government. We cannot ask for anything more than name, and address. Most of our students come to us without any theatre or artistic background. Many of them have never been to a theatre. We train them from 6-12th grade in visual and performing arts.
How do you choose which shows to do?
Our theatre department is made up of myself and two other colleagues. We've been here since 2004, since the inception of the school. What we do is we take a look at a broad range of what the kids need at a certain time and what the climate is like that teenagers are living in. Over the past 14 years our department has done over 160 shows. We do what we call three mainstage shows plus a middle school show. In addition to that, all of our classes run a mid-semester and a final showcase so we do a director showcase, playwright showcase, etc. We run a Shakespeare program for which we bring in professional artists. And we never repeat the same Shakespeare though we will have to soon!
We're an interesting mix in the theatre department. I do more modern, one of us is a professional playwright so he does directing and technical theatre and he takes on more of the obscure standards. We never dumb things down, we help our students understand the material and push them to work with it. Then another teacher does more of the classical. A rounded education needs to be broad because that's the only way they're going to be able to compete outside of secondary education. It puts them a league above public schools but even private schools. Everyone focuses on so many things, not just the big musical.
We do a round of Beckett, we'll do theatre of the absurd every three years. So they'll see it in let's say 8th grade, then again in 11th grade. They can then relate that to what they saw as a child and what they see as an almost adult and it's a completely different perspective on the material.
Then, of course, it's also based on talent. We're not going to put something up if we have no one to cover the role.
What made Memphis the right choice?
Seven years ago we did Joe Turner's Come and Gone, the August Wilson piece from 1910. This is going 40 years in the future, and we noticed that students have empathy but they don't really understand civil rights. We thought that in this climate this was the best way to garner an understanding of people. We're doing more of a human element.
When we talk to the students about interracial relationships, about women's empowerment, they don't have someone or something to connect to. We thought that this was the best piece because it's music driven and most teenagers, wherever they are in the world, need to hear the soundtrack of their life. And they go oh my gosh is that where that came from? I didn't understand who this person was and why I know how to play this bass guitar because of this. I get this all the time: what do you mean I can't walk down the street with my friend? They have no idea what it's like or the struggle in between and why people are so up in arms these days. So we say okay let's take a step back and look at what's happening in history and what had to have happened and why it's so important in order for you to be able to do these things today. If you don't have an understanding, then you can't make a change.
What's the casting process like?
I have a cast of 45 students even though the script calls for around 18. I had about 200 students audition out of a school of 800. I had to cut more than half, and even then I couldn't get down to the number the script calls for. The students are so passionate and so lovely and so good. I wouldn't cast them if they weren't good.
The 45 on stage are from 6th grade to 12th grade. Most of them are high school kids but we do have some middle schoolers that made the cut. I have a lot of kids in the middle school who are so passionate about being involved, and I wanted to make sure we feature them too, so I have a pre-show. In a marble palace entryway, I have student directors who are managing those middle school kids and some high schoolers who just weren't right for the show. I couldn't take their sprit and say no. Because it's educational theatre, we said okay, what can we do that will make you feel like you have an important job. And it is an important job. They have to come up with a 40 minute set, all on their own. Costumes, lines to learn, a band, in the lobby pre-show. Because they are not unworthy. And education is about acceptance.
How do you go about obtaining the rights to big name musicals like this?
Theatrical Rights Worldwide is phenomenal. We applied for the rights a year and a half ago to make sure there was no other touring show, we were accepted to do this really early on, and I can't say enough about them. They give us scripts and the students can actually write in the scripts. I don't have to give them back, the students can highlight and make notes. Instead of making ten thousand copies and trying to avoid copyright infringement, they know that we're doing this for high school kids and they're learning. TRW is one of my favorite publishing houses to work with because I think they're really accepting of the student learner.
What is the rehearsal process like?
One of my main objectives is I'm their coach. They either love me or hate me! On any given day they're with me or with a music director or music coach or dance coach, who is also our principal. Our choreographer is also our principal. She expressed an interest and said she really wanted to work with me on this project. It's been a beautiful collaboration. Our band program does not focus solely on musical theatre prep, so I only have a few second stringers in the pit orchestra because they don't train that way. They train for band, drum line, jazz, but not musical theatre which is of course a very different element. They can't read a score the same way a professional would, so I do have a professional pit which includes alumni.
My rehearsal process can be all over the place. I'll have one of our creatives say I can give you an hour here to work with the ensemble and we make it work! I have about 40 students working backstage with IATSE so they learn professional methods of rigging, calling the show, things like that with a local union. Their scripts are completely different and we have to instruct them in that.
It all ends up looking like chaos! But it's really not. I always know exactly where everyone as is. And we all work through that chaos.
Memphis will play Friday April 6th & Saturday April 7th at 7:00 pm and Sunday April 8th at 2:00 pm at the Waterbury Palace Theatre: 100 East Main Street, Waterbury.
There will also be a lobby performance for patron enjoyment prior to the show from 6pm - 6:45pm on Friday/Saturday and 1pm - 1:45pm on Sunday.
Visit http://www.palacetheaterct.org/shows to purchase tickets!
Production photo credit: A. S. GYURIK PHOTOGRAPHY: http://www.asgyurikphotography.com