MadLab Announces Young Writers 2019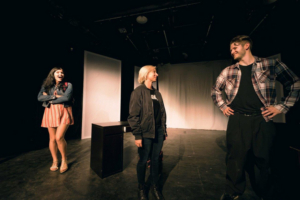 MadLab's Young Writers Short Play Festival, featuring a collection of ten short plays written by 10 area high school students, will take place July 12 - 27, 2019 at MadLab, 227 N. 3rd St., in Columbus. Admission is $18 for the general public, $15 for students and seniors and $13 for MadLab members. Tickets are available online at www.madlab.net.
Founded in 2011 and now in its eighth year, MadLab's Young Writers Short Play Festival is designed to give local high school playwrights a professional theatrical experience. Students are invited to submit their 10-minute plays, a selected group of which are chosen to be developed and produced. Each student is given the opportunity to attend specialized workshops and collaborate with local and national mentor playwrights during their time in the program. At the end of the program, the plays are performed at MadLab in a fully-produced short play festival.
The program has a lasting impact on student and adult participants. Former playwrights have gone on to major in theatre in college, have their work included in textbooks, and perform on national television.
The Ann Sherry Foundation is once again a generous sponsor of the Young Writers Short Play Festival.
The Community Arts Fund of Columbus Foundation, GCAC, and OAC support MadLab throughout the year.
Two separate programs will be offered, each showcasing five plays. Friday evening performances and the July 14 matinee performance will feature:
What A Girl Really Wants by Charis Ellett (Big Walnut) (D)
A woman struggling with body issues confronts her inner demons.
Ticking Heart by Chelsea Hoy (Grove City) (C/D)
When you're in love, nothing can get in the way.
How Many Names Can I Call You? (Fort Hayes) (D)
A group of young men try to tear down figurative walls on the outskirts of a city with literal ones.
The Chance to Love You by Megan Sharp (Columbus Alternative High School) (D)
A young man reflects on his time with the one that got away.
Play It Cool by Carol Clayton (Eastmoor Academy) (C)
You've got a date with the prettiest girl in school, and your best friend is coming along.
Saturday evening performances and the July 21 matinee performance will feature:
The Twins by Jules Loeffler (Big Walnut) (D)
A mother struggles to keep it together at the grocery store.
To Be Human by Kara Fedurek (Dublin Jerome) (C/D)
It's tough when your Sim has a better view of life than you do.
The Community Arts Fund of The Columbus Foundation, Greater Columbus Arts Council and Ohio Arts Council support MadLab
Collector of Souls by Mattea Morris (Cristo Rey) (D)
He doesn't meet many girls like Violet in his line of work.
The Motel Room by Leah Browning (Hilliard Bradley) (D)
A mother struggles to keep it together in a seedy motel room.
First Date by Derek Smith (Groveport) (C)
Him: This date is going very well!
Narrator: It was not, in fact, going very well.
C= comedy D = Drama C/D = Comedy/Drama
Friday and Saturday evening performances begin at 8 p.m. and Sunday matinee performances begin at 3 p.m.
MadLab is a non-profit organization that provides an artistic haven for the creation and experience of original works.
For more information about events at MadLab, visit www.madlab.net.
Related Articles View More Columbus

Stories

Shows
More Hot Stories For You