CPT Presents Original Play GOLDEN Created And Performed By Formerly Homeless Men In Recovery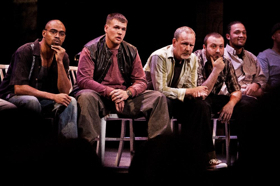 Cleveland Public Theatre's Education Department and the Cleveland YMCA's Y-Haven Program present Golden, the 2017 CPT/Y-Haven Theatre Project.
Cleveland Public Theatre and Y-Haven present Golden, created and performed by the residents of Y-Haven, a branch of the Greater Cleveland YMCA. A nineteen-year partnership between the two organizations, the project introduces theatre arts to formerly homeless men recovering from substance abuse and mental health challenges. As they work with CPT artists to create an original performance based on their personal experiences, participants develop skills and capacities that support their sobriety and transition to employment, permanent housing and independent living.
Golden was developed under the guidance of CPT Education Manager Adam Seeholzer and CPT Teaching Artist Leonard Goff, with set, props and costumes designed by Inda Blatch-Geib.
What happens when old buddies rekindle their friendships after 5 years of disconnection? Craig is back in town seeking support through a family emergency. While out fishing, the friends reel in a mysterious lockbox from the bottom of the lake. When the box is unlocked and gold is revealed, motives are questioned, desire overpowers, and haunting stories emerge as relationships fray. Golden is a compelling original play exploring the cost of greed, the calling of friendship, and how stories shape our existence and connect us to our humanity.
A consistent audience favorite, the CPT/Y-Haven Theatre Project offers candid insight into important issues of our society and gives real hope for growth and change. Audiences are deeply moved by the poignant stories presented in this powerful collaboration.
FREE PERFORMANCES AT CLEVELAND PUBLIC THEATRE
Thursday, November 2nd at 7:30pm
Friday, November 3rd at 7:30pm
Sunday, November 5th at 3:00pm
Cleveland Public Theatre's Gordon Square Theatre is located at 6415 Detroit Ave. Cleveland, OH 44102.
Suggested donation of $5 accepted to help support the project
SPECIAL BENEFIT PERFORMANCE
Saturday, November 4th at 6:30pm
Cleveland Public Theatre's Gordon Square Theatre
6415 Detroit Ave. Cleveland, OH
Tickets for this benefit performance are $50 and includes an appetizer reception and performance. To purchase tickets for the benefit, call YMCA's central office 216.781.1337 or visit
http://www.yhaven.org and pay through PayPal.
FREE TOUR PERFORMANCES IN THE COMMUNITY
Wednesday, November 8th at 5pm
Cuyahoga Metropolitan Housing Authority
Outhwaite Homes Community Center
2452 East 46th Street, Cleveland, OH 44104
Free, donations accepted
Sunday, November 12th at 2pm
Lakewood Congregational Church
1375 West Clifton Blvd. Lakewood, OH
Free, donations accepted
Y-Haven Artists: Willie Arney, Eric Berry, Leonard Corbin, Daniel Cross, Maurice Foster, David Gumins, Fred Hall, George Hayes, Carl Jones, Carlton Knox, Lorenzo Lett, John Posey, Russell Nelson & Marco Woods.

CPT Artists: Directed by CPT Education Manager Adam Seeholzer and assistant director, CPT Teaching Artist Leonard Goff, with costumes, props and set by Inda Blatch-Geib.
Y-HAVEN THEATRE PROJECT IS GENEROUSLY SUPPORTED BY
Ohio Arts Council, Puffin Foundation West Ltd. and Ridgecliff Foundation.
CLEVELAND PUBLIC THEATRE RECEIVES FUNDING FROM
The City of Cleveland, The Cleveland Foundation, The George W. Codrington Charitable Foundation, Community Shares, Consolidated Solutions, Matthew P. Figgie, The Char & Chuck Fowler Family Foundation, The George Gund Foundation, Joan Yellen Horvitz, Jakprints, KeyBank, The Kulas Foundation, The Kelvin and Eleanor Smith Foundation, National Endowment for the Arts, National New Play Network, The Nord Family Foundation, Deborah and Ron Ratner, Saint Luke's Foundation and The Shubert Foundation.
Cleveland Public Theatre gratefully acknowledges the citizens of Cuyahoga County for their support through Cuyahoga Arts and Culture.
Photo credit: Steve Wagner Photography
More Hot Stories For You