BWW Review: Well-performed, But Uninspired A LITTLE NIGHT Music At Lakeland Civic Theatre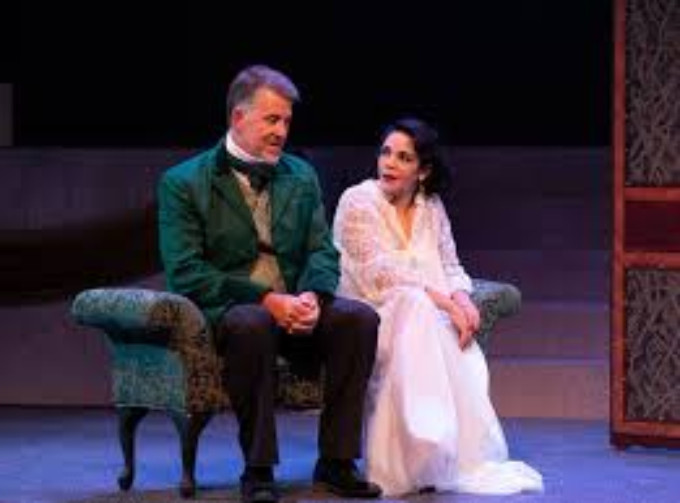 Like much of the works of Stephen Sondheim, from the start, "Little Night Music" proves to be a different type of musical. Rather than a traditional overture, one-by-one, a quintet of singers, who will act like a Greek chorus throughout the production commenting on varying situations, introducing the audience to characters and clarify the plot's goings on, enter, tuning up their voices. Eventually, they blend into an overture composed of different songs from the score.
Sondheim, an eight-time Tony winner, whose works are noted for their lyrical sophistication and musical complexity, is oft praised by critics and underappreciated by the general public.
His musicals abandon the romantic plots favored by Lerner and Loewe and Rogers and Hammerstein. This is ironic since, from the age of ten, Sondheim was mentored by Oscar Hammerstein II, the father of his boyhood friend.
His works tend to be dark, exploring the ironic, grittier and unglamorous sides of both present and past life.
He finds inspiration in the unlikeliest of sources-the opening of Japanto Western trade for "Pacific Overtures," a legendary murderous barber seeking revenge in the Industrial Ageof London for "Sweeney Todd," the paintings of Georges Serratefor "Sunday In The Park With George," fairy tales for "Into The Woods," and a collection of individuals intent on eliminating the President of the United Statesin "Assassins." Even his one true comedy, "A Funny Thing Happened on the Way to the Forum," centered on slavery in ancient Rome.
"A Little Night Music," with a book by Hugh Wheeler, was inspired by Ingmar Bergman's film, Smiles of a Summer Night, and exposes the lives of several couples, including such topics as infidelity, verbal relational abuse, and birth out of wedlock. The play's title is a literal English translation for Mozart's Einekleine Nachtmusik.
As is often the case with Sondheim, the score has elements not often found in musical theater. Its complex meters, pitch changes and high notes for both males and females present a challenge for performers.
The story "explores the tangled web of affairs centered around actress, Desirée Armfeldt, and the men who love her: a lawyer, Fredrik Egerman and the Count Carl-Magnus Malcom. When the traveling actress performs in Fredrik's town, the estranged lovers rekindle their passion. This strikes a flurry of jealousy and suspicion between Desirée, Fredrik, Fredrick's wife, Anne, Desirée's current lover, the Count, and the Count's wife, Charlotte. Both men - as well as their jealous wives - agree to join Desirée and her family for a weekend in the country at Desirée's mother's estate. With everyone in one place, infinite possibilities of new romances and second chances bring endless surprises."
The show contains "A Weekend in the Country" and "Send in the Clowns," two of Sondheim's most well-known compositions. Also in the score are "The Glorious Life," "In Praise of Women," and "The Miller's Son."
The vocalizations in the Lakeland production are well performed, as are the musical sounds of the orchestra.
As has come to be expected, Trinidad Snider displays strong vocal abilities and acting skills as Desiree. Her "Send in the Clowns" was masterful. Singing meanings, not just words, she brought depth and clarity to the song.
Though his acting generally stays on the surface, Rob Albrecht (Frederick), sings well in "Now" and "You Must Meet My Wife."
Talented Eric Fancher, another vocal and acting master, creates a properly self-loathing Henrik, Frederick's son, who is hopelessly in love with his step-mother.
Meg Martinez masterfully interprets "The Miller's Son."
Ian Atwood is properly pompous as Count Carl-Magnus Malcolm, and Neely Gevaart shines as Countess Charlote Malcolm, his put-upon wife, who gets her revenge.
The rest of cast is also strong.
What's missing is variance of performance tempo, and the charm and playfulness written into the script, but not translated onto the stage. This is surprising as director Martin Friedman, a Sondheim expert, has displayed over and over in Sondheim stagings, his ability to bring life into the writer's works.
The scenic and lighting designs work well and Kelsey Tomlinson's costumes are era correct. The choreography is serviceable, though not overly creative.
Capsule judgment: In spite of a talented cast, "A Little Night Music" is uninspired and not up to the usual high level of Lakeland's Sondheim script presentations.
"A Little Night Music" runs Friday and Saturdays at 7:30 and at 2 on Sundays September 7 through 30 at Lakeland Community College, 7700 Clocktower Drive, Kirtland. For tickets call 440-525-7134. (The college is only 10 minutes from the 90-271 split!)