BWW Previews: INFO ABOUT--STATION HOPE, CLEVELAND OPERA THEATER, SETH CONCERT SERIES, THE 24-HOUR PLAYS, DISCOVER IRVING BERLIN, ATCA/BLACK LIVES MATTER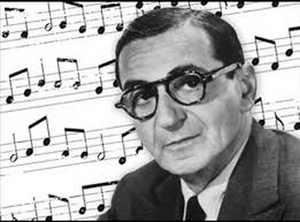 CLE ARTISTS CELEBRATE CLEVELAND'S SOCIAL JUSTICE HISTORY
On Saturday, June 27, from 6:00-9:00 (ET). Cleveland Public Theatre's Staff will (safely and responsibly) broadcast Station Hope, a jubilant community event celebrating Cleveland's social justice history and exploring contemporary struggles for freedom and equity. It is free, family-friendly, and open to all. CPT will publish how to participate online in the weeks to come
.•••••••••••••••
CLEVELAND OPERA THEATER WILL GO VIRTUAL FOR 20/21 SEASON
Rather than halt operations, Cleveland Opera Theater will offer a Virtual 20/21 season. "We're fostering creative ideas with sister organizations in Greater Cleveland and in New York City, Washington DC, Knoxville, San Francisco, and Chicago to develop the most dynamic programming possible. Programs will include concerts, staged productions, new works, a vocal competition streamed live, an "OPERA-THON" fundraiser, and events pairing opera with food, wine, and beer," says Scott Skiba, Cleveland Opera Theater Executive Artistic Director.
••••••••••••••••••
THE SETH CONCERT SERIES,
TRADITIONALLY HELD AT THE PROVINCETOWN ART HOUSE, GOES ON-LINE
Kelli O'Hara,
Jeremy Jordan
, and
Jessie Mueller
have joined a virtual lineup of Broadway stars taking part in
The Seth Concert Series
with Sirius XM host and Playbill contributor
Seth Rudetsky
. While normally held in Provincetown, Massachusetts, under the
Broadway @ Art House
banner, the performances will be held indoors from the stars' homes due to the COVID-19 pandemic. Up first is Tony winner Kelli O'Hara (
The King and I
;
Kiss Me, Kate
) May 31 and June 1. The star will perform highlights from some of her biggest Broadway roles in addition to her solo studio album work. Tony nominee Jeremy Jordan (
Newsies
,
Bonnie & Clyde
) follows June 14-15. The star was most recently seen on Broadway in
Waitress
opposite
Shoshana Bean
. Prior to the Sara Bareilles musical, Jordan appeared on the Main Stem in
American Son
and on the NBC series
Smash
. Since her Tony-winning turn in Beautiful-The Carole King Musical, Mueller (performing June 21-22) has gone on to originate the role of Jenna in Waitress and played Julie in the 2018 revival of Rodgers and Hammerstein's Carousel, earning subsequent Tony nominations for both. Concerts take place at 8 PM ET on Sundays and 3 PM ET on Mondays. For tickets, visit
TheSethConcertSeries.com
.••••••••••••••••••••

THE 24-HOUR PLAYS: VIRAL MONOLOGUES: DIRECTOR'S CUT

Over a dozen theatre favorites took part in a special edition of The 24 Hour Plays: Viral Monologues: Director's Cut on May 19, including Tony winner
Cynthia Nixon
,
Michael Urie
, Mauricio Martinez, Maddie Corman, and Cobie Smulders.
The videos are now available on
24HourPlays.com
••••••••••••••••••
ON-LINE COURSE: Irving Berlin: NEW YORK GENIUS
Join Daniel Goldmark to explore James Kaplan's book
, Irving Berlin: New York Genius
, which offers a visceral narrative of Berlin as a self-made man who was a witty, wily, tough Jewish immigrant. Kaplan's book underscores Berlin's continued relevance in American popular culture today.
Wednesdays June 24-July 8 @ 10 am
Registration and information:
https://www.lifelonglearningcleveland.org/public/Course/browse?courseid=26557
•••••••••••••••••••
ATCA STATEMENT OF SOLIDARITY
The American Theatre Critics Association stands in solidarity with those taking a stand against the senseless killings of Black and Brown people across the country. We also support the reporters who are on the front lines covering protests. The theaters and theater makers we cover in our work have been articulating their support through statements, cancellations, and deploying of resources. For almost 50 years, ATCA has championed the voices of artists who hold up a mirror to our society through what we write, what we award, and which productions we cover.
On stages across the country, playwrights and performers in the American theater have been telling us for decades that it is well past time to dismantle systemic racism in our production houses, in our organization, and in our society.
This is a critical moment for our nation and our art form, and we are committed to being a part of the solution. -
American Theatre Critics Association Executive Committee, June 3, 2020
•••••••••••••••••••••