Wake The Dead Bash With The Mighty Wurlitzer Come to Music Hall Ballroom, 10/31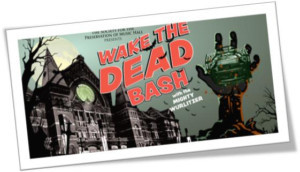 The Society for the Preservation of Music Hall (SPMH) will 'Wake the Dead' on October 31 from 9:00 PM to midnight at one of the country's most historic and haunted places - Cincinnati Music Hall. SPMH's inaugural Halloween Bash will delight adult audiences with spine-tingling tunes - played in Music Hall's Grand Ballroom on The Mighty Wurlitzer theatre organ by master organist, Trent Sims. Cincinnati's legendary bartender, Molly Wellmann, will be mixing up spooktacular drinks for guests and ghouls alike.
In addition, Cincinnati's Young Professional Choral Collective (YPCC) will "crash the bash" with creepy-crawly sing-alongs with local dance and drag favorite Brock Leah Spears as guest emcee. Throughout the evening, Cincinnati Research & Paranormal Studies will offer mini-ghost-tours throughout Music Hall, offering an incredible opportunity for Wake the Dead partygoers to tour this haunted venue.
Costumes are encouraged but not required.
Tickets are on sale now at www.CincinnatiArts.org, (513) 621-ARTS [2787], and the Aronoff Center or Music Hall Ticket Office. For groups of ten or more, call (513) 977-4157. Tickets include the ghost tours, light bites, one drink ticket, and pictures at a fun Framester photo booth!
The Mighty Wurlitzer
The Mighty Wurlitzer was installed in the ornate Albee Theater on Fountain Square in December 1927 - one of only 2,200 theatre-organs produced at that time to accompany silent feature films. When talkies took over in 1929, the theatre organ was mainly silenced. The Albee organ was donated to the Emery Theater in 1969 (where it played for movies and other events) and was partially rebuilt by the Ohio Valley Organ Club. It was removed from the Emery in 1999 and put into storage.
The leadership at SPMH thought the historic Music Hall Ballroom would be an ideal location for the instrument, and in June 2007, Ronald F. Wehmeier, Inc., Pipe Organ Service in Cincinnati was contacted to completely rebuild and install the Wurlitzer. A donor foundation funded the entire project in the amount of $1.41 million. Only a small number of Wurlitzers of this size still exist, and Cincinnati (the home of The Wurlitzer Company) is one of the few cities in the country to have an instrument of this quality.
The Wurlitzer was expanded in tonal colors and effects, from nineteen ranks of pipes to thirty-one ranks (a rank is made up of 61 pipes, and represents orchestral sounds, such as trumpets, flutes, tubas, strings, etc.). A full array of percussion effects is also present - xylophone, marimba, glockenspiel, chimes, and even a large Steinway grand - all playable from the giant three keyboard and pedal console, decorated in 22-karat gold leaf. Wind for the pipes is provided by a 15 HP high pressure turbine, the electrical switching is controlled by computer, and pipes range in size from 16 feet to the size of a pencil. In addition, the Wurlitzer is now fully computerized, so that it can be played without an organist through a digital input system.
Trent Sims - Theatre Organist
Trent Sims is a native of Dayton, OH, and from the early age of ten he began studying the organ. In demand on the international concert circuit, he has played concerts on both theater and classical organs across the United States, the United Kingdom and Germany. As a featured organist, Sims has performed on Wurlitzer pipe organs installed in The Music Palace restaurants in the Cincinnati area and Indianapolis. He was also the Guest Artist in Residence at the Victoria Theatre in Dayton for six years, and remains an organist in Dayton.
Molly Wellmann - Mixologist
Cincinnati's Molly Wellmann is a self-taught mixologist, entrepreneur, and author who has immersed herself in the history and knowledge of craft and classic cocktails and fine spirits. Wellmann, her team, and her establishments have been featured in local-, national-, and internationally-published outlets. She is a practiced public speaker, participating in many cocktail forums and entrepreneurial conferences, and is known for her work with women's organizations and many other leadership organizations. Wellmann owns and operates two popular local Cincinnati establishments: Japp's Since 1879 in Over-the-Rhine and Myrtle's Punch House in East Walnut Hills.
Brock Leah Spears - Emcee
Brock Leah Spears (pronounced Broccoli Spears) is a local dancer turned Drag Queen who after performing with the prestigious Les Ballet Trockadero de Monte Carlo in New York City, found her passion for makeup and drag. She currently performs and emcee's for local events such as Drag Brunch at Tillie's Lounge in Northside, 21c Halloween Party, Kindervelt 50 Fashion Show, and many other events. Brock Leah serves with sass and class!
Young Professionals Choral Collective of Cincinnati (YPCC)
YPCC believes in creating connections through choral music. The choir was formed at Below Zero Lounge in Over-the-Rhine in November 2011 and is now made up of a roster with over 850 volunteer singers who live and work throughout greater Cincinnati, ranging in age from 21-45. Under the direction of Artistic Director KellyAnn Nelson, YPCC has quickly found a niche in the vibrant arts community of downtown Cincinnati.
Cincinnati Research & Paranormal Studies (CR&PS)
CR&PS was founded in November 2005 by a group of friends who discovered that they shared an interest in the paranormal. Since then, members of the CR&PS team has traveled to over 20 states to investigate many haunted locales. CR&PS is dedicated to investigating, documenting, and researching claims of the paranormal.
Society for the Preservation of Music Hall (SPMH)
SPMH is a non-profit organization whose mission is to preserve, promote, improve and provide education about Music Hall in order to perpetuate Music Hall as the premier cultural center of the region and as a National Historic landmark.