Wildclaw Theatre Presents SECOND SKIN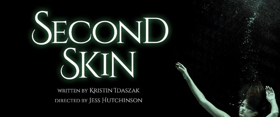 Tickets are now on sale for the WORLD PREMIERE production of SECOND SKIN by Kristin Idaszak and directed by Jess Hutchinson STARRING: Stephanie Shum, Hilary Williams and Paula Ramirez. WildClaw Theatre Company, bringing the world of horror to the stage for 10 years in Chicago, is proud to present this three-women-told tale of a secret surfacing from a place thought buried in the deep. Previews begin September 11th and the show opens September 14th at The Den Theatre, 1333 N. Milwaukee Ave.
Told in three interconnected monologues, SECOND SKIN (winner of the Kennedy Center's Paula Vogel and Jean Kennedy Smith awards) investigates the fraught relationship between mothers and daughters, and how one mistake can reverberate across generations. When Quinn discovers her estranged mother is dying, she returns to a home she fled long ago. As she cares for her mother, Quinn wrestles with disturbing childhood memories. What is her mother's secret? What do the bedtime stories of Selkies her mother once told her really mean... This is a World Premiere from an all-women-led design team and the 14th production from WildClaw Theatre. Visit wildclawtheatre.com for more information.
The production team for SECOND SKIN includes Sarah Espinoza* (Sound Designer), Krista D'Agostino* (Make-Up Designer), Lizzie Bracken (Scenic Designer), Anna Wooden (Costume Designer), Kaili Story (Lighting Designer), Lila Gilbert (Production Manager), Hannah Greenspan (Dramaturg), Moira Begale* (Casting Director), Mandy Walsh* (Assistant Director/Graphic Artist)
*Denotes WildClaw company member
Ticket Link: http://www.wildclawtheatre.com/project/second-skin/
Kristin Idaszak (Playwright) -
Kristin Idaszak, a two-time Playwrights' Center Jerome Fellow, has received the Kennedy Center's Paula Vogel Playwriting Award and the Jean Kennedy Smith Playwriting Award. Her play ANOTHER JUNGLE (Relentless Award Honorable Mention) received its world premiere with Cloudgate Theatre and The Syndicate in April 2018. She is the Shank Playwright in Residence at The Goodman Theatre and a member of the 2017-2018 Goodman Playwrights Unit. Currently she is working on a commission from EST/The Sloan Foundation. Previously, Kristin served as Associate Artistic Director/Literary Manager of Caffeine Theatre and Associate Artistic Director of Collaboraction. MFA: UC San Diego.
Jess Hutchinson (Director) -
Jess Hutchinson is a dramaturg, director, educator, and producer based in Chicago. She earned her MFA in Directing at UT Austin, where she had the pleasure of collaborating with stellar writers like Sarah Saltwick, Diana Lynn Small, Gabrielle Reisman, and Gia Marotta. As Artistic Director of Chicago's New Leaf Theatre, her favorite projects included Arcadia, The Dining Room, and world premieres of Burying Miss America, Lighthousekeeping, and The Man Who Was Thursday. She was proud to be the 2015-16 NNPN Producer in Residence at Kitchen Dog Theater in Dallas. She is dedicated to the development of new plays and making theatre more accessible for every artist and audience member. www.jesshutchinson.com
Stephanie Shum (Quinn) makes her WildClaw debut with Second Skin. Past credits include The Crucible (Steppenwolf Theatre Company); Men on Boats (American Theater Company); Harbur Gate (16th Street Theater); A Story Told in Seven Fights (The Neo-Futurists); The Adventures of Spirit Force Five (Factory Theater); Merge, Kin Folk, reWILDing Genius, and Kate and Sam Are Not Breaking Up (The New Colony); Mother of Smoke (Walkabout Theater/Red Tape); The Realization of Emily Linder (Redtwist); Circle-Machine (Oracle); and understudying at Victory Gardens and Silk Road Rising. She is Co-Artistic Director of The New Colony and Associate Producer with Red Tape Theatre, a graduate of the School at Steppenwolf and is represented by Actors Talent Group. www.stephanieshum.com
Hilary Williams (Aislinn) is a Chicago based actress, writer and educator, hailing from Omaha, Nebraska. Hilary has performed with such companies as The Hypocrites, Backroom Shakespeare, LifeLine Theatre, New Leaf, Rivendell Ensemble, and The House Theatre of Chicago. As an educator and teaching artist she currently facilitates theatre and auto-biographical performance workshops with Still Point Theatre Collective to
incarcerated women and with Storycatchers Theatre to court involved youth. Hilary is also an independent filmmaker. More information about her can be found at http://hilwlms.wixsite.com/hilwills .
Paula Ramirez (Sigrid) - Originally from Venezuela, Paula has spent the last two years touring the country as a Sexual Assault Prevention Educator with Catharsis Productions. Chicago credits include Another Word for Beauty (Goodman Theatre; ensemble + u/s), Fefu and her Friends (Goodman Theatre/Rivendell Theatre as part of the Latino Theatre Festival), Heat Wave (CBD/Steppenwolf Garage), Crossed, GL2010 and Gen Sex (Teatro Luna) and Women at War at Rivendell Theatre where she is currently an ensemble member. Paula is represented by Gray Talent Group.
WildClaw Theatre is celebrating their 10th year bringing the world of horror to the stage. We attract an audience craving strange journeys of dread, suspense and wonder: Horror Theatre. The name "WildClaw" pays homage to the late, great Chicago actor, writer, and raconteur - the much loved and missed Ray Wild, otherwise known as "The Claw". We are proud to be residents of The Den Theatre .