The Agency Theater Collective Announces New Artistic Ensemble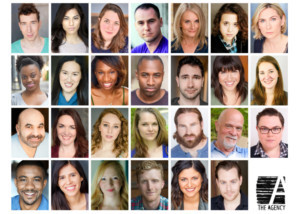 The Agency Theater Collective is proud to announce a new artistic ensemble known as The Collective. The multidisciplinary members of The Collective will collaborate with one another in support of The Agency's mission to create extraordinary theatrical experiences by fostering new work and fresh takes from dynamic points of view.
"We've worked with so many great artists recently and we're very excited to continue to grow those artistic relationships," said Artistic Director Andrew Gallant.
Now in their seventh year, The Agency was born from a Meisner acting classroom at Green Shirt Studio, a storefront training center in Chicago founded by Gallant and Sommer Austin. Since 2011, The Agency has produced eight world premieres, including the acclaimed I Wish To Apologize To The People of Illinois and the Jeff nominated Truth in Context. In 2017, they produced the first ever female led production of the Chicago classic Hellcab.
For the past six years, The Agency has also hosted No Shame Theatre, a weekly theatrical open-mic series that focuses on immediacy, originality and brevity, and provides a platform for the creation of new work. In 2016, The Agency launched The Basement Series, a spiritual companion to No Shame which stages monthly events allowing artists to explore short and long form pieces of any style.
"These are some of the most creative minds in the city, and somehow we all found each other. I am so grateful to be able to watch these artists work, to foster their growth, create alongside them, and to learn from them," said Austin.
Members of The Collective include Andy Polacek, Anna Yee, Audrey Gladson, Billy Baraw, Cindy Henkin, Danielle Trudeau, DeChantel Kosmatka, Delysa Richards, Diana Lee, Gabrielle Gulledge, George Ellzey Jr., Gino Generelli, Hannah Tarr, Hope Rehak, Joseph Zaki, Kelly Levander, Madelyn Loehr, Marie Weigle, Patrick Ford, Paul Pasulka, Regina Barry, Reginald Robinson, Susanna Souza, Tashina Richardson, Tyler Esselman, Vanya Lliev, and Zach Hebert.
Related Articles View More Chicago

Stories

Shows
More Hot Stories For You