TUTA Theatre's Hit RADIO CULTURE Extends Through March 3 Plus Free Student Reservations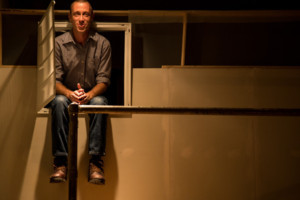 TUTA Theatre Chicago is pleased to announce five additional weeks of performances of its hit U.S. premiere of RADIO CULTURE. During the show's third extension, TUTA will offer free reserved seats for students to all performances, thanks to a generous donation underwritten by Light A City Fund. RADIO CULTURE will extend through March 3, 2019 at 4670 N. Manor Ave. in Chicago, where it has enjoyed sell-out performances since opening on October 17, 2018. This intimate depiction of one day in the life of a young Belorussian is written by Maxim Dosko, with a new English translation by Natalia Fedorova and Amber Robinson and direction by Amber Robinson. Reservations for all performances are currently available at www.tutatheatre.org/upcoming-radio-culture/.
Free Student Tickets
Beginning January 27, 2019, any Chicago high school or university student may reserve a free reserved seat by showing their current student ID at the box office. Student reservations may be made in advance online at www.tutatheatre.org/upcoming-radio-culture/.
RADIO CULTURE features Huy Nguyen, Wain Parham and Kevin V. Smith, with understudy Victor Bayona.
Winner of the award for Best Experimental Writing in the Belarus Free Theatre's 2014 International Contest of Contemporary Drama, RADIO CULTURE is a fascinating example of the "New Drama" movement in contemporary Eastern European theater. By examining a single day in the life of a young Belorussian, as if under a microscope, RADIO CULTURE reveals how change can germinate inside of a person even within a culture that resists change at every step. Staged in an intimate installation, TUTA's production takes a subtly profound and unexpected journey around the globe to peer in to our interior worlds, and the irresistible, transformative power of listening.
The production team for RADIO CULTURE includes: Eleanor Kahn (scenic design), Rachel Sypniewski (costume design) Keith Parham (lighting design), Jeffrey Levin (sound design), Letitia Guillaud (props design), Rick Gilbert and Victor Bayona (movement and violence consultants), Kim Morris (assistant director) Milan Pribisic (dramaturg) and Becky Warner (stage manager).
About the Artists
Maxim Dosko (Playwright) is a photographer and playwright living in Minsk, Belarus. Originally trained as a radio engineer, Dosko has been working as an independent artist since 2003. Several of his plays have been staged by the Belarus Free Theatre, including And compassion suddenly opens up before her eyes, Titan and Onyx, and received readings in Russia, Poland Ukraine and England.
Amber Robinson (Director, Translator, Adapter) is a Chicago-based director and performer with a focus on international theatre practices. In addition to TUTA, Amber is a member of Akvavit Theatre, where she co-directed "Hitler On The Roof (a play for two clowns)", recently remounted at Theatre On The Lake. Amber has worked in New York with TUTA at 59E59 Theaters, and at The Signature Theater with Emma Stanton's award-winning play No Candy. In Chicago, Amber has worked with many storefront companies including Strange Tree, Forks & Hope, Strawdog, Collaboraction, Redmoon and Emerald City, and Grey Ghost Theatre. Amber is a graduate of Illinois Wesleyan University and the Moscow Art Theatre.
Natalia Fedorova (Translator, Adapter) is a graduate of the Moscow State Institute of Culture (BA in Directing) and the Vakhtangov Theatre Institute (MFA in Stage Movement). She has taught stage movement and jazz-dance in the Moscow Art Theater school, interpreted in the MAT international programs and worked as a freelance translator in the US Embassy in Moscow and in many cultural institutions including the Bolshoy Theatre, The Kremlin Museums and a number of theatre festivals.
Natalia currently teaches pure movement at Rose Bruford College the Royal Central School of Speech and Drama in London and works as a freelance translator and contributor for Digital Theatre. She closely collaborates with Routledge Publishing House as a reader, translator and contributor to the Routledge Performance Archive. In 2011, Routledge released her translation of Andrey Droznin's book "Physical Actor Training" and a DVD of the same name featuring her teaching the Droznin Method to English students. Her translation of the last Droznin's book What shall I do with the body they gave me? was published by Routledge in 2017.
Photo: (pictured) Kevin V. Smith in TUTA Theatre Chicago's U.S. premiere of RADIO CULTURE. Photo by Austin D. Oie.
More Hot Stories For You