TREVOR THE MUSICAL Extends for Final Time at Writers Theatre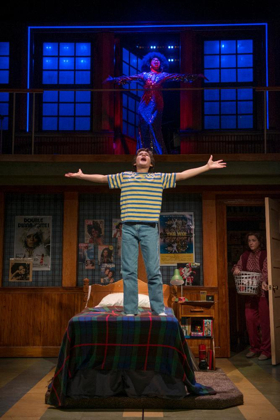 Writers Theatre, under the leadership of Artistic Director Michael Halberstam and Executive Director Kathryn M. Lipuma, adds another week of performances to the run of TREVOR the musical.
The production is directed by Marc Bruni (Beautiful: The Carole King Musical on Broadway), with book and lyrics by Dan Collins, music by Julianne Wick Davis, music direction by Matt Deitchman, orchestrations by Greg Pliska and choreography by Josh Prince, by special arrangement with U Rock Theatricals.
TREVOR the musical now runs through October 8, 2017 in the Alexandra C. and John D. Nichols Theatre at 325 Tudor Court, Glencoe.
Tickets for TREVOR, now running through October 8, are currently on sale. Subscriptions and individual tickets, priced $35-$80, may be purchased online at www.writerstheatre.org, by phone at 847-242-6000, or in person at the box office, 325 Tudor Court in Glencoe.
"We are thrilled to announce a second extension to our already record-setting run of TREVOR," says Executive Director Kate Lipuma. "This is turning into the best-selling production in WT history and we are incredibly grateful for the incredible response to the play and its message. Whether we know a Trevor or we ourselves were a Trevor, there is no better time to share this moving and important story."
"I am delighted to see that this beautiful brave new musical is resonating with so many of our audiences," adds Artistic Director Michael Halberstam. "This story is clearly touching the heart and soul of everyone who sees it, and is inspiring them to spread the word about the production. It bodes well for its future, which we firmly believe will be long-lived and far-reaching. We are very proud of all the artists who collaborated on making TREVOR such a strong start to our 2017/18 season."
Trevor is a 13-year-old boy in 1981 whose vibrant imagination drives a turbulent journey of self-discovery. As he deals with adolescence and all that goes with it, Trevor begins to explore what it means to be himself, influenced by his friends, parents, and his musical idol.
Based on the story that inspired the Academy Award-winning film, the charity and the national movement, TREVOR the musical is a coming-of-age story about identity, emerging sexuality and the struggles of growing up in a world that may not be ready for you. This world premiere musical is directed by Marc Bruni, who helmed the Tony Award-winning production of Beautiful: The Carole King Musical on Broadway.
The Trevor Project was created as a result of the Academy Award-winning film that also inspired TREVOR the musical. The Trevor Project is the nation's only accredited crisis intervention and suicide prevention organization focused on saving young LGBTQ lives. www.TheTrevorProject.org.
The cast includes: Nathaniel Braga (Ensemble), Ariana Burks (Ensemble), Declan Desmond (Pinky), Timothy Eidman (Ensemble), Sophie Grimm (Mom/Mrs. Kerr), Maya Lou Hlava (Frannie), Isabel Kaegi (Ensemble), Eloise Lushina (Mary), Carly Meyer (Ensemble), Jhardon DiShon Milton (Jack), Justin O'Brien (Ensemble), Reilly Oh (Jason), Jerome Riley, Jr. (Ensemble), Salisha Thomas (Diana Ross), Eli Tokash (Trevor), Matthew Uzarraga (Walter), Tori Whaples (Cathy), Graydon Peter Yosowitz (Trevor) and Jarrod Zimmerman (Dad/Father Joe/Others).
AUDIENCE ENGAGEMENT:
Accessible Performances
ASL-Interpreted performance: Saturday, September 16, 2017 at 7:30 pm
Open-Captioned performance: Friday, September 15, 2017 at 7:30 pm
Post Show Conversation: The Word
Join us after every Tuesday evening performance (excluding previews and extensions) for a 15-minute discussion of the play, facilitated by a member of the WT Artistic Team.
Post Show Conversation: The Artist
Join us after every Wednesday evening performance (excluding previews and extensions) for a 15-minute talk-back featuring actors from the production, facilitated by a member of the WT Artistic Team.
Pre-Show Conversation: Up Close
Join us at 6:45pm before every Thursday evening performance (excluding previews and extensions) for a 15-minute primer on the context and content of the play, facilitated by a member of the WT Artistic Team.
For more information about Writers Theatre Audience Enrichment programs, visit writerstheatre.org/events.
For 25 years, Writers Theatre has captivated Chicagoland audiences with inventive interpretations of classic work, a bold approach to contemporary theatre and a dedication to creating the most intimate theatrical experience possible.
Under the artistic leadership of Michael Halberstam and the executive leadership of Kathryn M. Lipuma, Writers Theatre has grown to become a major Chicagoland cultural destination with a national reputation for excellence, being called "America's No. 1 theatre company" by The Wall Street Journal. The company, which plays to a sold-out and discerning audience of more than 60,000 patrons each season, has garnered critical praise for the consistent high quality and intimacy of its artistry-providing the finest interpretations of both classic and contemporary theatre in its two intensely intimate venues.
In February 2016, Writers Theatre opened a new, state-of-the-art facility. This established the company's first permanent home-a new theatre center in downtown Glencoe, designed by the award-winning, internationally renowned Studio Gang Architects, led by Founder and Design Principal Jeanne Gang, FAIA, in collaboration with Theatre Consultant Auerbach Pollock Friedlander. The new facility has allowed the Theatre to continue to grow to accommodate its audience, while maintaining its trademark intimacy. The new facility resonates with and complements the Theatre's neighboring Glencoe community, adding tremendous value to Chicagoland and helping to establish the North Shore as a premier cultural destination.
Find Writers Theatre on Facebook at Facebook.com/WritersTheatre or follow @WritersTheatre on Twitter. For more information, visit www.writerstheatre.org.
Photo Credit: Michael Brosilow