THE PICTURE OF DORIAN GRAY Comes to City Lit, 3/11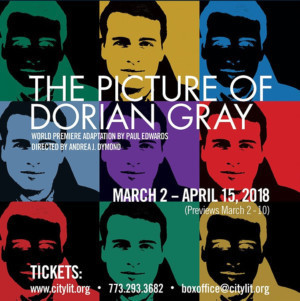 Edwards's world premiere adaptation of THE PICTURE OF DORIAN GRAY, Oscar Wilde's story of a man who sells his soul for unaging beauty, transports the story from the novel's setting of Victorian-era England to 1970's New York City, during the dawning of the AIDS and crack cocaine epidemics.
THE PICTURE OF DORIAN GRAY, to be directed by Andrea J. Dymond, will feature Javier Ferreira (Shakespeare in HER MAJESTY'S WILL and Henry Olney in NORTHANGER ABBEY, both at Lifeline) in the title role. Gabriel Fries, who recently appeared in Nothing Without a Company's THE KID THING, will be Basil, the photographer of the eponymous portrait that not only shows its subject aging, but also shows Gray's sins, while in life Gray himself remains young and attractive.

Scott Olson (FORTY-TWO STORIES and THE GILDED AGE, both at City Lit) has been cast as Gray's hedonist friend Henry Wotton. Gray's love interest - the actress Sybil - will be played by Alyssa Thordarson, who will also take on the roles of Cecily and others. Thordarson was recently seen in CHALK with Sideshow Theatre Company. Ryan Leonard Will play Sybil's brother James, Alan Campbell and others. Stephen Rosenberger will play Victor, an actor in Sibyl's theater, and a male prostitute.
McCabe contacted Edwards earlier this year to request permission for City Lit to produce his DORIAN, but Edwards instead went back to the novel, ignoring his earlier script entirely, and wrote the completely new adaptation that will premiere at City Lit in March. While it sets the story in a different time and place, it is no less faithful to the heart and soul of Wilde's novel.
McCabe says, "Paul's new adaptation sees Dorian as a Patient Zero who shows none of the results of either epidemic; they show up in the picture instead. This restores the vitality of Wilde's story, which can sometimes be lost in Victorian classicism." THE PICTURE OF DORIAN GRAY will run from March 2 - April 15, 2018.

Andrea J. Dymond (Director) has directed extensively in the Chicago area. At Victory Gardens, where she was a Resident Director, she directed LIVING GREEN, YEAR ZERO, BLUE DOOR and TREE. Her credits also include SPEAKING IN TONGUES: THE CHRONICLES OF BABEL for MPAACT; and MUD, RIVER, STONE for Eclipse. Regionally, she has credits with Madison Repertory Theatre and the Village Theatre in Issaquah, Washington.

Paul Edwards (Adapter) has directed more than forty original stage adaptations of fiction for campus and professional production. With City Lit, he has adapted and directed THE SUNDIAL, A STUDY IN SCARLET, THE HAUNTING OF HILL HOUSE, PEYTON PLACE, and WE HAVE ALWAYS LIVED IN THE CASTLE; and adapted Mark Twain's THE GILDED AGE: A STORY OF TODAY. Edwards is a three-time Jeff Award winner, for his adaptations of THE END OF THE ROAD, PEYTON PLACE and WAS.
He is an associate professor in the School of Communication at Northwestern University, where he teaches courses on Shakespeare in performance, stage and screen adaptations of narrative fiction, and postwar American popular culture.
Related Articles View More Chicago

Stories

Shows
More Hot Stories For You