Silk Road Rising presents PURE LAND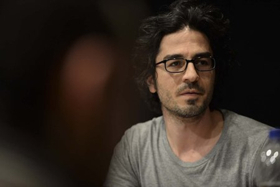 Silk Road Rising (Chief Programming Officer Jamil Khoury and Executive Director Malik Gillani) is proud to announce Pure Land, the second in a pairing of staged readings in collaboration with the Goethe-Institut Chicago. The staged readings will be held on February 3 and 4, 2018 at 4:00pm at Silk Road Rising located at 77 W. Washington St., Lower Level, Chicago, IL, 60602.
German Iranian playwright Mehdi Moradpour's Reines Land traces the story of Tara, a pregnant Middle Eastern woman seeking political asylum amid crippling bureaucracy and crumbling relationships. Translated from German to English with the same poetic texture that won Moradpour Germany's prestigious Exil-DramtikerInnen-Preis award, Pure Land pits a torturous past against an uncertain future with sobering effect.
Statement from Jamil Khoury, Chief Programming Officer & Mission Trustee
"Shortly after the 2016 U.S. Presidential election, I jokingly asked a Canadian customs official if I could apply for political asylum. And while the look on his face communicated amusement (with perhaps a tinge of sympathy), he responded: "If you are serious, then we need to talk." "It just isn't fair!" I added. "You get Justin Trudeau, and look who we get..." As I walked out onto Canadian soil and sunlight, I found myself thinking about the playfulness of my exchange with the customs official, and how starkly juxtaposed it was with the urgency and despair that compels most requests for political asylum. I thought about the Syrian and Iraqi refugees for whom asylum is not merely a matter of protest, but an actual lifeline-a protective recourse against permanent displacement and government tyranny. This reality is beautifully illustrated in Mehdi Moradpour's Pure Land, which grants us entry into complicated webs of turmoil, bureaucratic racism, and the perils of "fleeing while female." Pure Land reminds us that safety is a relative term, and that state compassion is subject to the whims and biases of those who run the state."
About the Artists
Mehdi Moradpour (Playwright) lived in Tehran throughout his youth until he emigrated to Germany in 2001. In addition to writing theatre plays, he works in Berlin as a translator and interpreter. He was nominated for the Munich Prize for German Language Drama in 2013 with his play Pure Land (Reines Land). His play Mummies won the Special Jury Prize in 2015. In 2016, his play The Tower of Silence won the competition of the exiled dramatists organized by Wiener Worstaetten.
Neil Blackadder (Translator) translates drama and prose from German and French, specializing in contemporary theatre. His translations of plays by Lukas Bärfuss and Ewald Palmetshofer have been produced in London, New York, Chicago, and elsewhere, and he has received grants from the Howard Foundation and PEN, and held residencies at the Banff Centre and Art Omi. Neil's translation of Maxi Obexer's Illegal Helpers was presented last year at Silk Road Rising. Other playwrights Neil has translated include Rebekka Kricheldorf, Thomas Arzt, and Evelyne de la Chenelière. Neil teaches theatre at Knox College, where in 2015 he directed the college world premiere of Jamil Khoury's Mosque Alert.
Keira Fromm (Director) is a Jeff Award-nominated director. Her favorite recent directing credits include: Significant Other, A Kid Like Jake, Bright Half Life (About Face Theatre), A Funny Thing Happened on the Way to the Gynecologic Oncology Unit at Memorial Sloan Kettering Cancer Center of New York City (Route 66 Theatre Company), The Columnist (American Blues Theater), How the World Began (Rivendell Theatre Ensemble), Charles Ives Take Me Home (Strawdog), The How and the Why (TimeLine Theatre), Broadsword (Gift Theatre), and Fallow (Steep Theatre). Keira received her MFA from DePaul University and her BFA from Boston University, and is an alumni of the Lincoln Center Theater Directors Lab. Keira is an Artistic Associate with About Face Theatre.
About Silk Road Rising
Silk Road Rising creates live theatre and online videos that tell stories through primarily Asian American and Middle Eastern American lenses. In representing communities that intersect and overlap, we advance a polycultural worldview.
About The Goethe-Institut
The Goethe-Institut is the cultural institute of the Federal Republic of Germany. Global in reach, the Goethe-Institut aims to promote knowledge of the German language abroad, foster international cultural cooperation, and convey a comprehensive picture of Germany by providing information on Germany's cultural, social and political life.
Performance Schedule
February 3 and 4, 2018 at 4:00pm.
Runtime is approximately 90 minutes with no intermission.
Tickets
General Admission: $10
Tickets are now on sale and can be purchased at www.silkroadrising.org or by calling the Silk Road Rising Box Office at 312.857.1234 x201.
Location
All performances will take place at:
Silk Road Rising
77 W. Washington St, Lower Level
Chicago, IL 60602