Shattered Globe's presents Chicago Premiere of THE HEAVENS ARE HUNG IN BLACK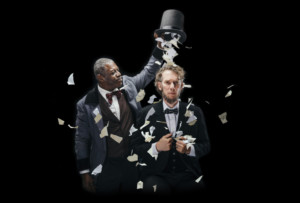 Shattered Globe Theatre is pleased to launch its 2017-18 Season with the Chicago premiere of Pulitzer Prize nominee James Still's fevered, emotional epic THE HEAVENS ARE HUNG IN BLACK, a theatrical rendering of Abraham Lincoln's struggle as a man of conscience to lead a divided country, directed by SGT Ensemble Member Louis Contey*.
THE HEAVENS ARE HUNG IN BLACK will play September 7 - October 21, 2017 at SGT's resident home Theater Wit, 1229 W. Belmont Ave. in Chicago. Tickets are currently available at www.shatteredglobe.org, by calling (773) 975-8150 or in person at the Theater Wit Box Office. The press opening is Sunday, September 10 at 3 pm.
THE HEAVENS ARE HUNG IN BLACK will feature Lawrence Grimm and SGT Ensemble member Linda Reiter* as Abraham Lincoln and Mary Todd Lincoln, respectively. The cast also includes SGT Ensemble Members Kelsey Melvin*, Drew Schad*, Brad Woodard* and SGT Artistic Associate Darren Jones+, with Don Bender, Zach Bloomfield, Jennifer Cheung, Kate Harris, Tim Kough, Tim Newell, Leo Sharkey and Gus Zaruba.
Presented for the first time in the "Land of Lincoln," THE HEAVENS ARE HUNG IN BLACK is James Still's personal interpretation on the months leading up to Abraham Lincoln's signing of The Emancipation Proclamation. This theatrical epic explores Lincoln's humanity, conscience and leadership through the troubled times of 1862 - as dreams of his famous adversaries and unnamed soldiers walk through his waking life. Sprinkled with text pulled from Lincoln's prolific letters and speeches, this play explores the heart of the man who led America in a war that we're still fighting today.
"The Heavens are Hung in Black portrays a transformational moment in Abraham Lincoln's life and worldview," comments Director Louis Contey. "In 1862, after nearly a year of bloody civil war, Lincoln must find a way of elevating the purpose of the conflict and save the Union. It is said that the office of President changes the individual who occupies it. With his conscience gnawing at him Lincoln begins to evolve as he considers the virtues and controversy of emancipation. The play, for me, embodies the essence of moral leadership and the idea of doing the right thing for the right reason, or as Lincoln himself states, listening 'to the better angels of our nature'."
THE HEAVENS ARE HUNG IN BLACK was commissioned by and premiered at Ford's Theatre in 2009, where Lincoln was famously shot.
The production team includes Angie Miller (scenic design), Hailey Rakowiecki (costume design), Madison Briede (assistant costume design), Michael Stanfill (lighting and projection design), Chris Kriz+ (sound design), Vivian Knouse* (props design), Judy Anderson* (executive production manager), Jason Shivers (stage manager) and Ayanna Wimberly (assistant stage manager).
Featured BroadwayWorld Events
Check out these concerts...




More Hot Stories For You