Pride Films and Plays Stages a Must-See Romance with YANK!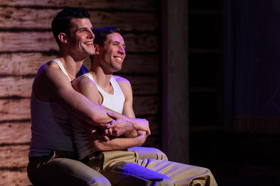 Just in time for Valentine's Day, Pride Films and Plays' Chicago premiere of YANK! A WWII LOVE STORY is a heartfelt, lush and romantic production that feels like a grand MGM musical. If ever there was a show to get you out of your house on a cold winter night, this would be it.
Written by brothers David Zellnik (books and lyrics) and Joseph Zellnik (music), YANK! centers around an old journal found in a second-hand bookstore that documents a forbidden love between two enlisted soldiers during World War II. It dares us all to be brave enough to love openly and honestly.
Stu (Matthew Huston) is a clumsy, nerdy, shy Midwestern boy who, when he isn't dropping his rifle to earn the moniker of worst company private, documents his experiences in said journal. He's soon befriended by ruggedly handsome, Jersey born and bread Mitch (William Dwyer) who helps him through basic training. On a train bound for the West Coast where they will be shipped out, the pair share an intimate kiss before Mitch pushes Stu away.
Recognizing that his chances of surviving on the front are not that good, Stu jumps at the chance to work for Yank magazine when fellow Artie, a photographer and fellow "Friend of Dorothy" (John Marshall Jr.) offers him the chance. Not even a war seems capable of keeping Stu and Mitch apart for very long, though.
As Stu, Huston is charming and likeable and you find yourself hoping that Mitch doesn't break the poor guy's heart. Dwyer possesses a smooth, crooner's voice and his performance of the show's signature song "Rememb'ring You" is likely to thaw the coldest of hearts. The pair offer up an intriguing contrast. Stu is nervous and unsure while Mitch is self-confident. The chemistry between their two characters works, though. Let's face it, with the way the Dwyer sings, it would be hard for anyone to not fall in love.
The show does feature some lighter moments. Marshall Jr. is all sassy and energetic and Jenna Schoppe's choreography along with his voice and footwork brought the house down with the big tap number "Click."
Molly LeCaptain also turns in engaging performances as a closeted lesbian soldier working for General Patton as well as a host of pin up girls and nightclub singers. Her sultry performance of "Blue Twilight" is reminiscent of Judy Garland in her prime. Her lush vocals heighten the growing romantic tension between Mitch and Stu as they listen to the song over the radio on a moonlit beach.
The show also features strong ensemble work from Will Kazda (Zechowski), Xavier Euzarraga (Rotelli), Brian Kulaga (Cohen), Nate Strain (Tennessee) and Tommy Thurston (Professor).
Robert Ollis' musical direction features tight harmonies that were signature of the era along with piano, sax, trumpet and clarinet. Though economic, the musicians produce a big band sound that feels very much in line with the period.
David Zak's direction finds a nice balance between a realistic portrayal of two soldiers falling in love along side some lighter and more fantastical moments. The end result is a production that very much feels like a movie musical. Romantic and nostalgic, it also never feels corny or untrue.
Lovers of romantic musicals will want to enlist in YANK!
YANK! A WWII LOVE STORY runs through Feb. 18 at The Broadway, Pride Arts Center (4139 N. Broadway). Tickets, $30-$40. www.pridefilmsandplays.com