Pride Films And Plays' HIS GREATNESS To Be Performed At International Dublin Gay Play Festival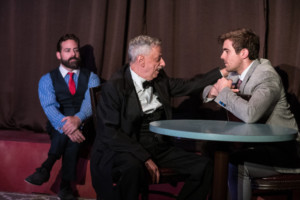 Pride Films and Plays' Chicago premiere production of Daniel MacIvor's HIS GREATNESS - inspired by a 'potentially true story' during the declining days of Tennessee Williams - will be performed at the 15th Annual International Dublin Gay Play Festival, to be held May 7-20, 2018 in Dublin, Ireland. The entire original cast of last fall's production will travel to Dublin and will perform the play from May 14 - 19, with two performances on May 19th. In MacIvor's play, a great American playwright, his trusted and loyal assistant, and a young Canadian street hustler find themselves together for two days in a hotel room in Vancouver as the playwright is about to premiere a new play that he hopes will reinvigorate his career. The ensuing battle for power, love and loyalty is frequently funny, engagingly dark and ultimately moving. Danne W. Taylor will repeat his role as "The Playwright," Andrew Kain Miller will return as "The Assistant" and Whitman Johnson will again play "The Young Man." Pride Films and Plays' Executive Director David Zak is again directing the play for this remount.
Two special benefit performances will be staged in Chicago to help defray expenses for the company to travel to Dublin and perform at the festival. On Wednesday, April 18 Pride Films and Plays will present an "all-star" staged reading of THE WOMEN by Claire Boothe Luce, performed entirely by men. The cast will include Alderman James Cappelman (46th ward), David Cerda, Ed Jones, David Zak, Danne W. Taylor, Casey Chapman, Kevin Bishop, Mark leBeau, AK Miller, Manny Ortiz, Christopher Sylvie and Oscar M. Munoz in the Broadway, Pride Arts Center, 4139 N. Broadway. Curtain time will be 7:30 pm. VIP tickets, which include one cocktail, will be $50. General admission tickets will be $25.
There will also be one farewell benefit performance of HIS GREATNESS on Monday, May 7 at 7:30 pm in the Thrust Stage at Stage 773, 1225 W. Belmont Ave.? Tickets for that performance are $30 for the center section, and $25 for the side sections and will be available through Stage 773 at www.Stage773.com or by phone at 773-327-5252.
Additionally, those wishing to support the production's trip to Dublin can contribute directly at https://www.gofundme.com/send-his-greatness-to-dublin.
David Zak
(director) has won seven Jeff Awards in Chicago, including four for Directing (ANIMAL FARM, DR. SEX, PARADE, POPE JOAN), two for writing (THE HIROSHIMA PROJECT, THE COUNT OF MONTE CRISTO) and a special Jeff for "Fostering Diversity in Chicago Theater." In his 27-year stint as Artistic Director of Bailiwick Repertory, he directed the world premiere production of THE CHRISTMAS SCHOONER, the US premieres of Sir
Peter Hall
's ANIMAL FARM and
Jerry Springer
- THE OPERA, and many original works including the political dramas THE HIROSHIMA PROJECT and SIN: A CARDINAL DEPOSED. He has directed in London (THE IRISH CURSE), Seoul (DOLLHOUSE, FANTA STICK, THE GHOST'S COOKBOOK), Dublin (OH, HOLY ALLEN GINSBERG, AT THE FLASH), Boston (SIN: A CARDINAL DEPOSED), Los Angeles (DR. SEX, AT THE FLASH) and New York (MARLOWE and POSEIDON: AN UPSIDE-DOWN MUSICAL). His productions of the American Premieres of
Jerry Springer
- THE OPERA and Sir
Peter Hall
's ANIMAL FARM won Jeff Awards for Best Musical, as did his productions of PARADE, POPE JOAN, and
Dennis DeYoung
's HUNCHBACK OF NOTRE DAME. His most recent Chicago productions have included: THE BOY FROM OZ,
Terrence McNally
's SOME MEN and PRISCILLA: QUEEN OF THE DESERT (both with Derek Van Barham), Leo Schwartz's THE BOOK OF MERMAN and UNDER THE RAINBOW FLAG. For the last year he has worked almost exclusively to bring the Pride Arts Center to life. He was inducted into the City of Chicago's Gay and Lesbian Hall of Fame in 2013.
Daniel MacIvor
(Playwright) is a playwright/actor/director/screenwriter originally from Cape Breton, Nova Scotia and currently dividing his time between Toronto and Halifax. For twenty years Daniel ran da da kamera an international touring company that brought his work extensively through Canada and the US and to Israel, Norway, Holland, Australia and throughout the UK. Daniel has written numerous award-winning theatre productions including SEE BOB RUN, A BEAUTIFUL VIEW, HIS GREATNESS, THE BEST BROTHERS and his work has been translated into French, Portuguese, Spanish, Czech, German and Japanese. With
Daniel Brooks
he created the solo shows HOUSE, HERE LIES HENRY, MONSTER, CUL-DE-SAC, THIS IS WHAT HAPPENS NEXT and WHO KILLED
Spalding Gray
?. Daniel received the Governor General's Literary Award for Drama for his collection of PLAYS I STILL LOVE YOU and in 2008 he was awarded the Siminovitch Prize for Theatre. He is also the recipient of an Obie Award and a GLAAD Award for his play IN ON IT. Daniel is currently writing the libretto for
Rufus Wainwright
's HADRIAN commissioned by the Canadian Opera Company, and recently he was in residence at Banff Centre working on a new solo show IT COULD HAVE BEEN WORSE and he is in the early stages of a new play in development at Tarragon Theatre in Toronto called NEW MAGIC VALLEY FUN TOWN. CAST BIOS
Danne W. Taylor ("The Playwright"): Chicago credits include: TERRE HAUTE, GROSS INDECENCY (Black Elephant Theatre); OH HOLY ALLEN GINSBERG; EARL, OLLIE, AUSTIN AND RALPH (Bailiwick Repertory); SAILING TO BYZANTIUM, DONA ROSITA(Caffeine Theatre); INSIGNIFICANCE (Mary-Arrchie Theatre); DEGENERATE ART (Cloud 42), THE EVILLER TWIN (Curious Theatre Branch); OUR LEADING LADY (Project 891 Theatre).
Andrew Kain Miller
("The Assistant") is originally from Indiana, and moved to Chicago in 1995. He has had the privilege of being a company member of MidTangent Productions, Urban Theater Company and The People's Theater of Chicago, working as an actor, director and producer. AK has a love for theater that tells gay stories and preserves gay history. He is grateful to include this show to his list of productions that includes A NORMAL HEART, A PERFECT RELATIONSHIP and TORCH SONG TRILOGY.
Whitman Johnson
("The Young Man") A Mississippi native, Whitman moved to Chicago and began pursuing acting after an unfulfilling stint in the traditional 9 to 5. Outside of acting, Whitman enjoys lifting weights and playing Dungeons and Dragons. ABOUT PRIDE FILMS AND PLAYS Pride Films and Plays creates diverse new work (or work that is new to Chicago) with LGBTQ+ characters or themes that is essential viewing for all audiences. We accomplish this mission through fully-staged productions, writing contests and staged readings, and filming one short film each season. PFP is the primary tenant in the Pride Arts Center (PAC), which connects and promotes other artists who share our values, creating a safe environment for all. PAC books one-night events or limited runs, cabaret, film, dance, comedy, and other events. PAC opened in 2016 and consists of two performance spaces: The Buena at
4147 N. Broadway
which has 50 seats and The Broadway at
4139 N. Broadway
which has 85 seats. Pride Films and Plays is supported by The MacArthur Fund for Arts & Culture at The
Richard Driehaus
Foundation, The Illinois Arts Council, City of Chicago's City Arts Fund, the Elliott Fredland Charitable Trust, Proud to Run, the AmazonSmile Foundation, Arts and Business Foundation, Tap Root Foundation and Alphawood Foundation. PFP is a member of the Smart Growth Program of the Chicago Community Trust. Pride Films and Plays is a member of the LGBT Chamber of Commerce of Illinois and The League of Chicago Theatres. For more information, visit
www.pridefilmsandplays.com
. ABOUT PRIDE ARTS CENTER
PRIDE ARTS CENTER has become an important part of the arts environment in the Buena Park neighborhood and beyond. In addition to performances by PFP, (
www.pridefilmsandplays.com
), PAC hosts monthly events including play readings, film screenings, cabaret nights, and variety shows (PAC The House).
Featured BroadwayWorld Events
Check out these concerts...




More Hot Stories For You