Photos: Music Theater Works Presents AVENUE Q, Now Playing Through April 2
Hilarious, charming and a little profane, Avenue Q will turn your expectation of acceptable discourse on its head.
Music Theater Works presents the first production in its 43rd season, Avenue Q in the North Theatre at the North Shore Center for the Performing Arts In Skokie, 9501 Skokie Blvd, Skokie, March 9 - April 2. See photos from the production!
The Tony Award-winning musical comedy with book by Jeff Whitty, music and lyrics by Robert Lopez and Jeff Marx, based on an original concept by Robert Lopez and Jeff Marx and is directed and choreographed by Christopher Pazdernik, assistant directed by Ashley Keys and music directed by Eugene Dizon.
The performance schedule includes a preview performance Thursday, March 9 at 1 p.m. with press opening Friday, March 10 at 8 p.m. The running time, including the intermission, is currently 2 hours. The performance schedule is Wednesdays at 1 p.m., Fridays at 8 p.m., Saturdays at 8 p.m., Sundays at 2 p.m. with a Saturday matinee, March 18 at 2 p.m. and two Thursday performances on March 23 and 30 at 7:30 p.m. Complete performance schedule is included at the end of this release.
Tickets are now on sale from $39 to $106 with tickets for guests 25 years old and younger available at half-price at MusicTheaterWorks.com or by calling the Music Theater Works box office at the North Shore Center, 847.673.6300. Group discounts are available for groups of 10 or more by contacting 847.920.5360.
Join the irreverent denizens of Avenue Q - part flesh, part plushy, people, puppets and all fun. Hilarious, charming and a little profane, Avenue Q will turn your expectation of acceptable discourse on its head. Follow our hero Princeton, fresh out of college, to his shabby New York apartment all the way out on Avenue Q which, it soon becomes clear, is not your ordinary neighborhood. Laugh out loud, funny, toe-tappingly singable and full of warmth and humor, Avenue Q won the Tony for Best Musical, Best Score and Best Book.
The cast of Avenue Q includes Jimmy Hogan (Princeton); Brandy Miller (Kate Monster); Adam Ross Brody (Rod); Andres J. DeLeon (Nicky/Trekkie Monster/Bad Idea Bear); Melissa Crabtree (Lucy/Mrs.Thistletwat/ Bad Idea Bear); Thomas E. Squires (Brian) and Mai Hartwich (Christmas Eve) and Whitney Dottery (Gary Coleman).
The Avenue Q understudies include Andrew Lund (Princeton U/S); Zoe Maroko (Kate Monster U/S); David Blakeman (Nicky/Trekkie/Bad Idea Bear U/S); Rachel Livingston (Lucy/Mrs. Thistletwat/Bad Idea Bear U/S); Mark Bartishell (Brian U/S), Maiko Terazawa (Christmas Eve U/S) and Ashley Saul (Gary Coleman U/S).
The Avenue Q creative team currently includes Christopher Pazdernik (director/choreographer); Ashley Keys (assistant director); Eugene Dizon (music director); Ben Lipinski (scenic designer); Justin LeBlanc (costume designer); Andrew Meyers (lighting designer); Rick Sims (sound designer); Bob Stilton (props designer); Nick Zabel (technical director); Kristi Martens (puppetry trainer); Cameron Koniarski (master electrician); Will Hughes (scenic shop technical director); David Sajewich (media designer); Tony Churchill (associate media engineer); Alexis Lotspeich (assistant costume designer); Chelsea Lynn (lighting programmer); Elena Patterson (stage manager); MaK Cole (assistant stage manager); Jennifer King Russell (company manager); Chris Chase (production manager) and Kyle A. Dougan (producing artistic director).
Photo Credit: Brett Beiner Photography

Jimmy Hogan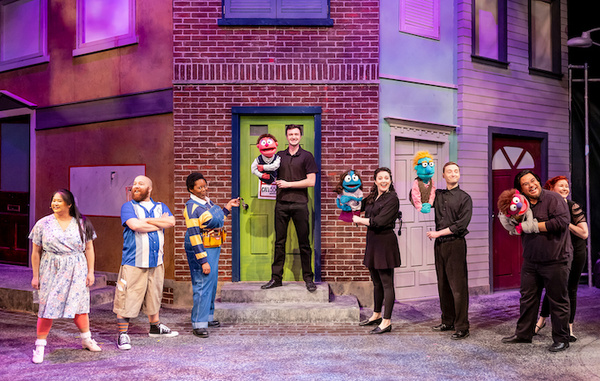 The cast of AVENUE Q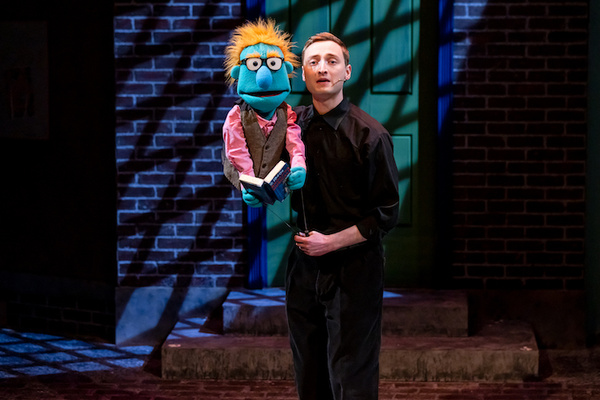 Adam Ross Brody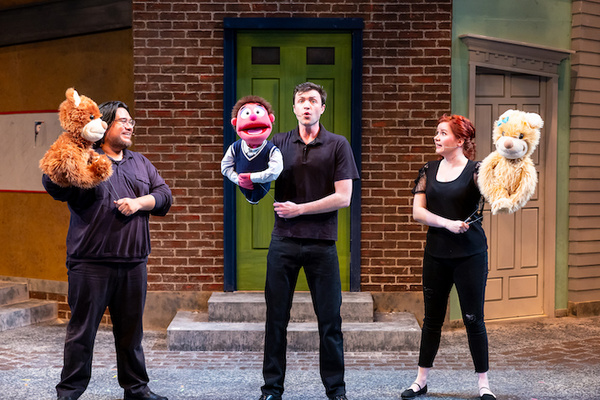 Andres J. DeLeon, Jimmy Hogan and Melissa Crabtree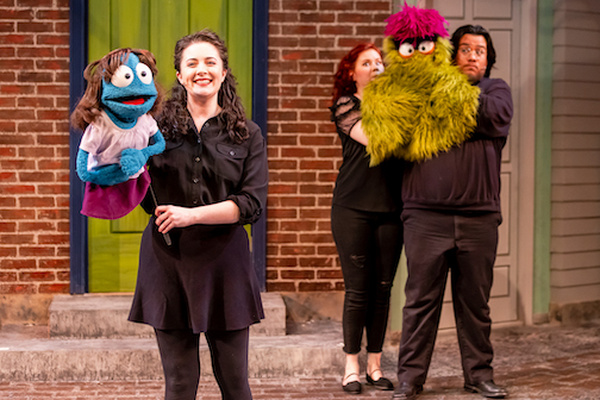 Brandy Miller, Melissa Crabtree and Andres J. DeLeon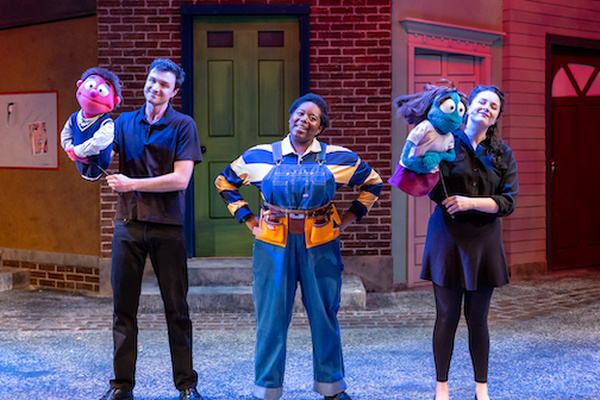 Jimmy Hogan, Whitney Dottery and Brandy Miller

Thomas E. Squires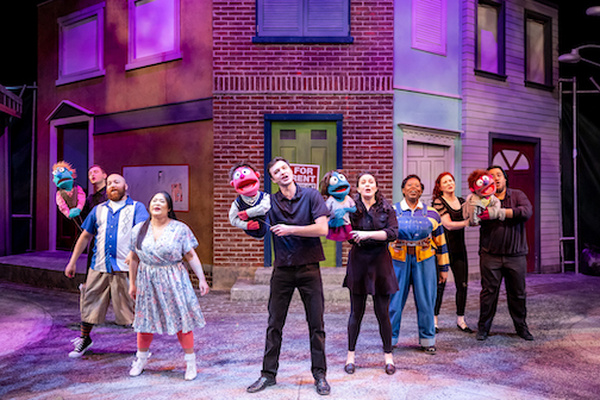 The cast of AVENUE Q

Whitney Dottery

Mai Hartwich, Brandy Miller and Adam Ross Brody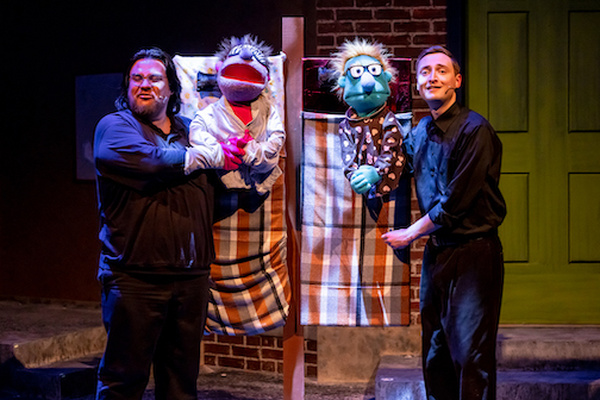 Andres J. DeLeon and Adam Ross Brody

Melissa Crabtree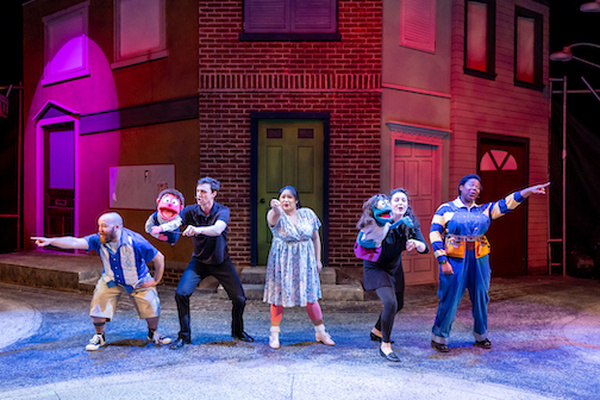 Thomas E. Squires, Jimmy Hogan, Mai Hartwich, Brandy Miller and Whitney Dottery

Brandy Miller and Mai Hartwich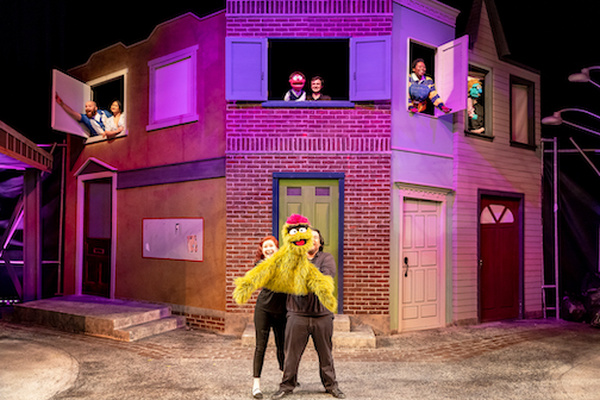 The cast of AVENUE Q