Click Here for More Articles on SHAKESPEARE SPOTLIGHT
Photo Flash: Sneak Peek at the All-Female Cast of Babes With Blades' TITUS ANDRONICUS
Babes With Blades Theatre Company will serve up the blood and pie with their upcoming production of William Shakespeare''s most violent play, Titus Andronicus, performed by an all-female cast, at City Lit Theatre, 1020 W. Bryn Mawr Ave., Chicago. Previews will be Saturday, February 21, Friday, February 27, and Saturday, February 28 at 8PM and Sundays, February 22 and Sunday, March 1 at 3PM. The press opening is Monday, March 2 at 8PM, and the show will run through April 4. BroadwayWorld has a sneak peek at the cast below!
With no shortage of blood and a body count in the neighborhood of 14, this production of Titus is not a play for the squeamish. Audience discretion is advised.
The cast features: Debbie Baños, Diana Coates, Elyse Dawson*, Kim Fukawa*, Sara Gorsky, Amy E. Harmon*, Elaina Henderson, Kanome Jones, Janice Kulka, Kimberly Logan*, Erin Myers, Megan Schemmel*, and Maureen Yasko*.
In the production team are: Leigh Barrett* (Production Manager); Libby Beyreis* (Violence Design); Diane Fairchild (Lighting Design); Kate Hopgood (Sound Design); Kimberly Morris* (Costume Design); Nathaniel Nesheim-Case (Stage Manager); Carolyn Voss (Scenic Design) ; and Maureen Yasko* (Asst. Violence Design). *Denotes BWBTC ensemble member
EVENTS:
- Saturday, March 7: BWBTC is holding a blood drive in conjunction with LifeSource, a private nonprofit organization whose mission is "to provide best in class blood products and clinical services to meet the needs of the healthcare community, patients and our donors through advanced transfusion medicine practices." Potential donors can give blood between the hours of 1:30 and 5:30 at Edgewater Presbyterian Church, 1020 W. Bryn Mawr (the same location as City Lit Theatre), on March 7. For more information about LifeSource, see www.lifesource.org.
- Saturday-Sunday, March 14 and 15: Celebrate Pi Day all weekend long with the cast and company. Stick around after the 3/14 and 3/15 performances to enjoy homemade pie provided by BWBTC ensemble and volunteers.
- Saturday, March 28: Announcement of "Joining Sword & Pen" 2015-2016 winner
- Sunday, March 29: Post-show discussion with Titus director Janice L. Blixt.
- Closing weekend, April 3 & 4: BWBTC will be accepting monetary donations for LifeSource.
Tickets: $22 general admission; $14 students and seniors; $10 previews. Available at babeswithblades.org or 773-904-0391. Titus Andronicus is presented as part of Chicago Theatre Week 2015. For more information, visit www.chicagotheatreweek.com.
Photo Credit: Steven Townshend


Amy E. Harmon, Kimberly Logan

Amy E. Harmon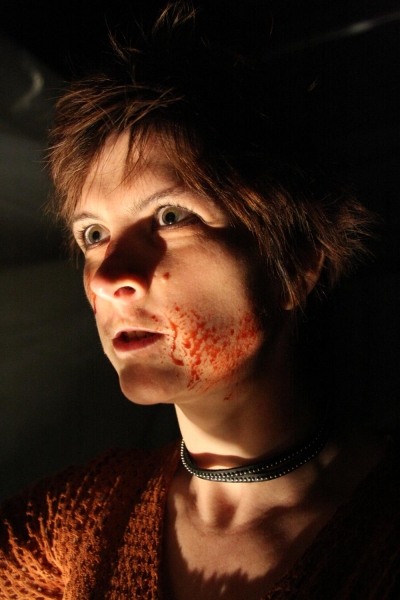 Kimberly Logan
Related Articles
More Hot Stories For You