Photo Flash: Shattered Globe Theater Presents EDUCATING RITA
Shattered Globe Theatre will present Educating Rita, the charming comedy with serious questions at its heart, previewing June 21st, opening June 23rd, and running through August 14th at Chicago Dramatists, 1105 W. Chicago Ave.
Educating Rita tells the story of a brash, young hairdresser from Liverpool, hungry to improve her lot in life by furthering her education. When the free-spirited Rita enrolls at the local university, she discovers a passion for literature, while at the same time, turning the life of Dr. Frank Bryant, her boozy and burnt-out professor, upside down. Chemistry radiates between these two polar opposites in this intelligent, funny, and surprising play where teacher and student learn invaluable life lessons through each others' experience.
First performed in 1980, Educating Rita is written by British playwright Willy Russell. The play was adapted by Russell for the 1983 film starring Michael Caine and Julie Walters. More recently, the play was revised by Russell for the 2002 production at The Liverpool Playhouse (Liverpool, England). Shattered Globe Theatre brings the first performance of the updated play - set in present-day England - to Chicago audiences.
Shattered Globe's production will amuse audiences while also engaging them: it poses questions regarding education, identity, and culture; and revels in a timeless theme - the value of true friendship. The diverse cast of Shattered Globe's production both reflects contemporary England, and brings a new dimension to Russell's modern classic.
Richard Corley makes his Chicago directorial debut with the production. Corley's recent production of Educating Rita at Berkshire Theatre Festival was named "Best of the Berkshires." He has directed acclaimed new and classical plays throughout the U.S. and abroad, including the World Premiere of Sarah Ruhl's Eurydice and Eric Simonson's Lombardi: The Only Thing at Madison Repertory Theatre, where he was Artistic Director for six years, and Darrah Cloud and Kim Sherman's O Pioneers! at The Acting Company in New York, where he was Associate Artistic Director for four years.
Educating Rita stars Whitney White as Rita, and Ensemble Member Brad Woodard as Professor Frank Bryant. The artistic and production team includes Shattered Globe Theatre Ensemble Members: Jeff Award recipient Shelley Holland (Lighting Designer); Drew Schad (Stage Manager); Judy Anderson (Production Manager); Kevin Viol (Photographer); Dan Wilson (Producer); Becca Cox (Producer); Doug McDade (Interim Managing Director); and Roger Smart (Artistic Director). Shattered Globe Theatre is also excited to be working with Chicago theatre
artists: Chelsea Warren (Scenic Designer); Joanna Melville (Costume Designer); Christopher Kriz (Sound Designer); Jason Martin(Dialect Coach) and Emily Granata (Graphic Designer).
The performance schedule of Educating Rita is Thursdays, Fridays, and Saturdays at 8 p.m., and Sundays at 3 p.m. Tickets are $28 for performances Thursday through Sunday.
Preview performances are June 21 and 22 at 8 p.m. Tickets for preview performances are $20.
Group discounts are available at $5 off each ticket for groups of five or more and $10 off each ticket for groups of ten or more.
Students and seniors can purchase tickets for a discount of $5 off single ticket prices. Appropriate ID must be shown at the box-office when collecting tickets.
Patrons with a ticket stub from any About Face, Eclipse, MPAACT, New Rock Theatre, Remy Bumppo or Steppenwolf shows, can claim a $5 discount off regular ticket prices. Ticket stubs must be shown at the box-office when collecting tickets.
For tickets: purchase on-line with no booking fee: www.shatteredglobe.org or call 773-236-0764.
Industry tickets are available for all preview performances and every Thursday through July 21st, for $15 at the door, with a headshot and resume.
About Chicago Dramatists
Chicago Dramatists is located just minutes from the Loop at 1105 W. Chicago Avenue, at the 24-hour Chicago Avenue stop of the Blue Line subway, and is just off the Ogden and Augusta exits of the Kennedy Expressway. Performances are Thursday through Saturday at 8 p.m., and Sundays at 3 p.m. There is street parking available, a detailed parking map can be found at www.chicagodramatists.org/parking. For more information or reservations visit
About Shattered Globe Theatre
Shattered Globe Theatre's mission is to bring global theater home to Chicago. Shattered Globe Theatre seeks to inspire social discourse by raising questions rather than espousing philosophy; to stimulate artistic growth and broaden the perspectives of both the artist and the audience. To this end, Shattered Globe Theatre enriches its ensemble by absorbing and nurturing diverse emerging theatrical talent; engaging its audiences by means of challenging and inventive interaction; and bringing audiences dynamic re-imaginings of classic works and premiere productions that celebrate new voices and innovative viewpoints. For more information, please visit www.shatteredglobe.org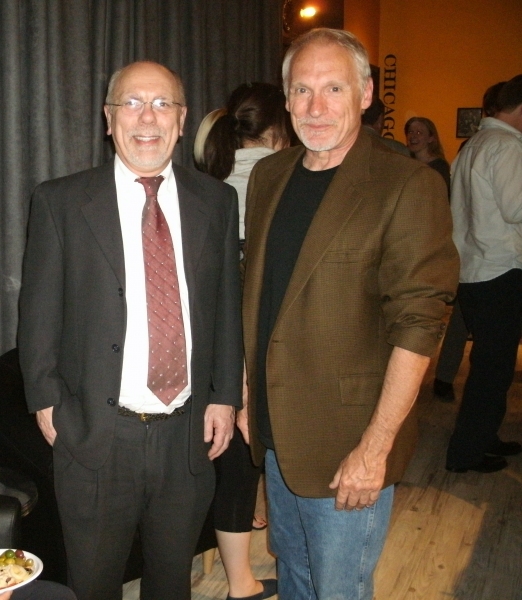 Roger Smart (Artistic Director), left; and Doug McDade (Managing Director)

Whitney White ("Rita�), left; Richard Corley (Director), middle; and Brad Woodard ("Frank�)

Richard Corley (Director), left, and Shelley S. Holland

Chelsea Warren (Scenic Design), Christopher Kriz (Sound Design), Judy Anderson (Production Manager), Richard Corley (Director), Dan Wilson (Producer), Rebecca Cox (Producer), Doug McDade (Managing Director), and Roger Smart (Artistic Director)

Rebecca Cox, left, and Dan Wilson

Related Articles View More Chicago

Stories

Shows
More Hot Stories For You