Photo Flash: Right Brain's HESPERIA
The Right Brian Project (RBP) presents the world premiere drama "Hesperia," by Chicago playwright Randall Colburn, directed by Artistic Director Nathan Robbel. The second of three thematically-linked new dramas, "Hesperia" follows Claudia, a former porn star, as she takes a new name and a new faith in the Midwestern cornfields of Hesperia. Her fiancée Trick, an idealistic youth minister, shepherds her in her new life. But when Ian, her former partner-in-porn and childhood best friend, follows her, the whole community is affected, and Claudia must decide on whose terms she will be saved. "Hesperia" explores the complications of conversion and the depth of sacrifice necessary to become born-again. A gentle story of innocence and redemption, the RBP asks the audience to question the role sexual power plays in our relationships and in our own personal sense of identity. In addition to incorporating traditional hymn snippets from "It Is Well With My Soul," "Trust and Obey," and "Glorify Thy Name," Trevor Patrick Watkin (2010 Jeff Award for Original Incidental Music) has composed lyrical incidental music for piano and flute for this production. The show runs about 80 minutes with no intermission, and donations for Season of Concern will be accepted at each performance.
RBP has devoted the 2010 season to local writer Colburn and his three plays of innocence, sexuality and the drive to reinvent oneself on one's own terms, starting with "Pretty Penny" (the story of a model and a phone sex operator whose identities, sexual and otherwise, become interwoven, ran February 18-March 20, 2010), followed by "Hesperia," and concluding with "Halfshut" (description below, will run November 4-December 4, 2010), which was specifically created for and workshopped with the RBP ensemble. Robbel said, "Colburn's stories are of quiet desperation and an aching to become something different - to change one's self, or to run away. There is sadness coupled with nobility in his characters which makes them immediately relatable, and completely vulnerable - sometimes uncomfortably so. That ultimate communion between actor and audience in our intimate black box space is what is exciting to me, and with Randall's scripts, that comes naturally."
WHERE: RBP Rorschach Theatre, 4001 N. Ravenswood Ave., Chicago, IL 60613
CTA - Irving Park Brown Line; Irving Park, Damen and Lincoln buses
Metra Ravenswood stop; street parking WHEN: Opens Thursday, July 15, 2010, at 8 p.m. (press also invited to 7/14 preview)
Closes Saturday, August 14, 2010
Runs Thursdays, Fridays and Saturdays at 8 p.m.
Preview on Wednesday, July 14, 8 p.m.
Added industry show on Monday, August 2, 8 p.m. TICKETS: Publish this number: 773-750-2033, or contact tickets@therbp.org
$15 suggested donation for all shows
$12 per ticket for those in groups of ten or more STAFF: Nathan Robbel (Director, Scenic and Costume Design), Anthony Ingram (Technical Director, Lighting Design), Trevor Patrick Watkin (Music Director, Sound Designer), Emma Peterson (Assistant Director, Stage Manager, Property Design), and Jamie Bragg (Dramaturg). CAST:
Katy Albert
(Daisy),
Natalie DiCristofano
(Claudia),
Billy Fenderson
(Ian),
Nick Free
d (Trick), and
Danny Mulae
(Aaron). NEXT: "Halfshut," November 4 - December 4, 2010. Utilizing an ensemble-based development process and personal stories from the cast, "Halfshut" blurs the line between character, actor, and audience member as it navigates "the anticlimax that is your 20's." BIO: Randall Colburn's plays have been seen or heard at the
ALLIANCE THEATRE
,
The Public Theatre
, Victory Gardens, Stage Left Theatre, and Dream Theatre, among others. He is the recipient of a 2010 Individual Artist Grant from the Illinois
Arts Council
, as well as playwriting fellowships from Dad's Garage Theatre and the
Eugene O'Neill
Playwrights Conference. His play "Lamp & Moth" was a finalist for the Alliance's 2009 Kendeda Graduate Playwright Competition and the 2009 New York Summer Play Fest, and his short play "Ravishment" was part of the Northwest Playwrights Alliance's 2008 British Arts Tour. Colburn's "bad" play, "Scarecrow..." won Stage Left's 2009 DrekFest award for World's Worst 10-Minute Play last summer, and this fall his horror play "Ghostbox" will premiere at InFusion Theatre, which commissioned the piece. He is currently working on a commission from Writers' Theatre as well as developing a piece that will premiere this fall at Brain Surgeon Theatre, where he is an artistic associate. A bad movie scholar, Colburn is also the co-founder and co-host of "B-Rated," an online review show, and is featured in the hit documentary "Best Worst Movie." FUNDER: This program is partially supported by a grant from the Illinois
Arts Council
, a
state agency.MISSION: The Right Brain Project has been producing thought-provoking theatre in
Chicago since 2005. The company was founded by Anthony Ingram, Nathan Robbel,
Colby Sellers
, and
Anthony Tournis
with a mission to "defy preconceived notions and challenge the
Contemporary Theatre
experience. The RBP will actively employ the raw and intimate relationship between actor and audience to share stories, ideas, and issues that edify us all."
Photos by Tom McGrath.


Billy Fenderson and Katy Albert

Billy Fenderson and Katy Albert

Billy Fenderson and Katy Albert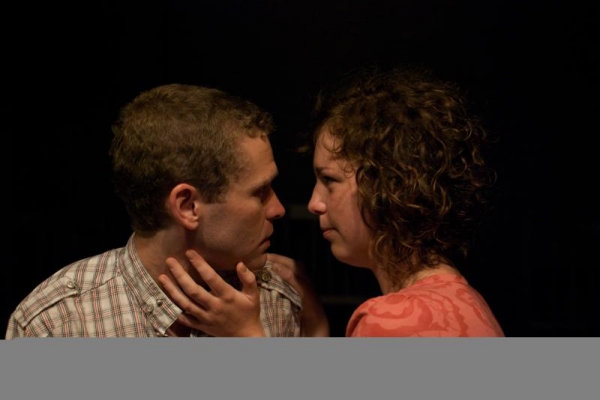 Billy Fenderson and Katy Albert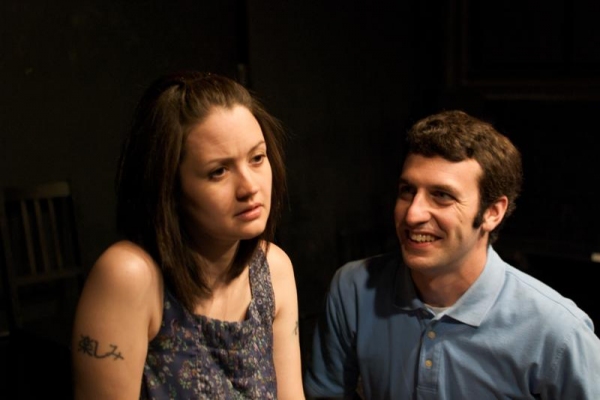 Natalie DiCristofano and Nick Freed

More Hot Stories For You