Photo Flash: RED NOSES At Strawdog Theater Co
Strawdog Theatre Company completes their 21st season with Peter Barnes' dark comedy "Red Noses," directed by House Theatre's Matt Hawkins. In Barnes' 1985 Olivier Award-winning play, the Black Plague has wiped out half of Europe's 14th century population, so God gives the young priest Father Flote a special mission to save his suffering people ... make 'em laugh. Flote gathers a band of desperately untalented misfits, turns them into clowns and together they search for salvation with hilarity. Hawkins, who also directed House's hit production of "Hatfield & McCoy," makes his Strawdog directing debut with a 23-person cast. "Red Noses" runs about two hours and ten minutes with one intermission, and includes free admittance to Strawdog Late Night following the Friday and Saturday shows (Late Night schedule available at www.strawdog.org).
Strawdog Theatre, 3829 N. Broadway St., Chicago, IL 60613
Red Line Sheridan stop; 36-Broadway and 80-Irving Park buses
$6 honor parking at Greeley School, 832 W. Sheridan, weekends after 5 p.m.Opens Sunday, April 19, 2009, 7 p.m., with reception following (media also invited to gala
on 4/18, 7 p.m., as a second option if unable to attend opening)
Closes on Saturday, May 23, 2009
Runs Fridays and Saturdays at 8 p.m., and Sundays at 7 p.m.
Previews on April 16 and April 17 at 8 p.m.
Special gala benefit performance on Saturday, April 18 at 7 p.m. ($40 ticket)
Added industry show on Monday, April 27 at 8 p.m. ($5 industry/$20 regular)
Added Thursday shows on May 14 and 21 at 8 p.m. ($20 ticket) TICKETS: 773-528-9696, or visit www.strawdog.org
$20 for all regular performances
$15 for students and seniors (with ID), and for groups of ten or more
$10 for previews
$40 for Gala Benefit on April 18, including cocktails and appetizers
$5 for industry show on April 27 (with resume/headshot/card); $20 otherwise
Regular ticket purchase also includes admittance to Strawdog Late Nights (improv,
comedy, music, etc.) directly after Friday and Saturday night showsStraw Dog ensemble members Nic Dimond (Scenic Design), Aly Renee Greaves (Costume Design) and Cortney Hurley (Production Manager), with guest artists Heather Gilbert (Lighting Design), Matt Hawkins (Director), Mike Pryzgoda (Sound Design) and Clare Roche (Stage Manager).
Strawdog ensemble members John Ferrick (Father Flote), Carmine Grisolia (Rochfort), Kyle Hamman (Brodin), Shannon Hoag (Marguerite), Anderson Lawfer (Le Grue), and Michaela Petro (Scarron), with guest artists Christy Arrington (Flagellant), Paul Fagen (Toulon), Kyle Gibson (Player), Sarah Goeden (Sonnerie), Paige Hoffman (Boutros Brother), Allison Latta (Flagellant), Rob McLean (Archbishop Monselet), Marika Mashburn (Druce), Tom Mondala (Player), John Moran (Player), Chelsea Paice (Player), Eric Pogrelis (Boutros Brother), Eric Roach (Grez), Michael E. Smith (Frapper), Stephen Taylor (Pope/Master Pestilence), Andrew Trygstad (Bembo) and Justine C. Turner (Player).
British screenwriter and playwright Peter Barnes' (1931-2004) work includes the Academy Award-nominated films "The Ruling Class" (1972) and "Enchanted April" (1992). His stage work includes "Leonardo's Last Supper" (1969), "The Bewitched" (1974), "Laughter!" (1978), "Sunsets and Glories" (1990), "Dreaming" (1999), and "Jubilee" (2001).Strawdog Theatre Company is supported in part by The Richard H. Driehaus Foundation, the Gaylord and Dorothy Donnelley Foundation, the Alphawood Foundation, Chicago Department of Cultural Affairs, the Illinois
Arts Council
(a state agency), Elizabeth F. Cheney Foundation, Gerry Brown and Associates, and the annual support of businesses and individuals. Strawdog Theatre Company is committed to ensemble acting and an immersive design approach, offering Chicago the premiere storefront theatre experience. We develop new work, reimagine classic plays, explore new fusions of music and theatre, ask provocative questions and deliver our audience the unexpected. We provide a home for our celebrated ensemble to work and play with the most sought after artists in Chicago theatre along with the best new talents in the city. Founded in 1988, the Strawdog ensemble has consistently produced shows built on authentic human connections, and our comfortable 70-seat home in Lakeview is perfect for offering our audience a quintessential Chicago storefront theatre experience. "The whole wide world in a little black box." Strawdog is a proud member of the NortHalsted Area Merchant Association, The Chicago Storefront Theatre District and the League of Chicago Theatres. Strawdog Theatre Company was formed in 1988 by a group of actors who had performed together in a production of Euripides's "Helen" at a (now defunct) theatre on the west side. The group took their name from Sam Peckinpah's movie "Straw Dogs" (Theatresaurus Rex was, thankfully, the runner-up), and they produced their first show, Len Jenkin's "Five of Us" at a (now defunct) space in Bucktown. At the time, the Chicago Reader said "Strawdog Theatre Company's inaugural production brings ... truth home with a vengeance," and Skyline Chicago added "The Strawdog troupe shows us what an ensemble can do." Twenty years later, Strawdog Theatre Company has survived the ups and downs of Chicago theatre, and is still dedicated to bringing the truth to audiences through the committed work of an award-winning ensemble of actors and designers.
Photos by Chris Ocken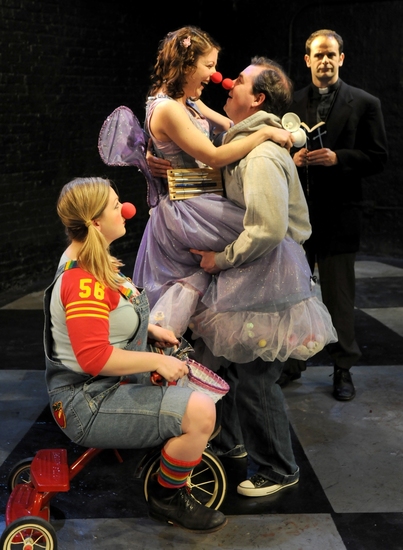 John Ferrick, Sarah Goeden, Chelsea Paice, Paul Fagen,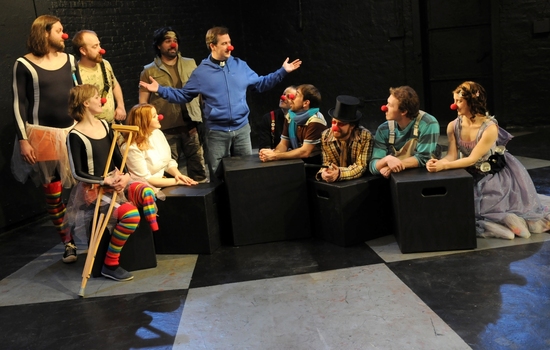 John Ferrick, Eric Pogrelis, Paige Hoffman, Kyle Hamman, Shannon Hoag, Carmine Grisolia, John Ferrick, Paul Fagen, Michael E. Smith, Anderson Lawfer, Andrew Trygstad and Sarah Goeden

Stephen Taylor and Sarah Goeden

John Ferrick with Red-Nosed crew