Photo Flash: Lookingglass Theatre Company's Award-Winning Production of MOBY DICK
Lookingglass Theatre Company concludes its 29th Season with its award-winning production of Moby Dick, adapted and directed by Ensemble Member David Catlin, from the book by Herman Melville, in association with The Actors Gymnasium. Moby Dick runs June 7 - September 3, 2017 at Lookingglass Theatre Company, located inside Chicago's historic Water Tower Water Works, 821 N. Michigan Ave. at Pearson. The Press Opening is Saturday, June 17, 2017 at 7:30 p.m.
Winner of four Jeff Awards, including Best Production, and fresh off a national tour, the critically-acclaimed Moby Dick returns to the Lookingglass stage in this harrowing and intoxicating exploration of revenge, obsession, and destiny.
Madness rages like the angry sea when man pits himself against leviathan in Herman Melville's epic and poetic tale, furiously reimagined by director David Catlin (Lookingglass Alice).
Climb aboard the Pequod with Ishmael, Starbuck, and the intrepid crew on a voyage into the darkest reaches of the human psyche with an insatiably driven Captain Ahab at the helm in reckless pursuit of the legendary white whale.
"Our first production of Moby Dick was an incredible experience; audience demand was so high, we felt we had to close the production before its time," comments Artistic Director Heidi Stillman. "It was thrilling to see it play across the country this past year, spreading the kind of theatre that excites us as artists; visual, physical, visceral, combined with a real intellectual rigor. I can't wait for it to set sail in our theatre once more."
The cast of Moby Dick includes Ensemble Members Kareem Bandealy, Anthony Fleming III and Raymond Fox who return to reprise their roles as Starbuck, Queequeg and Stubb from the critically-acclaimed 2015 production. Also returning to the production are Jamie Abelson (Ishmael - evening performances), Micah Figueroa (Cabaco) and Javen Ulambayar (Mungun). Joining the cast are Kelly Abell (Fate #1), Walter Owen Briggs (Ishmael - matinee performances), Cordelia Dewdney (Fate #3), Mattie Hawkinson (Fate #2), Nathan
Hosner (Ahab).
The creative team for Moby Dick includes Courtney O'Neill (scenic design), Sully Ratke (costume design), William C. Kirkham (lighting design), Artistic Associate Rick Sims (sound design and composer), Isaac Schoepp (rigging design), Amanda Herrmann (props design), Artistic Associate Sylvia Hernandez-DiStasi (circus choreographer) and Kathy Logelin (Dialect Coach). The stage manager is Jeri Frederickson.
REFLECT Panels
REFLECT is a curated series of post-show discussions featuring panelists with a range of viewpoints and expertise on the content and context of the play. Discussions take place directly following the 2 p.m. matinee on select Sundays at Lookingglass Theatre. The discussions are free and open to the public.
July 9: Escape, Exploration and Encounter: Is Moby Dick THE American novel?
The Civil War is a decade hence but the country is already cracking apart when Melville's novel breaches the surface. What does the book tell us about the American character in times of strife?
July 23: Adventures in Adaptation: Staging the Impossible
How does one tame an enormous whale of a novel? How much is done on the page, how much is done on the stage? A conversation with Moby Dick's adaptor and director David Catlin and other guests.
August 13: Extremity and Endurance: Survival on the Open Sea
The crew of the Pequod is in for a long, rough ride even before they encounter a certain white whale. What were the hard and harsh realities of sun, sea, salt water, and the hunt for whale oil?
August 27: Mermaids, Myths, and Maritime Monsters: What Lies Beneath the Surface?
What creatures lurked in the murky ocean depths, haunting the dreams and nightmares of unknowing sailors? Northwestern University's Tracy Davis and the Raven Foundation's Andrew McKenna discuss.
TodayTix Daily Ticket Lottery
Lookingglass Theatre has partnered with TodayTix-the free mobile app that provides on-demand access to last-minute theatre tickets-to offer discounted $25 lottery tickets to the return of its award-winning production of Moby Dick. A limited number of $25 tickets will be available through the TodayTix mobile lottery for all evening performances of Moby Dick beginning June 7, 2017. The lottery will open every day at Noon and all winners and non-winners will be notified four hours before the performance. Lottery winners may pick up their tickets at the Lookingglass box office one hour prior to show time.
About the Artists
David Catlin (Writer/Director/Lookingglass Ensemble Member)'s Lookingglass directing credits include: Lookingglass Alice and The Little Prince. Other regional directing credits include: McCarter Theatre (Princeton, NJ), Arden Theatre Company (Philadelphia), New Victory Theater (NYC), Syracuse Stage, Actors Theatre of Louisville, ALLIANCE THEATRE (Atlanta) and The Getty Villa (LA). Other recent directing credits include: The Phantom Tollbooth (DePaul University) and Moby Dick (Northwestern University). David teaches acting with Northwestern University's theatre department.
Kelley Abell (Fate #1) returns to Lookingglass after previous appearances in Peter Pan (A Play) and the touring production of Moby Dick. Other credits include: Moby Dick (Arena Stage, South Coast Theatre, and ALLIANCE THEATRE); 42nd Street and Fiddler on the Roof (Paramount Theatre); Mr. Burns: A Post Electric Play (Theater Wit); Dorian (The House Theatre of Chicago); Bat Boy: The Musical and Titanic (Griffin Theatre). She is a graduate of Northwestern University and will be attending graduate school at Washington University in St. Louis in the fall.
Jamie Abelson (Ishmael at evening performances) previously appeared at Lookingglass in the initial run of Moby Dick, as well as Peter Pan (A Play) and Treasure Island (Understudy). Other recent projects include Red Ki
te Treasure Adventure and Red Kite Blue Sky (Chicago Children's Theatre); The Lieutenant of Inishmore (Northlight Theatre); Eurydice (Victory Gardens Theater); Scenes from the Big Picture (Irish Theatre of Chicago); As Told by the Vivian Girls (Dog and Pony Theatre Co.); columbinus (Raven Theatre); and Hope Springs Infernal and Dorian (The House Theatre of Chicago). Regional credits include Moby Dick (ALLIANCE THEATRE, Arena Stage, South Coast Repertory). Jamie holds a BFA in Drama from the Tisch School of the Arts at NYU.
Kareem Bandealy (Starbuck/Lookingglass Ensemble Member) is an Ensemble Member at Lookingglass and has previously appeared in Moby Dick, The Little Prince, Big Lake Big City, Bengal Tiger at the Baghdad Zoo, The Last Act of Lilka Kadison, and Peter Pan (A Play). Chicago credits: A Christmas Carol (2014 and 2015), Rock 'N' Roll, Gas For Less and King Lear at Goodman Theatre; The Wheel at Steppenwolf Theatre Company; Oklahoma! at Paramount Theatre; The Good Book and The Illusion at Court Theatre; Hamlet, The Caretaker and Heartbreak House at Writers Theatre; A Midsummer Night's Dream, Edward II and Romeo and Juliet at Chicago Shakespeare Theater; Blood and Gifts at TimeLine Theatre; Othello (as Othello) at The Gift Theatre, and many others. Regional credits include The Merry Wives of Windsor, The Three Musketeers and The Tempest at Illinois Shakespeare Festival; Love's Labours Lost at Notre Dame Summer Shakespeare; Julius Caesar and Stuff Happens at Pittsburgh Irish & Classical Theatre, and four seasons with Orlando Shakespeare Theater. He has appeared in several films including The Merry Gentleman directed by Michael Keaton, on TV in Chicago Fire, and is a recipient of the 2011 3Arts Artist Award.
Walter Owen Briggs (Ishmael at matinee performances/Lookingglass Artistic Associate) returns to Lookingglass after performing as Starbuck in the touring production of Moby Dick at South Coast Repertory, Arena Stage and ALLIANCE THEATRE. He has previously appeared at Lookingglass in Bengal Tiger at the Baghdad Zoo and The North China Lover. Chicago credits include: Sucker Punch (Victory Gardens Theater), Hit The Wall (The Inconvenience/Steppenwolf Theatre Company), All Our Tragic (The Hypocrites), and The Glass Menagerie (Mary-Arrchie Theatre Co.). Regionally, Walter has per formed at A.R.T., Actors Theatre of Louisville, and The Getty Villa. TV/Film credits include; Chicago Med, Jessica, A Good Person, Ballad, and Older Children. Walter is a graduate of the Chicago College of Performing Arts at Roosevelt University.
CORDELIA DEWDNEY (Fate #3) returns to Lookingglass with Moby Dick after the national tour this past year to ALLIANCE THEATRE, Arena Stage, and South Coast Repertory Theatre. Last summer she appeared on Chicago Med. Cordelia is a graduate of Northwestern University with degrees in Theatre and English and is a proud alum of the British American Drama Academy.
Micah Figueroa (Cabaco) returns to Lookingglass after appearing in the original production of Moby Dick in 2015, the Moby Dick national tour, and in Lookingglass Alice. Chicago credits include: Tall Girl and the Lightning Parade (Walkabout Theater); The Winter Pageant (Redmoon Theater); Distance to the Moon (First Floor Theater). Regional credits include: Moby Dick (ALLIANCE THEATRE, Arena Stage, South Coast Repertory); In the Beginning, Henry IV (Dallas Theater Center); The Farnsworth Invention, Wild Oats (Theatre Three); Coriolanus, Cyrano de Bergerac, Macbeth (Shakespeare Dallas); Titus Andronicus (Kitchen Dog Theater); Sense and Sensibility (Stolen Shakespeare Guild). He earned a BFA from Southern Methodist University and the British American Drama Academy.
Anthony Fleming III (Queequeg/Lookingglass Ensemble Member) was last seen at Lookingglass in Moby Dick in 2015 and Lookingglass Alice in 2014, which marked his tenth production of the show, where he completed 555 total performances. Other Lookingglass productions include: Big Lake, Big City; Mr. Rickey Calls a Meeting; Arabian Nights; 1984; Icarus; Fedra; and Race. Select regional credits: Ma Rainey with
Milwaukee Repertory Theater and Clybourne Park with Arizona Theatre Company. Anthony is a Chicagoan who has been working since 1997 on Chicago stages, including Victory Gardens Theater, Steppenwolf Theatre Company, Goodman Theatre, Court Theatre, Chicago Theater Company, and Piven Theatre Workshop.
Raymond Fox (Stubb/Lookingglass Ensemble Member) last appeared at Lookingglass in Thaddeus and Slocum: A Vaudeville Adventure. Off-Broadway/Broadway: Metamorphoses (Second Stage Theatre, Circle in the Square Theatre). Regional Credits: Goodman Theatre, Seattle Repertory Theatre, Berkeley Repertory Theatre, Arena S
tage, Arden Theatre, South Coast Repertory, Remy Bumppo Theatre Company, Route 66 Theatre, Hartford Stage, American Repertory Theatre, Indiana Repertory Theatre, ALLIANCE THEATRE, Meadow Brook Theatre, The House Theatre of Chicago, Mark Taper Forum, Court Theatre, McCarter Theatre, Kansas City Repertory Theatre, First Folio Theatre, Canada's Stratford Festival and TimeLine Theatre (Blood and Gifts, 2013 Equity Jeff Award for Supporting Actor). Education: Northwestern University and the A.R.T. Institute at Harvard University.
Mattie Hawkinson (Fate #2) returns to Lookingglass after previously appearing in Hillbilly Antigone. Recently, Mattie appeared in Quintessence Theatre Group's productions of Love's Labour's Lost, The Broken Heart, and Wilde Tales. Last fall she was in The City of Conversation at Northlight Theatre. Other credits include: work at Pennsylvania Shakespeare Festival, Baltimore's CenterStage, Theater at Monmouth, Cincinnati Playhouse in the Park, Cleveland Play House, Milwaukee Repertory Theater, Denver Center for the Performing Arts, Manhattan Theatre Club, Ensemble Theatre Company (Santa Barbara and New York), Goodman Theatre, Steppenwolf Theatre Company, Chicago Shakespeare Theater, Apple Tree Theatre, Roadworks Productions, First Folio Theatre, Indiana Repertory Theatre, Victory Gardens Theater, five seasons at the Eugene O'Neill National Playwrights Conference, and various on-camera projects.
Nathan Hosner (Captain Ahab) makes his Lookingglass debut. He recently played Lord Aster in the first national tour of Peter and the Starcatcher. Chicago credits include productions with Writers Theatre, Chicago Shakespeare Theater, Court Theatre, Goodman Theatre, Paramount Theatre, About Face Theatre, and First Folio Theatre. Regional credits include productions with American Players Theatre, Alabama Shakespeare Festival, Indiana Repertory Theatre, New Theatre, Illinois Shakespeare Festival, Arkansas Shakespeare Theatre, Door Shakespeare, and The BoarsHead Theater. Nathan is a graduate of The Royal Academy of Dramatic Art.
JAVEN ULAMBAYAR (Mungun) is delighted to return to the stage with the production of Moby Dick, after performing in the original production and national tour. Javen is a Chicago-based circus performer, specializing in aerial straps. He attended circus school "Juventas" in St. Paul, MN where he attained his per forming skills. Beyond aerial straps, Javen is trained in double trapeze, Chinese pole, and Russian bar. After graduating from the University of Minnesota with a degree in Kinesiology, he continued his career with companies such as Midnight Circus and The Actors Gymnasium. Most recently, Javen was one of five artists chosen to create new circus works for the Circus Now Residency Program hosted at Lake Placid Center for the Arts.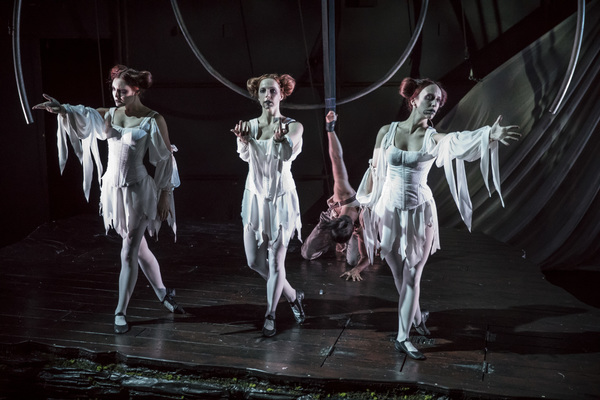 Cordelia Dewdney,
Mattie Hawkinson
,
Kelley Abell
, and Javen Ulambayar . Photo by
Liz Lauren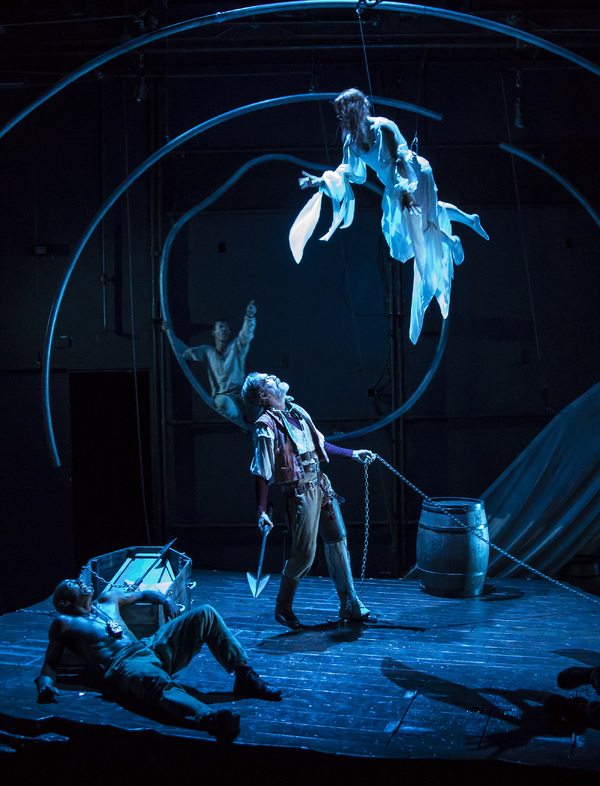 Ensemble Member
Anthony Fleming
III,
Nathan Hosner
,
Micah Figueroa
, and
Mattie Hawkinson
. Photo by
Liz Lauren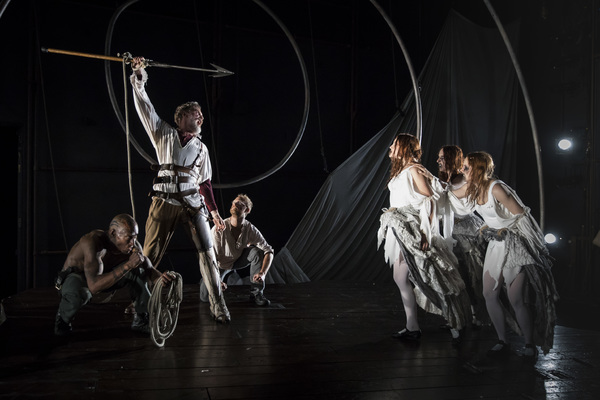 Ensemble Member
Anthony Fleming
III,
Nathan Hosner
,
Jamie Abelson
, Cordelia Dewdney,
Kelley Abell
, and
Mattie Hawkinson
. Phot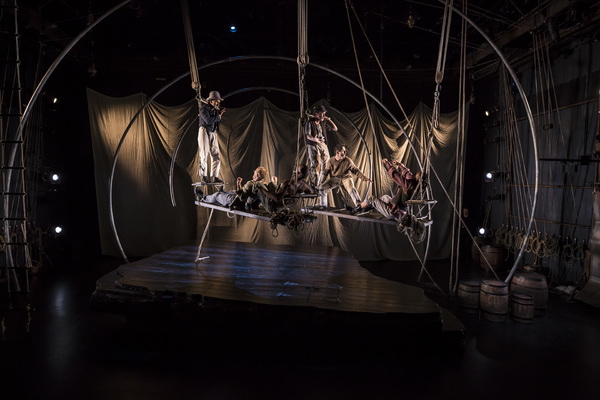 Ensemble Member
Kareem Bandealy
,
Jamie Abelson
, Ensemble Member
Anthony Fleming
III, Ensemble Member
Raymond Fox
, Micah Fig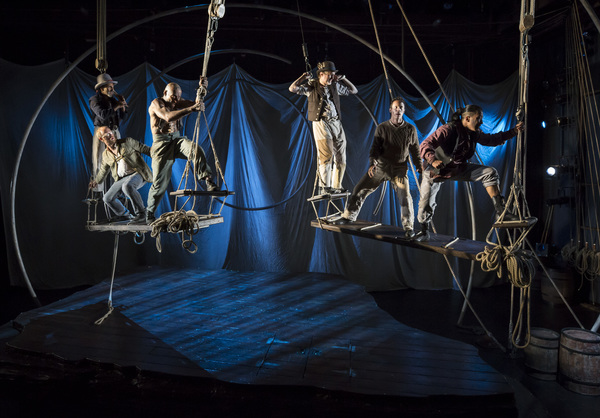 Ensemble Member
Kareem Bandealy
,
Jamie Abelson
, Ensemble Members
Anthony Fleming
III,
Raymond Fox
,
Micah Figueroa
, and Javen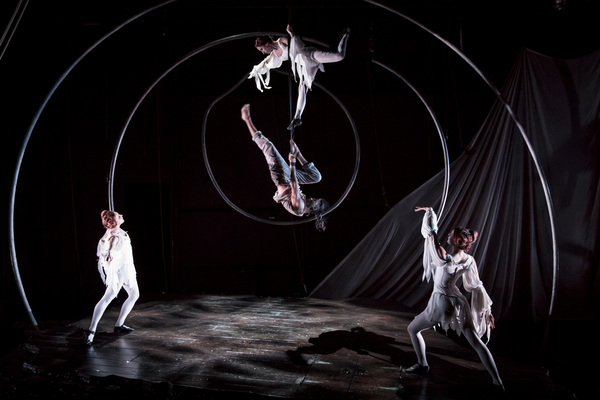 Mattie Hawkinson
,
Kelley Abell
, Javen Ulambayar, and Cordelia Dewdney . Photo by
Liz Lauren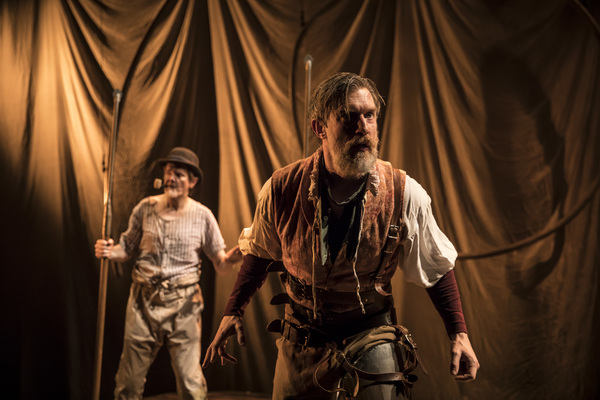 Nathan Hosner
and Ensemble Member
Raymond Fox
. Photo by
Liz Lauren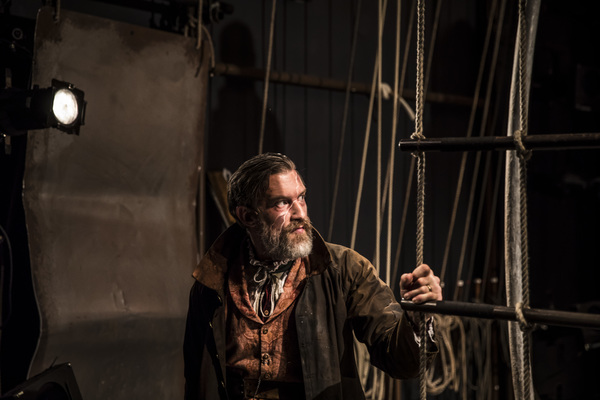 Nathan Hosner
. Photo by
Liz Lauren

Related Articles View More Chicago

Stories

Shows
More Hot Stories For You